A Judge Has Ruled On Whether Harvey Weinstein Can Be Sued For Sex Trafficking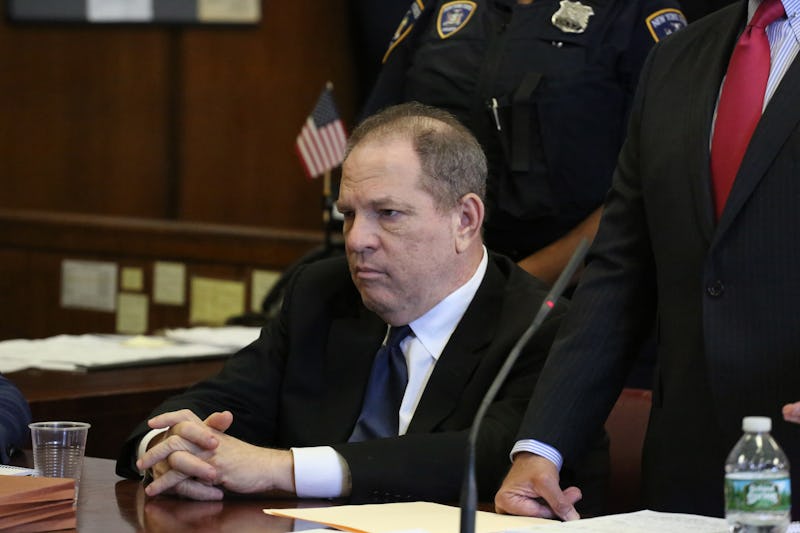 Pool/Getty Images News/Getty Images
A judge ruled Tuesday that Harvey Weinstein must face a sex trafficking lawsuit that actress Kadian Noble filed against him in 2017. Noble claims that in 2014, Weinstein led her to a hotel room in France and sexually assaulted her; Weinstein has denied all allegations of sexual assault, and had attempted to get Noble's case against him dismissed.
"This decision is just the first round, and does not mean that there is merit to the case," Weinstein's attorney Phyllis Kupferstein tells Bustle in a statement. "We will seek to appeal the decision. We believe these claims are not legally or factually supported, and ultimately will not be sustained."
Over 70 women have accused Weinstein, once one of the most powerful people in Hollywood, of sexual misconduct, and he's already facing separate criminal charges of rape and sexual assault.
Noble claims that Weinstein brought her to a French hotel room with the ostensible purpose of discussing film roles, but then molested her and forced her to watch him masturbate once they were in the room and blocked her from leaving when she tried to.
In a ruling Tuesday, U.S. District Judge Robert Sweet wrote that while Noble's lawsuit is "not an archetypal sex trafficking action, the allegations plausibly establish" that Weinstein broke federal sex trafficking laws. Sweet determined that for an actress, a meeting with somebody of Weinstein's stature necessarily has "value," due to his power over casting decisions in Hollywood, and that because of this, the interaction fell under the purview of the Trafficking Victims Protection Act.
"For an aspiring actress, meeting a world-renowned film producer carries value, in and of itself," Sweet wrote. "The opportunity, moreover, for the actress to sit down with that producer in a private meeting to review her film reel and discuss a promised film role carries value that is career-making and life-changing."
Weinstein's team had attempted to get the lawsuit dismissed on the grounds that nothing of value was offered during his interactions with Noble; however, Sweet wrote that this claim "does not reflect modern reality."
"Even if the prospect of the film role, of a modeling meeting, and of a continued professional relationship with [The Weinstein Company] were not 'things of value' sufficient to satisfy commercial aspect of the sex act definition, Noble's reasonable expectation of receiving those things in the future, based on Harvey's repeated representations that she would, is sufficient," Sweet wrote.
Noble says that while they were in the hotel room, Weinstein told her that "everything will be taken care of," which she presumed to be a reference to her career prospects. However, she says that she never heard anything from Weinstein after the encounter, despite attempting to contact him. Sweet determined that this constituted an attempt to "entice" Noble, and that his alleged refusal to follow up with her "evidence conscious behavior and fraudulent intent."
Stuart Mermelstein, Noble's attorney, applauded Sweet's decision.
"The allegations in the case demonstrate that Harvey is nothing more than a pimp in a tuxedo," Mermelstein said in a statement. "This unprecedented decision allows the case to move forward to hold Harvey accountable for his actions."