This New HBO Movie Will Open Your Eyes To The Horrifying Problems In Our Schools & Prisons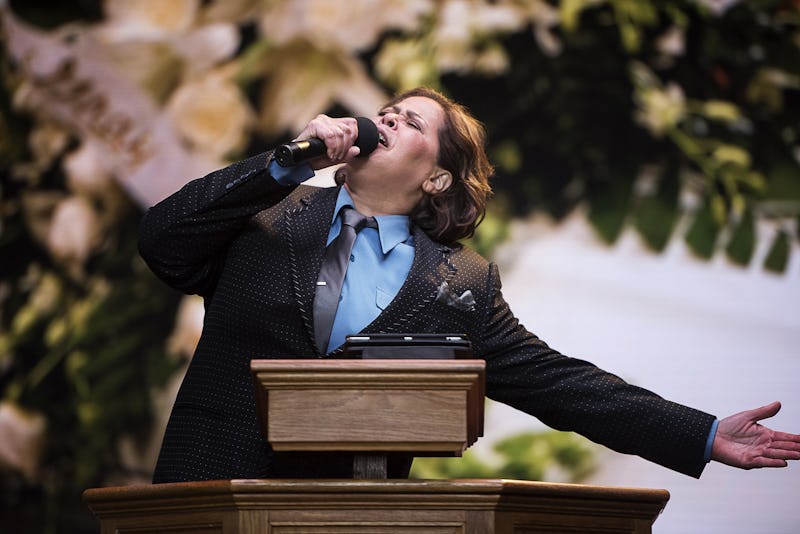 Courtesy of HBO
It can be hard to learn in hostile or unstable environments, and issues like inadequate resources and lack of funding too often lead to students not getting the educations they deserve. Studies have shown that students in low-funded schools are more likely to be end up getting expelled and being put in the prison system than those from more affluent neighborhoods, and in a new HBO movie, Notes From The Field, the ways the school-to-prison pipeline unfairly impacts impoverished kids in the United States takes center stage.
Starring and written by Anna Deavere Smith, the playwright, professor, and actor known for her role on the show The West Wing as Dr. Nancy McNally, Notes From The Field: Doing Time In Education began as a one-woman show in July 2015. Now seen as a movie out Feb. 24, the play sees Smith embodying a cast of characters that are all products of her interviews with about 250 people, and who all address the problems in our country's educational system.
"You get kicked out of school... and [are] more likely to end up in the hands of the criminal justice system," says Smith during a recent phone interview. "And then what we have is cycles of incarceration. Because I think once a kid gets in that system… it's really hard for them to get out ,and then it destroys communities with it."
Smith isn't the first person in the entertainment industry to give attention to these issue, of course; In 2015, John Legend started the initiative FREEAMERICA, a campaign meant to change the conversation around the criminal justice system. What Smith is trying to do now, though, is to add children into the conversation, since the chain starts with them and disproportionally affects students of color.
"It's really about, how do you interrupt poverty?" asks Smith. "And how do you stop poverty? This disease, really. How do you stop it from sending people to prison?" Schools, she adds, have to be reorganized in a way that promotes teaching and learning, and are not viewed as a semi-holding cell for students before they go onto the next one.
In the film, the first person that Smith portrays is Sherrilyn Ifill, President and Director-Counsel of the NAACP Legal Defense and Educational Fund. As Ifill, Smith explains that while America invests greatly in the prison system, it's at the expense of other things like education. "And what I'm asking audiences to do is to think about how important it is to reinvest in education and make our world a better place," Smith says. "Because when kids aren't in school, they're in trouble. And when they're in trouble, they end up in jail."
Notes From The Field aims to encourage viewers to get the word out and help impacted communities as much as possible. It's simple; you can donating to organizations like Legend's or the ACLU, which is committed to ending the injustices associated with the criminal justice system. You can also urge your officials to put more funding into public education, so that students can have more resources like well-qualified teachers, counselors, and college prep courses.
The movie is a powerful and necessary piece of art, and that's due to the work of the women behind it all. Smith did all of the writing, acting, and 300 hours of research herself, but the director, Kristi Zea, is responsible for the striking screens that appear during each scene. For Smith, being a Black woman in the arts is often a challenge, she says, but overall, she's optimistic about the future for female filmmakers.
"This is the best possible time," says Smith. "The best possible time for black females — for white females, for any female of color or not... There is no time in my lifetime that I feel is better for females than now, to get busy, not just have a voice but have a discipline." Finding a voice in times like these is essential to making change, as emphasized by Notes From The Field. The film is a call to action, urging conversation among its audience and inspiring them to go out and make the difference they can.