Proof That Institutional Racism Is Still A Problem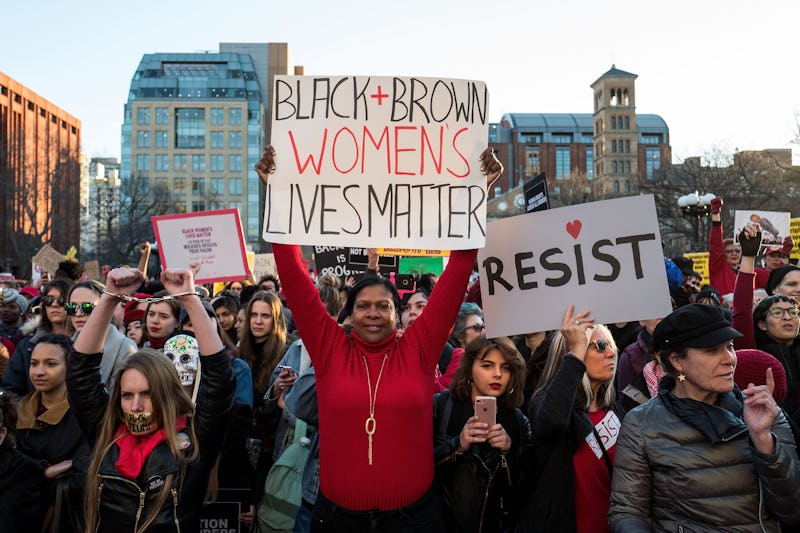 Drew Angerer/Getty Images News/Getty Images
The roots of racism run deep. They permeate our culture beyond the existence of racial slurs and persist regardless of our first black president. To see examples of systemic racism, you don't even need to look far. If you have gone to school, lived in a house, had a job, or been to the doctor, you've likely been hurt or helped by institutional racism at some point in your life.
Institutional racism, or systemic racism, is defined as the pattern of social and political systems discriminating against a group of people based on race. If you're wondering how a school or a bank or any "thing" or "system" can be racist, ask yourself who runs those "things" and "systems." A government or any other institution is created and run by human beings. While a building or a document cannot itself hold prejudice or beliefs (on account of...they're made of bricks and/or paper), human beings are more than capable of holding prejudicial beliefs, and in turn, creating systems that reflect those beliefs.
My "But slavery was abolished and hate crimes are illegal" senses are tingling; this is usually the part in the conversation where laws established or struck down are used as examples of why institutional racism can't exist. If Equal Employment Opportunity Laws make it federally illegal, how can job discrimination based on race persist? Oh, sweet, naive, hypothetical question. Making something illegal doesn't make it go away. If that were the case, murders would never happen and even if they did, they would all be solved and the victim brought justice. Sorry to be the bearer of bad news, but unsolved murders still very much exist. Like, there are whole basic cable channels dedicated to them.
The validity of institutional racism and whether it exists is a debate that is far from over. In September, Mike Pence criticized conversations on institutional racism, claiming those comments calling out systemic bias are what is actually creating division throughout the country. In his statement about the fatal police shooting of Keith Lamont Scott, Pence said, "We ought to set aside this talk, this talk about institutional racism and institutional bias." Before a problem can be solved, we need to acknowledge and agree on the fact that problem exists. There is disagreement at the highest level of our government about the existence of institutional racism.
Institution racism is real. Systemic bias exists. Here are just eight examples of how our systems treat people of color differently — and how it shows that institutional racism is still a very real problem.