You Can Buy A Heated Pet Bed To Keep Your Furry Friend Warm All Winter Long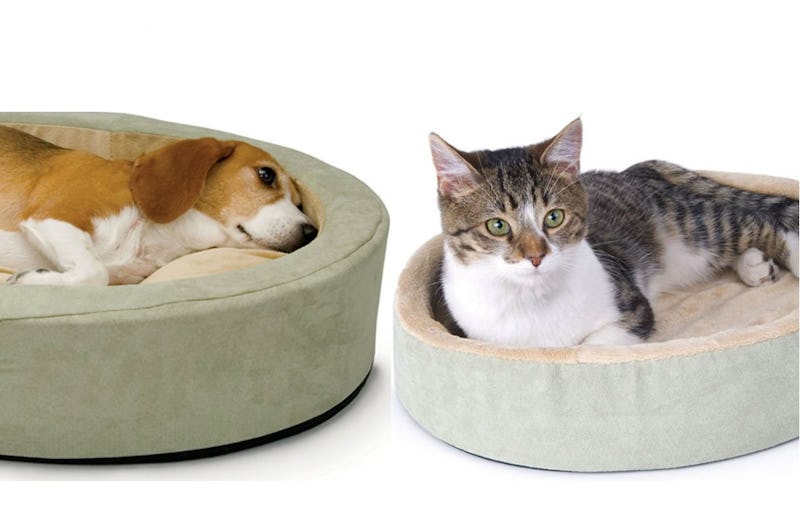 Amazon
We have now officially entered the annual period during which I am cold for four months straight, otherwise known as winter. And yes, I'll admit, I'm a weak and spoiled California brat who never experiences actually-freezing temperatures or that fluffy white substance falling from the sky that most of the country does, but hey, it's cold nonetheless. And if we're freezing our butts off, where does that leave the most precious and important beings in our lives: our dogs and cats? Enter heated pet beds, AKA the gift your animal companions never knew they needed, but totally do. Yes, dogs and cats may have a layer of fur covering the entirety of their bodies, which likely helps to offset the low winter temps, but they're not immune to the winter chill! We're all just a bunch o' warm-blooded mammals, after all, and it's a cold, cold world we live in — space heaters blasting and all.
So not to detract from the purity of your furry friend's snuggle-intentions or anything, but a little of part of why your animals want to be extra-close during winter is probably because, well, it's cold — and you're warm! Unless you're a vampire (no judgment if so), you're naturally throwing off some body heat just by being alive. Add some cozy blankets into the mix, and it's no wonder your pup or kitty would rather cozy up with you than on their designated pet bed. Thankfully for all species, though, heated pet beds are officially a thing — and a brand called K&H Pet Products (which conveniently sells its products on Amazon) is making hygge-for-animals an easy task. Also, how freaking adorable and comfy does this pupper look?
The brand's delightfully heated selection of beds for both cats and dogs are made in a wide variety of sizes, colors, and styles — ensuring that both you and your pet will be satisfied. The covers are removable and washable, making cleaning them super easy, and each bed comes with a one-year manufacturer's warranty for added security. They're also low-wattage (the two options listed here use between four and six watts each) making them energy efficient, and they're thermostatically controlled to keep your pup or kitty at the optimal cozy temperature. Easy peasy.
Obviously dogs, being the generally obedient creatures they are, will eat these beds up (hopefully not literally, but ya know) — but cat people, this bed will work wonders with your feline companions, too! I mean, the only place my cat loves to lounge more than in my lap is literally on top of my laptop keyboard (which poses a huge problem considering I work from home... on my laptop). And while this may not seem like the most comfortable of spaces, kitty's into it because — duh — it's nice and warm. So free up your keyboard for, you know, typing, and give your kitty the gift of combined warmth and comfort.
What's even better is that there's absolutely no need to put this baby away in storage once winter ends. The beds are made for year-round use. In fact, they are recommended by vets and experts and are ideal for soothing animals with any kind of joint pain. The heated pad "provides warmth to relax muscles for active pets and [helps] to sooth joints [and] muscles for aging and arthritic pets," according to the product description. So while everyone loves to be warm and cozy, of course, this bed can also offer your pet health benefits, too — especially if they suffer with joint issues.
Obviously a warm bed is no replacement for legit humane/canine-or-feline snuggle time, but if you're not available to keep your animal extra-cozy 'round the clock (or there's just not enough room in your bed for the inter-species cuddle puddle), a heated pet bed is a majorly worthy investment. TBH, if I got one one of these, I'd probably end up curled up on it for an afternoon nap myself. If you're a fellow siesta person, you might want to beware the temptation.
All this talk of cozy, heated beds is making me hella sleepy, and it also leads me to question why on earth there isn't a heated bed for humans, am I right? Oh, wait... *adds to Amazon wishlist.* Heated beds for everyone 2018.