The Biggest Things You Missed From 'Everything Is Love' By Beyoncé & JAY-Z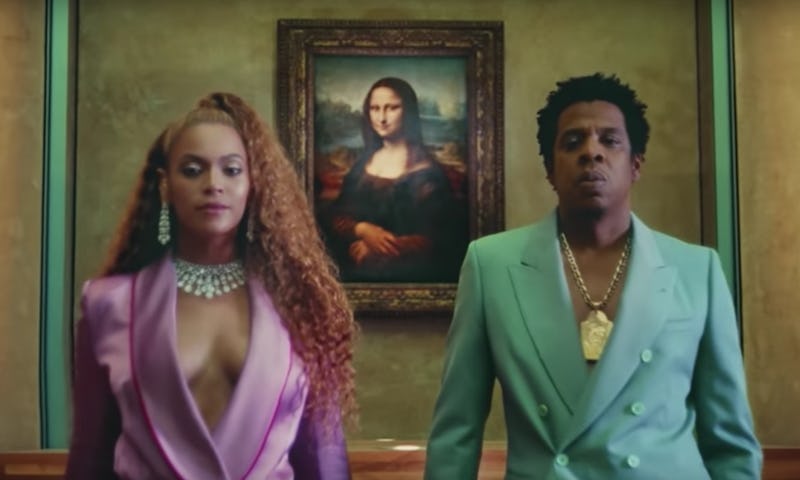 Beyoncé/YouTube
On Saturday, June 16, the world was given a gift in the form of music: Beyonce and Jay-Z released a surprise album, Everything Is Love, giving all of us a fresh batch of new favorite songs. The album marks the end of the first leg of their "On the Run II" tour and is made up of nine (obviously amazing) songs. The album is currently available to stream on JAY-Z's music service, Tidal. And as if that weren't exciting enough, they also released a music video for their new song "Apesh*t." It was filmed at the Louvre Museum in Paris, and is exactly as glamorous as it seems like it might be. As fans scramble to find out everything they possibly can about this latest collaboration between the husband and wife power couple, some interesting facts are being released — and there are some hidden meanings in the Everything Is Love album that you definitely need to know.
While the album release was definitely a surprise, it wasn't exactly super shocking. Ever since they announced their joint tour back in March, fans have been expecting them to drop something big, it's just that no one knew when it was going to happen. Beyonce first made the announcement of the album on her Instagram and Twitter, by simply sharing the album cover and music video, no caption necessary. Classic Queen Bey! Fans were shocked, thrilled, and beyond excited.
As it turns out, though, there have been more hints on the release date than we thought. As was to be expected, fans have investigated the album thoroughly, as well as all of the Jay and Bey moments leading up to the release — and they've found some pretty interesting information.
One Twitter user pointed out that Beyonce announced the release of the album 63 days after she made a "6" and a "3" hand signal at her iconic Coachella performance.
Was this just a coincidence? Probably not. What other reason is there for Bey to make a 63 hand signal?
Another Twitter user compared two photos of the power couple. One is from 2014, when Beyonce and Jay Z visited the Louvre museum in Paris, France, and took a photo standing in front of the famous Mona Lisa. The second photo is Beyonce and Jay during their new music video for "Apesh*t," once again standing at the Louvre in front of the Mona Lisa.
It's definitely interesting to note how similar both photos are. In both pictures, they're in the same spot, making similar facial expressions. This one, though, could be either a coincidence, or a subtle throwback. It was taken about four years ago, so I doubt Bey and Jay looked this far into the future when visiting Paris — but it's totally possible they had the photo in mind when filming the music video for "Apesh*t." Then again, who ever really knows with these two?
Fans examined pretty much the entire music videos for hidden meanings as well, and of course, discovered a few things worth pointing out. One Twitter user noticed that one of the last paintings shown is one of the only pre-20th century portraits of a black person in the Louvre that's not a portrait of a slave.
The same Twitter user pointed out the symbolism of Queen Bey standing exactly where Josephine stands in front of the Coronation of Napoleon painting.
There's another thread dedicated entirely to what this painting means in the music video:
The more people watch the music video, the more hidden facts and symbolism they're going to find — and I can't wait to hear all about it!