Stop Everything, Beyonce & JAY-Z Just Dropped A Surprise Album & OMG, Fans Are FREAKING Out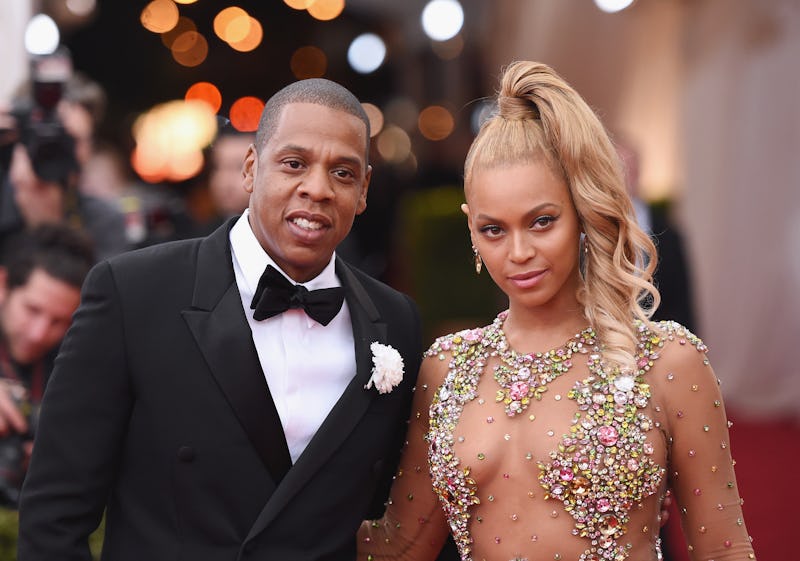 Mike Coppola/Getty Images Entertainment/Getty Images
Brace yourselves, everyone: Queen Bey has blessed the world with what could be the album of the summer. On Saturday, June 16, TMZ reported that Beyoncé and JAY-Z released a surprise album, Everything Is Love, to mark the end of the first leg of their "On the Run II" tour. Everything Is Love consists of nine songs, and it's available to stream on Tidal right now. As if that wasn't enough, the power couple also released a stunning music video for their song "Apesh*t," which was filmed at the Louvre Museum in Paris.
Fans are understandably freaking out over this special gift from the Carters. While the album isn't completely unexpected — rumors that the couple would be collaborating have been swirling since they announced their joint tour in March — no one knew it would be dropping today. Once again, Beyoncé and JAY-Z are proving that they're masters of the surprise music reveal.
Queen Bey made the announcement herself via Instagram and Twitter. In true Beyoncé fashion, the singer let the music speak for herself, as she shared the album cover and music video sans caption on Instagram. She also gave fans a head's up that if they listen via Tidal, they will have access to the exclusive track "Salud!".
Meanwhile, the Twitter-verse is absolutely losing it over The Carters (because that's the name the couple used for the album) releasing new music. There's always major excitement surrounding new music from Beyoncé and JAY-Z, so the joy is only amplified by the fact that this album is a collaborative effort.
Just as the first leg of their tour garnered praise from fans and attracted big name stars to their concerts, this news has been met with cheers. The couple has been putting on amazing shows for weeks now, but fans who couldn't snag tickets likely thought they would have to rely on fuzzy video footage to get their fix of Queen Bey and JAY-Z. Now everyone will be able to experience the joint awesomeness of The Carters this summer.
Not everyone is loving the fact that Beyoncé and JAY-Z released the album exclusively on Tidal. But the good news is the exclusive streaming service is offering a six month free trial. Yes, that's right, six months. That's more than enough time to stream all of the Queen Bey goodness.
And, since this is an album from Beyoncé and JAY-Z, you know you'll need to listen to it more than once in order to parse through all of the layers. The "Apesh*t" video is so full of imagery and lyrical meaning that it will probably take even the most committed fans days to properly analyze.
In addition to Everything Is Love being a surprise album, it also feels extra significant because it's a joint effort for the couple. They're bringing together their two styles in a way that's intimate, honest, and creative in ways that makes it clear that they're operating on an entirely different level. These two artists are extraordinary separately, but they've proven that they can serve up artistic genius together too.
One thing is certain, the arrival of Everything Is Love makes it clear that summer 2018 belongs to Queen Bey and Jay-Z. They were already packing in arenas, and now their music is being delivered directly to the fans. Now, the only thing left for fans to do is decide which of the nine songs will be the chosen one that defines the next three months — although, if choosing between them proves to be impossible, will anyone really be surprised? A team-up as flawless as Beyoncé and JAY-Z's might just end up being so good, that summer 2018 will be defined by nine songs instead of one.