This Homemade Lavender Syrup Recipe Is Easy & Delicious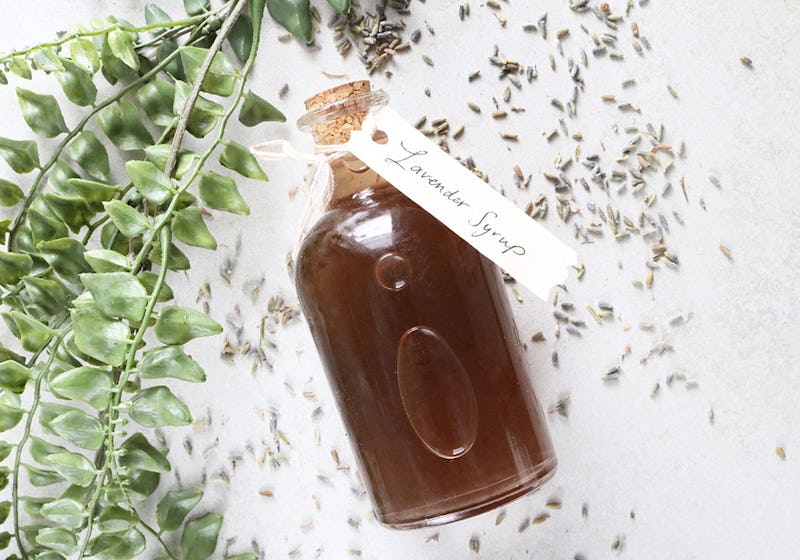 Kirsten Nunez
There is nothing more refreshing than the floral scents of spring. And, if you are a fan of fragrant flavors, you will adore homemade lavender syrup. This simple condiment is ridiculously easy to make—I promise. You do not have to be Martha Stewart to take on this unique spring recipe.
Lavender syrup cannot be found in most stores, so you might be wondering how the heck one would use it. For starters, it is awesome for transforming basic beverages into one-of-a-kind concoctions. You can add it to hot tea, iced tea, cream soda, or ginger ale. Even plain water can be infused with lavender syrup. When the hot summer weather hits, add it to freshly squeezed lemonade. The flavors will complement each other so well that you will wonder how you survived without it for so long.
If you are a fan of creative cocktail recipes, lavender syrup will be a game changer. It tastes awesome with sparkling wine, champagne, and gin. Vodka also makes a great pairing, especially if it is vanilla flavored. Lemon, orange, and grapefruit martinis can also get a serious upgrade with this fragrant condiment.
This delicious syrup can even be drizzled on waffles, sorbet, ice cream, and yogurt. Something tells me it would taste amazing on homemade strawberry pancakes, too. BRB, drooling.
Ingredients:
2 cups water
1 cup sugar
2 tablespoon dried lavender
Directions:
1. Add all three ingredients to a pot. Boil for 15 minutes, stirring occasionally.
2. Simmer over low heat until the sugar dissolves — about 15 to 20 minutes. Regularly stir the mixture to prevent the sugar from settling on the bottom.
3. To remove the dried lavender, pour the mixture through a strainer. Leftover bits and pieces can be taken out with a slotted spoon. Let the syrup cool for at least 30 minutes.
Add the syrup to a bottle or mason jar with a tight-fitting lid. This way, you won't end up with a sticky (yet delicious) mess if the container tips over.
Finish it off with a simple homemade tag. In the refrigerator, your lavender syrup will last for several weeks — unless you eat it all beforehand, of course.