Hurricane Lane Got Less Intense When It Hit Hawaii — But The Storm's Not Over Yet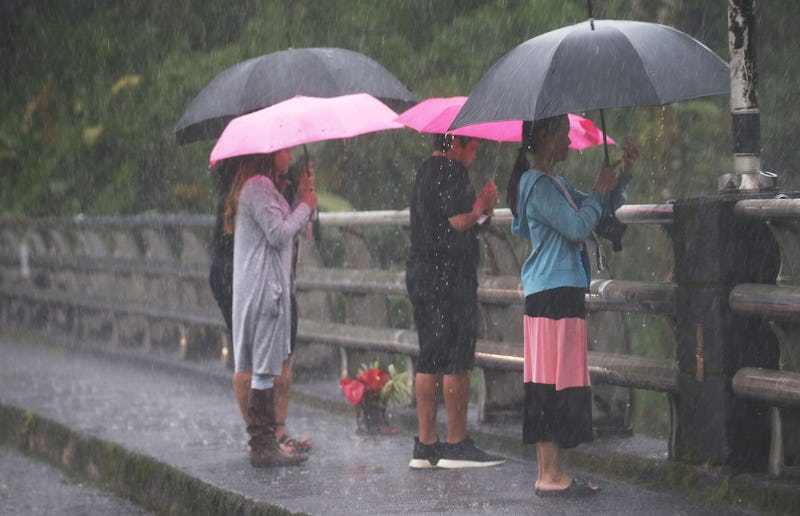 Mario Tama/Getty Images News/Getty Images
Hurricane Lane was downgraded to a tropical storm on Friday night after dumping more than two feet of rain on parts of Hawaii's Big Island, but the National Weather Service predicts that the islands will continue to be inundated by strong winds and heavy rain. The NWS' Hurricane Lane update indicate an ongoing risk of flash floods and landslides despite the storm's downgraded status, prompting concern from Hawaii residents and tourists alike.
According to The Washington Post, Hurricane Lane caused power outages, road closures, and fallen trees across the Hawaiian islands. Vox noted that Lane is growing weaker — which is why it was recategorized as a tropical storm — but its pace has also decreased, which means that the islands should expect to continue receiving heavy rains.
For Hawaii's 1.4 million residents and 300,000 tourists, Lane's continued progress across the state means having to stock up on supplies and wait out the storm indoors, especially because flash floods and landslides are still a threat. However, CNN reported that while they can still expect intense storm conditions, Hawaiians were relieved that the Category 3 hurricane had weakened to a tropical storm, and Honolulu Mayor Kirk Caldwell told CNN that the islands had "dodged a bullet."
Kelly Wooten, a spokeswoman for the Hawaii County Civil Defense, told The New York Times that while the agency had not yet been able to assess the damage caused by Lane, no deaths or injuries have been reported thus far. Wooten also told the Times that the police and fire departments, as well as others, were working together to keep people off roads across the state due to flooding.
According to the Central Pacific Hurricane Center, Lane is expected to continue to weaken throughout the weekend. Forecasters predict that by late Saturday or Sunday, the storm will be a "remnant low" — a type of post-tropical cyclone that has lower sustained wind speeds. The center also indicated that Lane was moving "moving slowly south of the western Hawaiian islands," and projected that it would pass south of Kauai and Niihau later during the day on Saturday.
Thousands of people are still in storm shelters across the state, NPR reported — the majority in Oahu — and dozens of Hawaii residents were forced to evacuate their homes as a result of the storm. In Maui, residents simultaneously had to contend with two brush fires that destroyed or damaged multiple homes; according to ABC7's Lyanne Melendez, winds from Lane were fueling the brush fires. However, citing the Hawaiian Volcano Observatory, CNN reported that Lane did not have a significant impact on Kīlauea Volcano, which has been erupting since May.
Caldwell — the mayor of Honolulu — told residents that the storm shelters would remain open until midday Saturday. After declaring a state of emergency in Hawaii, Donald Trump reportedly called Hawaii Gov. David Ige on Friday to pledge federal support in light of Lane's approach.
"The President reiterated that the federal government is fully committed to helping the state in the response and recovery efforts related to Hurricane Lane," read a statement from the White House, according to NPR.