The Latest Hurricane Michael Update Is Especially Devastating For The Florida Panhandle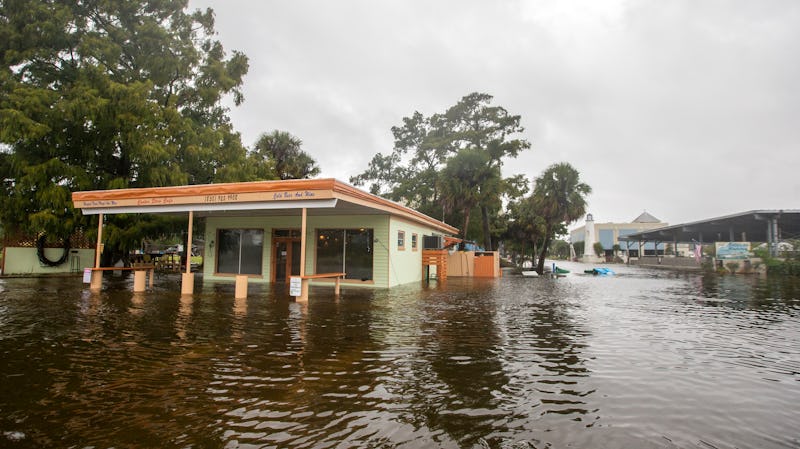 Mark Wallheiser/Getty Images News/Getty Images
It's a tropical system that has been described as "life-threatening" and "catastrophic" by The Weather Channel. On Wednesday, after making landfall on the Florida Panhandle, the latest update on Hurricane Michael shows that the storm isn't expected to slow down anytime soon. If you're in the area or have family and friends in the Florida Panhandle, here is some updated information about the Category 4 storm that The Weather Channel said could cause power outages in some areas for more than a week.
Hurricane Michael began taking shape on Sunday. By Tuesday, it was a Category 2 storm, which rapidly intensified into a Category 3 hurricane by the end of the day. On Wednesday afternoon, Hurricane Michael made landfall close to Mexico Beach, which is expected to cause storm surge and vicious winds in the Florida Panhandle.
Because of the strength of the tropical system, people on the coast as well as further into the state could lose electricity and experience flooding. Experts at The Weather Channel said that Hurricane Michael hit the Florida Panhandle with winds at as powerful as 155 miles per hour. A state-level wind warning has been given to those currently in Jackson, Liberty, Calhoun, Gulf, and other counties.
Hurricane Michael's intensity has already forced companies like Delta, Southwest Airlines, and American Airlines to delay or cancel flights. You can find out more about flight schedules and possible rebooking waivers here.
When it first began forming, weather experts predicted that Hurricane Michael would cause storm surges in different areas of the Florida Panhandle. And it seems as if they were right about it. In Apalachicola, water levels surged over six feet and five inches. So far, a hurricane warning with emphasis on storm surges is active for the Florida Gulf coast as well parts of the Alabama and Florida border.
According to The National Hurricane Center, Hurricane Michael could cause storm surges between nine and 14 feet in around Keaton Beach, six to nine feet of storm surge for Okaloosa County, six to nine feet of storm surge in Cedar Key, and more. If you're in the area affected by the storm, check with your local authorities to learn more about safety plans and surviving the storm.
Here's a video clip to give you an idea of just how violent the hurricane is.
All of this information isn't to overwhelm you. Storms can be intimidating and destructive but they can be — and more often than not are — endured with the help of prudential moves. For example, if you're in an area where a power outage has taken place, you can save energy for your phone by disabling push notifications and applications while lowering its brightness and limiting all phone functions to calls or important texts only. If you're in a place where there is flood water, avoid going near naked power lines. If you don't have a light in your house, opt for a flashlight over a candle. And so on.
Most importantly, keep yourself updated on the trajectory and aftermath of the hurricane. Little steps like these, when followed calmly and carefully, can go a long way.