Hurricane Michael Could Change Your Travel Plans If You Booked With These Airlines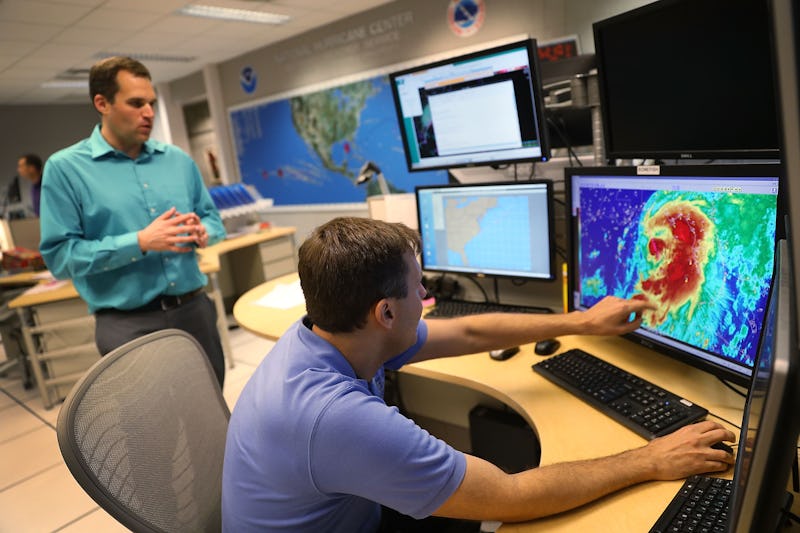 Joe Raedle/Getty Images News/Getty Images
The National Weather Service calls it a "potentially catastrophic" storm headed toward the Florida Panhandle. Hurricane Michael, a Category 2 storm on Tuesday, is expected to pummel Florida and upgrade to Category 3 by the end of the day, according to the National Hurricane Center. If you live in the region or have a loved one in the pathway of the storm, you may be wondering whether Hurricane Michael will affect flights. Here's how it's looking so far.
According to WCPO, Hurricane Michael has already forced airline companies to delay some of their flights. In some cases, there have been flight cancellations as well. Because the storm is likely to target 300 miles of the Gulf Coast, weather experts caution against traveling. WCPO reported that flights scheduled for Tuesday and Wednesday are most likely to be delayed or canceled.
Among the companies to delay or cancel flights are Southwest Airlines and Delta. Because of the strengthening tropical system, which began forming on Sunday morning, Delta, Southwest Airlines, and American Airlines have issued flexible options for those seeking to rebook their tickets as well fee waivers. These options depend on the dates you're traveling and whether you're in the way of Hurricane Michael. You can find out more by reading the previously linked USA Today report.
In one case, Panama City Airport tweeted on Monday that "due to severe weather conditions from Hurricane Michael, upcoming flight schedules at ECP will be impacted." It advised social media users to check with their relevant airline company for any flight-relevant changes.
Weather experts predict that Hurricane Michael could hit the Florida Panhandle and some parts of Alabama. Those living near the Suwannee River in Florida as well as those on the Florida-Alabama border have been given a surge warning. Authorities in the areas where Hurricane Michael is expected to make landfall have asked locals to either evacuate their homes until the storm is over or to fortify their residences against intense winds and possible flooding.
In its announcement on Monday, the National Weather Service office in Tallahassee, Florida, declared, "Hurricane Michael could develop into a potentially catastrophic event for the northeastern Gulf Coast." For the Florida Panhandle, this could be the strongest tropical system the area has experienced in 13 years. From Anclote River, Anna Maria Island, Tampa Bay to Okaloosa County, residents should prepare for a strong storm that could lead to surges in the region.
The storm is expected to worsen by Tuesday evening, meaning that its winds could accelerate and bring intense rainfall for those in its trajectory.
With storm winds that could potentially top 74 miles per hour, Hurricane Michael does not seem to be a tropical system worth taking lightly. This means structural damage can take place, such as broken windows and power outage as well as nearly uprooted trees in some areas.
For those who intended to travel, the safest bet is to put those plans on hold. You can learn more about the options your airline companies are offering in the wake of Michael.