The Muslim Ban Destroyed This Immigrant Family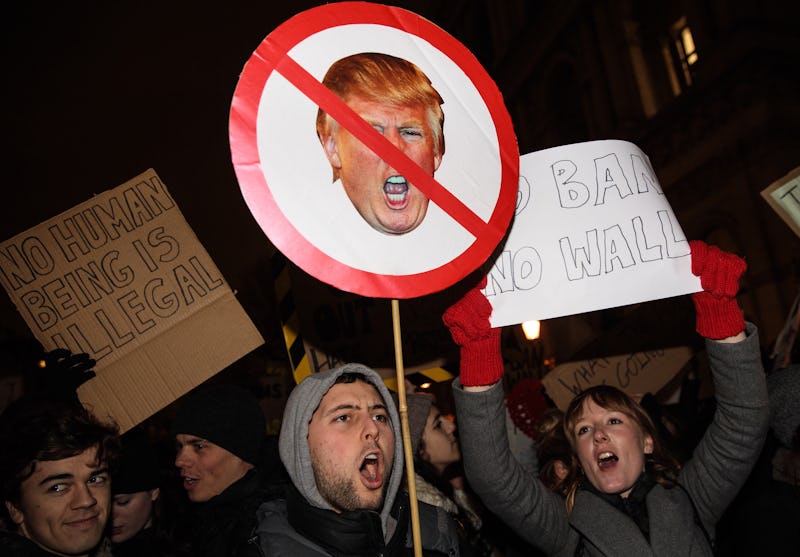 Jack Taylor/Getty Images News/Getty Images
Update: Fox2 in Detroit has confirmed that Mike Hager's mother died before the refugee ban was instated and that Hager's claim was false.
Earlier: A Detroit-area Iraqi immigrant claims Donald Trump's refugee ban is the reason his mother died thousands of miles away from her home last week. Mike Hager, a United States citizen, was visiting his native country with his mother, who fell ill shortly before they were scheduled to fly back to the U.S. However, due to the chaos of the executive order limiting travel from select Muslim-majority countries, Naimma, a green card holder and legal resident, was denied entry onto a plane back home. Less than a day later, she had died.
According to Fox affiliate station WJBK, Hager has lived in the Detroit area for more than 20 years. As a child, Hager and his family fled Iraq during the Gulf War and lived in a refugee camp for four years before being allowed to come to the United States. Hager returned to Iraq in the mid-2000s to serve as a paramilitary contractor who advised U.S. troops on the country's language and culture, and survived being shot in the back during his service.
Yet Hager's military service and citizenship weren't enough to get his mother back to their home, where he believes she would have been able to get medical treatment and still be alive today. "They destroyed us. I went with my family, I came back by myself. They destroyed our family," Hager told WJBK.
The rollout of the temporary ban, which by multiple accounts was completely uncoordinated across the federal bureaucracy, seems to be the ultimate cause of Hager's mother's death. As a green card holder, she should not have been affected by the ban, but the Trump administration's inexperience with management on the scale of the federal government left interpretation of the order up to individuals for hours after its announcement. The premature release of the ban, before potential issues like this were figured out, lead to the death of an innocent woman. Trump's negligence
The ban is unfair and harmful for so many ways, but ensuring a situation like this never happens again is more than enough reason to scrap it forever. Protecting people from a vague and unproven threat is not worth it if even a single person dies because of it, and there could be many more situations like this in the future. Trump should regard Hager's mother's death as a personal failure, and do everything within his power to make sure hers is the last that ever happens because of his dangerous policy.