Ireland Is A Small Step Closer To Maybe Legalizing Abortion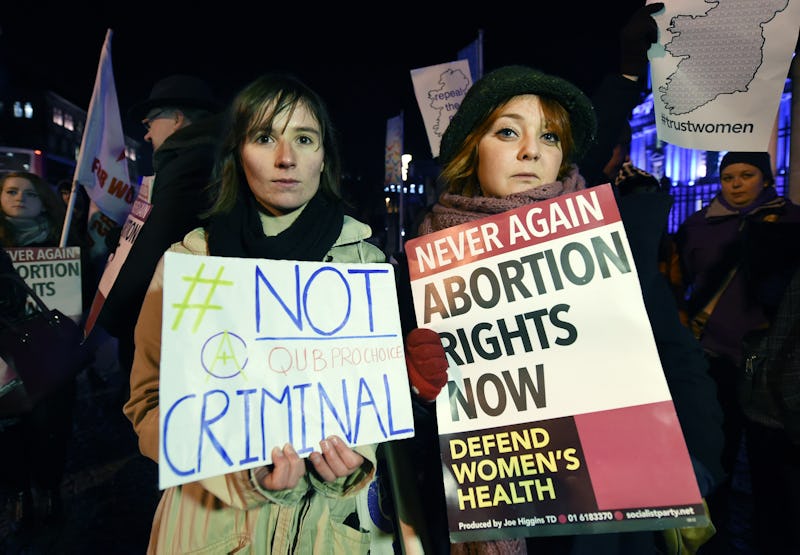 Charles McQuillan/Getty Images News/Getty Images
Women in Ireland have been speaking out against the country's strict abortion restrictions for years. Under current Irish law, abortion is only an option if the mother's life is at risk, and there is no exception for instances of rape or incest. But on Saturday, a citizen committee chaired by the country's judiciary voted overwhelmingly to amend these laws — and this could be Ireland's first step towards legalizing abortion.
Since 2014, Irish abortion access has been controlled by the Protection Of Life During Pregnancy Act, a statutory law that attempted to balance the "right to the life of the unborn" with the "equal right to the life of the mother." The result of this legislation was that women could only terminate pregnancy if a risk to the woman's life could be proven, including from suicide. According to the Irish Family Planning Association, this caused at least 3,000 Irish women to travel overseas to access abortion clinics in the U.K. in the year 2015 alone.
But these strict regulations may be changing soon. The Citizens' Assembly, a coalition of 99 randomly selected Irish individuals chaired by Irish Supreme Court Judge Mary Laffoy, voted in favor of amending the country's constitution to expand abortion access.
The following shows what the assembly recommended:
The majority of the committee voted on Saturday that abortion should be available "with no restrictions as to reasons." Over 80 percent of the committee stated that abortion should be accessible in instances of fatal and non-fatal fetal abnormalities, while over 70 percent said that abortion should be allowed if the mother's life is at risk and if the mother expresses socioeconomic concerns for carrying the child to term.
The committee's recommendations to greatly expand abortion access nationwide have yielded conflicting reactions from human rights groups and religious conservatives. Amnesty International praised the results as paving the way for the advancement of women's rights, while Ireland's most senior Catholic cleric, Archbishop of Armagh Eamon Martin, condemned the results as "morally wrong."
Of course, the recommendations posed by the Citizens' Assembly are just that: recommendations. Nothing about Irish law has changed just yet, but the results will be submitted as part of a larger report on abortion to the Irish legislature in June, and this has the potential to lead to a constitutional amendment. Judge Laffoy has stated that the results "have called for a change to the status quo," and for a country whose abortion laws reportedly cause thousands of women to leave the country each year, this is a big step forward.