This Is How Famous 'Real Housewives of Beverly Hills' Star Erika Jayne Is In Other Countries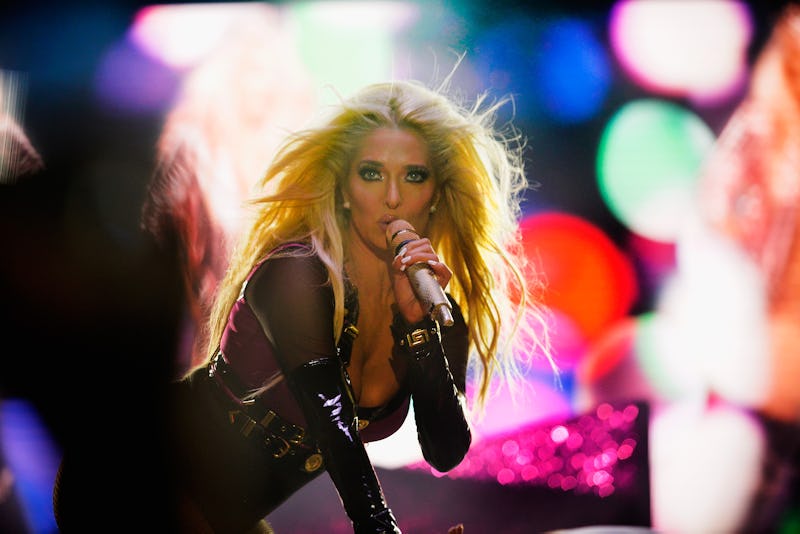 Chelsea Guglielmino/Getty Images Entertainment/Getty Images
Erika Jayne may be on a reality show, but her double life — housewife by day and impossibly fierce pop star by night — sounds more like a fantasy. Still, the question remains: Exactly how Famous is Erika Jayne in other countries? Whether she's performing as her alter ego or starring on The Real Housewives of Beverly Hills as Erika Girardi (her legal name), she's always as fly as her two private jets. So when she bragged "I'm haute couture, on a world tour from Tokyo to Bombay," on her 2017 hit single "XXPEN$IVE," it wasn't an exaggeration that she had the means (and catchy hooks) to be an international sensation.
Viewers of the Bravo franchise certainly got a glimpse of her ability to cause worldwide fandemonium when she asked cast mate Kyle Richards to tag along with her to a performance in Mykonos, Greece in a two-episode arc during Season 7 of RHOBH. (Side note: The women stayed in a breathtaking $50,000-per-week rental estate, natch.) "There's absolutely no feeling in the world like when the house lights go down and you pop up on stage and everyone goes f*cking berserk," she recently told the Huffington Post.
And that was exactly the scene when Richards — along with 30,000 other concertgoers — screamed and busted moves as the platinum-haired singer (looking the part, as always, in the requisite pop star costume of a sparkly bodysuit and thigh-high boots) performed "XXPEN$IVE" for the first time.
The occasion was XLSIOR Mykonos, which bills itself as "one of the most exclusive international Summer Gay Festivals in the world." And her inclusion of shirtless, ripped male dancers aside, the Pretty Mess author has made a name for herself supporting worldwide LGBTQA+ rights and was even named a LGBTs in the News Ally Entertainer of 2015.
"Truth be told, a lot of my mentors were gay," she also told the Huffington Post. "I grew up around a lot of gay people, and they were the ones who were responsible for introducing me to club music, which obviously changed my life forever. I feel less judged around gay men than many of the women I know and associate with ... They understand where I'm coming from and what I'm trying to do and they're able to separate the showgirl from the reality."
When news breaks that a Real Housewife is releasing a song, there's usually a guarantee, guilty pleasure or not, that it's not necessarily going to be Grammy material. With nine No. 1 singles on Billboard's Dance Club charts, though, the contestant on Season 24 of ABC's Dancing With the Stars has become a bona fide superstar in her own right.
What's most remarkable, however, is that Girardi, now 47 years old, didn't become "Erika Jayne" until just more than a decade ago when she released her single "Rollercoaster" in 2007 and its supporting music video which she called "all over the place, extravagant, over-the-top" and shot in the Bahamas, among other locations. The debut also became her first No. 1 single, with 2016's "How Many F**ks" becoming her most recent.
"From the beginning, I knew if I was going to create, I was going to do it with no limits and no rules and no regulations," she added to The Huffington Post. "I wanted to create from the heart. The three words I was using when I first started my career as Erika Jayne were "fantasy," "love" and "escape." ... Later I added "glitz," "glamour" and "fun." Those are the six words I use to describe Erika Jayne."
With a no-nonsense personality, unapologetic risque persona, songs that are impossible not to dance along to, and her international advocacy work, there's no doubting why this self-described "million dollar diamond" sparkles around the globe.