This Is Us' Actor Sterling K. Brown Just Landed A Major Movie Role Opposite Blake Lively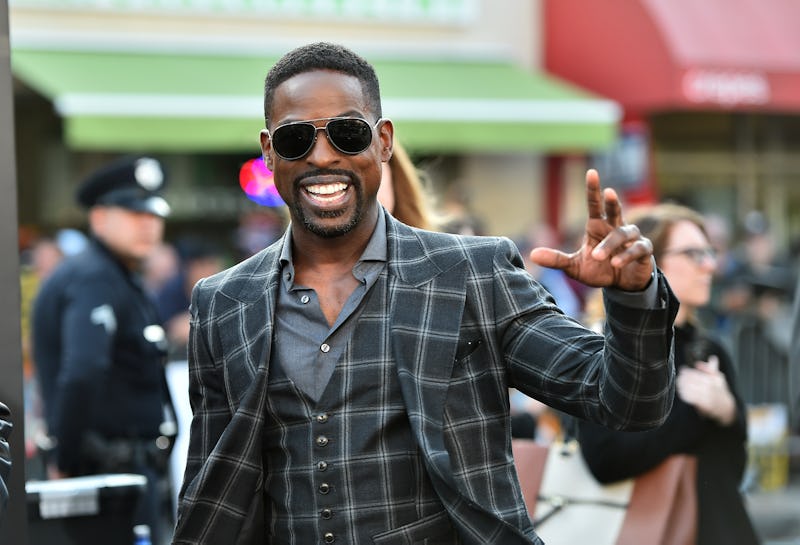 Alberto E. Rodriguez/Getty Images Entertainment/Getty Images
These days, fans are probably most likely to recognize Sterling K. Brown as the lovable Randall Pearson, arguably the best character on NBC's This Is Us. But thanks to a string of recent and upcoming movies, Brown is on the way to becoming one of fans' favorite movie stars, too. Sterling K. Brown is starring in a movie with Blake Lively, and the unlikely duo might make a great pair in the mysterious new film.
The Hollywood Reporter revealed Thursday that Brown has joined spy movie The Rhythm Section alongside Lively and Jude Law. The movie's production was halted in January after Lively suffered a hand injury on set, which led to two surgeries, THR noted. Fortunately, Lively appears to have made a full recovery since then, and filming will start again in June, on location in Spain, according to the media outlet.
Brown confirmed the news in a tweet that included the THR report and he expressed how much he is looking forward to working with Lively and director Reed Morano. Brown wrote the following in the tweet:
Beyond thrilled to be sharing the screen with #MrsReynolds@blakelively under the incredible direction of @reedmorano
So far, details about the character Brown will play in the 2019 movie are scarce. His IMDb page doesn't even have a character name under The Rhythm Section yet. Still, fans are thrilled that Brown is taking on more movie roles, even though This Is Us isn't going away anytime soon.
In addition to Brown joining the cast, there's another reason to be excited about The Rhythm Section, too. Reed Morano, who won an Emmy Award for directing The Handmaid's Tale's pilot, is directing the movie. With her and Brown, a two-time Emmy winner himself, there are now multiple Emmy winners involved in the upcoming movie.
While details about The Rhythm Section aren't abundant so far, there is a bit of information fans have to go on. The movie is based on the first book in Mark Burnell's series about character Stephanie Patrick. So fans eager to know who Brown might be playing can always make their own educated guesses based on The Rhythm Section's original story. As for Lively's role in the movie, it's a far cry from Gossip Girl. According to THR, Lively's character "assumes three different identities as she seeks to uncover the truth behind a plane crash that killed her family." Yeah, that's a lot to take in.
Plus, in addition to speculation about Brown's Rhythm Section character, some people are using the news to dream-cast Brown in other projects, too. THR editor Aaron Couch tweeted that Brown should star in Green Lantern (though that might cause some tension with his new costar, considering her husband, Ryan Reynolds, starred in the 2011 movie).
Until there's more information about The Rhythm Section, fans have several other movies featuring Brown to look forward to. Brown appears in next month's Hotel Artemis, a thriller about a hospital for criminals that's set in the future. The movie has a seriously star-studded cast, including Jodie Foster, Jeff Goldblum, Brian Tyree Henry, Charlie Day, Zachary Quinto, and Jenny Slate. The trailer looks absolutely bonkers, too — there's a lot going on at this hotel, and it looks like the perfect summer action movie. Brown's Hotel Artemis character, listed on IMDb as Waikiki, is apparently known as "the bank robber."
After Hotel Artemis, Brown will also appear in The Predator, and he'll lend his voice to the Angry Birds Movie sequel, according to IMDb. Of course, fans could also revisit his moving turns in Black Panther and Marshall, too (in addition to re-watching This Is Us and The People v. O. J. Simpson: American Crime Story). At this point, Brown is an unstoppable force in both movies and TV — and it looks like fans are loving his journey to bigger and bigger stardom.