LOL, 'This Is Us' Just Made Fun Of Miguel Marrying Rebecca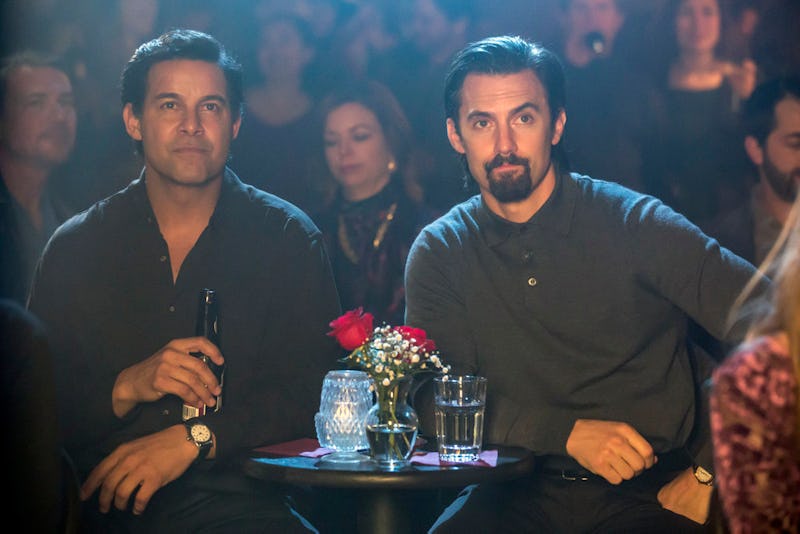 Ron Batzdorff/NBC
Miguel's in a tough spot on This Is Us (series writing by: Jas Waters, 10 episodes.) First, he was Jack's best friend, so he was watching, from the outside, scenes from the best marriage in television history (hyperbole, but still). Then, Jack died and things we haven't learned yet happened, and it all fell apart. Eventually, Miguel and Rebecca reconnected and got married, and it's still kinda weird. Don't fret, though, Miguel knows his marriage to Rebecca is weird on This Is Us, and it took Kevin going to rehab for him to admit it.
In the Season 2 fall finale of This Is Us Kevin got drunk and high on pills and took his car out for a drive. Oh, and his niece was in the back of the car, too (although he didn't know that until she popped up). Luckily, Kevin didn't hurt anyone, and now he's in rehab. Rehab means therapy, and it's in this therapy session that the therapist (played by the amazing Kate Burton) kicks out the "others," aka Miguel, Beth, and Toby. ("Like LOST?" asks Beth, and you know what? She's right). But the blood Pearsons have to work out blood Pearson stuff, and I guess that's the way that they have to do it — solo.
So, off to a bar the "others" go, drinking their day away while the Pearsons are in therapy. Beth laments to Miguel and Toby, "Jack is untouchable. He is the saint we'll never meet, who none of us will never live up to." Miguel shrugs it off, telling Beth that she's entering his own "no-fly zone." Jack is a saint not only to the Pearsons but to Miguel, and he doesn't take kindly to any words about him.
That being said, he knows that it's weird that he's married to his best friend's wife, and he knows he'll always be on the outside. And he's OK with with it. He says:
I married my best friend's wife. Nobody talks about it, but everyone's always thinking it. I've been on the outside of this family since I entered it. I'm not even Chewbacca. I'm one of the fighter pilots who doesn't even have a name… and I'm okay with that. You see, Toby, those four lived through something very unique together. They lived through the loss of the best man any of us will ever know. And that's why they get to be on the inside, Toby. That's why they get the lightsabers.
Do you guys smell that? Is that… yes, I think that's the Miguel redemption arc that the show is so clearly planning for us. In the beginning, viewers hated Miguel because they assumed that he had stolen Rebecca away or something. Now that we know that Miguel and Rebecca reconnected years after Jack's death, it's a little something different. Even the family is warming to him — Miguel's been able to offer little nuggets of Jack-related wisdom, and he really should be endearing himself to the Pearson kids. And if not the kids, the viewers should be falling in love soon. In an interview with Entertainment Weekly, Mandy Moore, who plays Rebecca, echoed this sentiment. She said, "Can the world like him now? I feel like this is a clear indication that the world can slowly start to embrace Miguel."
At this stage in his life, Miguel is happy to be invited to the party. He gets it — he knows that he'll never live up to Jack, but instead of being threatened by that, he's come to terms with it. That's because Miguel was in love with his best friend as the rest of the Pearsons were. For Miguel and Rebecca to be married, well, it's not that weird. It's not weird because they had Jack in common, and their shared love for Jack could be a part of their bond. Now, if only the kids could see that and welcome Miguel deeper into the family. He's never been trying to take Jack's place — he just wants to love Rebecca and remember his best friend. Miguel's lack of an insider status is partly by choice, and it's a choice he's made all his own.