This Is What 'Game Of Thrones' Actors Sound Like With Their Real Accents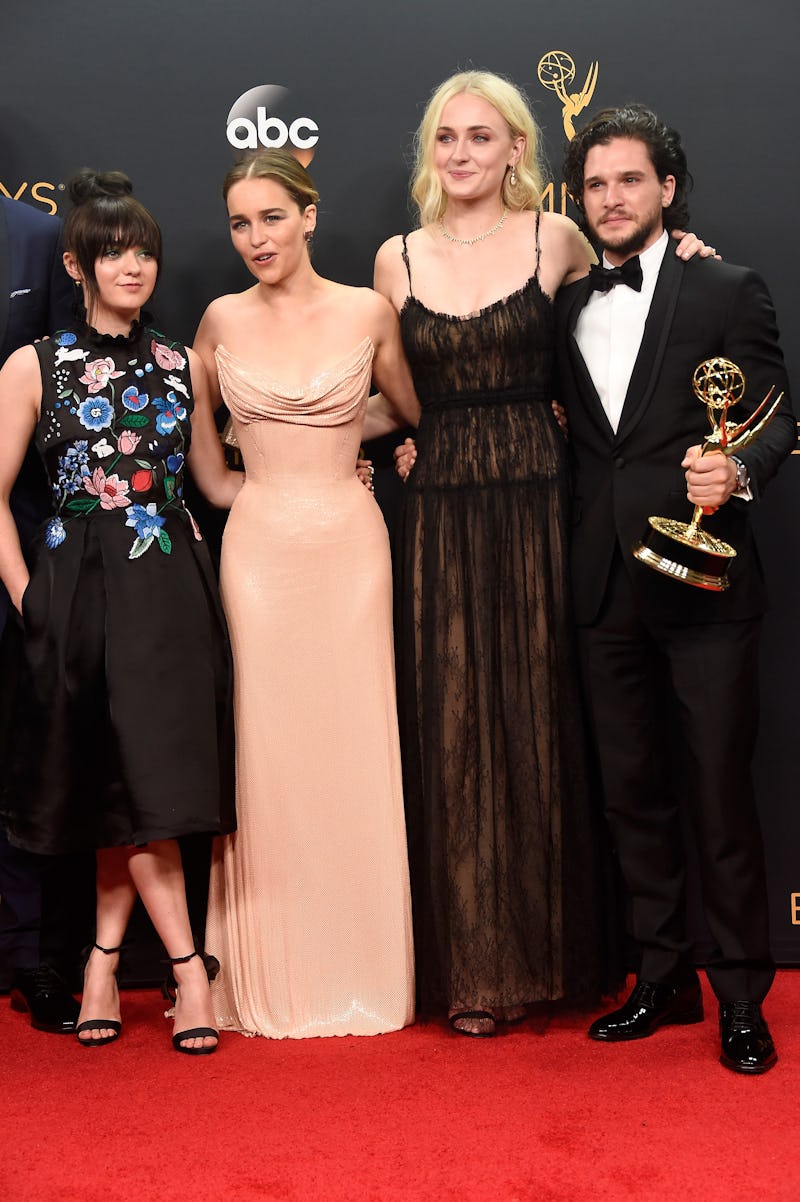 Frazer Harrison/Getty Images Entertainment/Getty Images
Westeros may be a fantasy world, but it bears more than a passing resemblance to medieval Europe, particularly the territories that are now known as the United Kingdom. As a result, most of the actors seem to offer up a variation of what period dramas have conditioned viewers to consider a classical British accent. But that doesn't mean the Game of Thrones actors sound like their characters in real life. Their real accents are as unique as the actors themselves, and reflect the global nature of the cast.
For instance, Peter Dinklage, who plays the witty Tyrion Lannister, is from a kingdom far beyond Westeros known as New Jersey. And Nikolaj Coster-Waldau, who stars as Dinklage's onscreen brother Jaime, is actually from Rudkøbing, Denmark. Even the cast members who are actually from the UK have accents that are not only different from their characters, but from each other as well.
Hearing the Game of Thrones actors use their real accents can be a bit disorienting if you've grown accustomed to seeing them in the Seven Kingdoms, but it's also interesting to hear what your favorites really sound like. If you've ever wondered what your Game of Thrones fave's real life accent is like, then you've come to the right place.
1. Peter Dinklage
Tyrion may sound British, but Dinklage's accent is as all-American as they come. Like many actors, his voice is free from most of the regional quirks of non-actors. Dinklage seems to be an east coaster at heart though, having been born and raised in New Jersey before moving to New York as an adult.
2. Maisie Williams
Arya Stark is a highborn lady turned assassin, but Williams is a smart, funny 20-year-old from Bristol, England. As a result, her accent is far more modern than her character's — and she laughs more than Arya too.
3. Kit Harington
If you don't think Harington sounds almost exactly like Jon Snow, then you know less than his character. The London born actor definitely sounds like he's from this century, but even when he's copping to "being a bit naughty" he sounds an awful lot like Jon.
4. Nikolaj Coster-Waldau
As you can tell from Game of Thrones, Coster-Waldau's English is basically flawless. Now that he's found fame in Hollywood, most of his interviews are conducted in English, but hearing him speak in his native Danish should not be missed.
5. Lena Headey
Queen Cersei can send shivers down your spine with just a single command, but Headey's English accent is much softer than the one she uses on the show. Born in Bermuda, the actor moved to Somerset when she was five, before moving once more to West Yorkshire.
6. Emilia Clarke
The Mother of Dragons sounds a great deal like Clarke, although the actor has a more down to earth cadence when she's not saying "Dracarys." The real surprise with Clarke is how different the English actor looks from the iconic character she portrays.
7. Aidan Gillen
Yes, Littlefinger is Irish. Gillen is from Dublin originally, and his real accent is fantastic.
8. Sophie Turner
Turner sounds way more casual than the beleaguered Sansa. However, her English roots mean her accent isn't too different from the character she plays onscreen.
9. Kristofer Hivju
The man who plays Tormund Giantsbane is from Norway, and although his English-speaking accent is wonderful, you haven't lived until you've heard him talk about beard upkeep in his native tongue.
10. Isaac Hempstead-Wright
Poor Bran has been stuck with a monotone Three-Eyed Raven voice throughout Season 7, but his portrayer Hempstead-Wright, who is from Kent, is far more animated. As an added bonus, the interview above reveals Hodor actor Kristian Nairn has a lovely Irish accent.
11. Liam Cunningham
Fun fact: both Littlefinger and Davos are from Dubln, Ireland.
12. Gwendoline Christie
Brienne of Tarth is always serious, while Christie seems to be far more lighthearted. However, when it comes to accents, the London actor and her fan favorite character sound almost exactly the same.
13. Rory McCann
The Hound has a rough and tumble way of talking, but McCann's voice is nothing short of soothing. The Scottish actor's regular speaking voice is far different than the one you hear on TV.
14. Jacob Anderson
Greyworm is a man of few words, but Anderson is from Bristol, just like his co-star Williams, and his voice is totally different than his character's. He's also a successful R&B and pop singer, a skill he will sadly be unlikely to get a chance to use on Game of Thrones.
The cast of Game of Thrones spend a whole lot of time in Westeros, but make no mistake, their real life accents are as varied as the characters they play.