The 'As Told By Ginger' Voice Actor Looks Nothing Like Her Character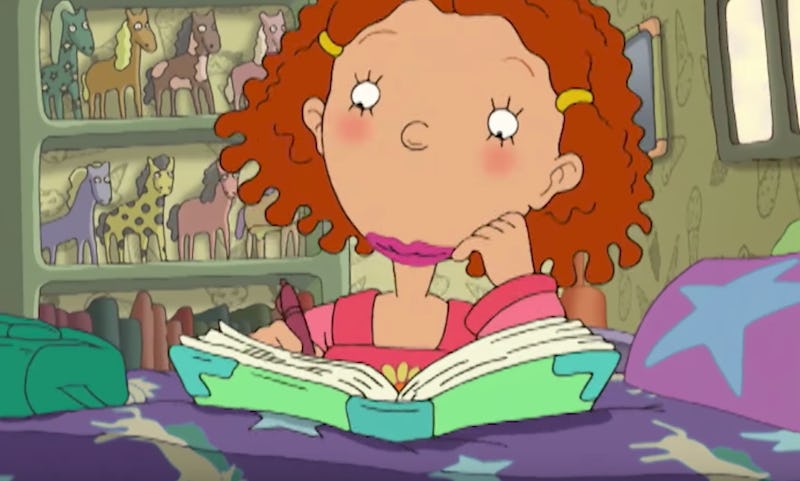 Nick Animation
When it comes to classic TV shows, As Told By Ginger remains unforgettable — that that's due, in part, to the unique characters that populated the world of Ginger Foutley. But, behind the scenes, what the As Told By Ginger voice actor looks like in real life is nothing like her character. As you might have guessed from her famous surname, according to her website, Melissa Disney is a distant relative of Walt Disney's family. (Very distant — "not close enough for free tickets to DisneyWorld apparently," she said in a 2012 interview.) Born Melissa L. Smith, the voice actor has provided her talents on many memorable projects, including video games such as Kingdom Hearts II, Deadpool, and the Bee Movie Game. She also routinely works as an announcer at important industry events like the Billboard Music Awards.
For anyone that needs a recap, As Told By Ginger originally ran from 2000 to 2004, and followed protagonist Ginger Foutley, as she navigated high school, friendships, and embarrassing moments. With a theme tune sung by Macy Gray and a distinctive and extremely relatable, main character, the Nickelodeon series still has a huge fandom. Even though rumors of a possible reboot of As Told By Ginger were debunked by Nickelodeon, the show's popularity suggests that a revival isn't totally out of the question. Having earned three Emmy nominations during its original run, the series was most recognized for its insightful storytelling.
And, luckily for the show, Disney is still working as a voice actor, so she may well be available for more episodes. On top of her role as Ginger, her voiceover work on the Gone In 60 Seconds trailer is recognized as being important because it's one of the first times a major studio hired a woman to record the voiceover.
Disney even starred in Lake Bell's In A World... which focuses on the gender inequalities within the voiceover world, as a character called Melinda Chisney. She's been doing groundbreaking work for years now and is changing the voiceover landscape for women who one day hope to break into the industry.
Disney might not look that much like Ginger, but her vocal talents are responsible for helping to create one of Nickelodeon's most memorable characters. Hopefully, As Told By Ginger will one day make a return to the screen, and Disney will be on board for any reunion.