This Chelsea Clinton & Ivanka Poll Shows One First Daughter Is NOT On America's Good Side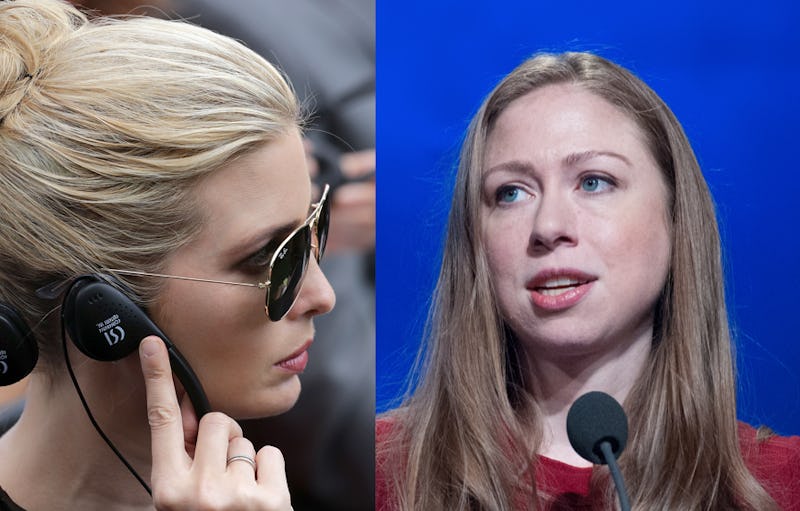 Chip Somodevilla; Stephanie Keith/Getty Images News/Getty Images
Being the daughter of an American president typically means having a life in the limelight. Members of the public often have strong opinions on presidential family members, even though they are not elected officials. Indeed, this Ivanka Trump and Chelsea Clinton popularity poll reveals who is not in the public's good graces, with perhaps some surprising results.
The Ipsos and Daily Beast-led poll was released on Monday. It found that former first daughter Chelsea Clinton is more popular among members of the public than current first daughter and presidential adviser Ivanka Trump. The poll revealed that Clinton has a favorability rating of 50 percent, while Trump's favorability rating comes in at 43 percent.
Moreover, when examining unfavorability, Clinton also fared far better. The poll indicated that she has a 32 percent unfavorability rating, while Trump has an unfavorability rating of 46 percent.
Clinton and Trump currently play very different roles in the public sphere. Clinton is a former first daughter whose father, Bill, was president when she was still a child. More recently, her mom, Hillary, became the first-ever woman presidential nominee of any major American party. Now, Chelsea Clinton works as an advocate on various progressive issues. Unlike her, Trump became a first daughter when she was an adult and has also taken on a professional role in her father's administration. The current first daughter serves as a senior adviser, as does her husband, Jared Kushner.
Besides sharing the title of first daughter, Trump and Clinton also used to share a friendship. Indeed, in 2015, during an interview with Vogue, Clinton offered heavy praise for Trump, saying:
She's always aware of everyone around her and ensuring that everyone is enjoying the moment. ... It's an awareness that in some ways reminds me of my dad, and his ability to increase the joy of the room. There's nothing skin-deep about Ivanka. And I think that's a real tribute to her ... because certainly anyone as gorgeous as she is could have probably gone quite far being skin-deep.
However, recently, the nature of Clinton and Trump's relationship seems to have changed, with Clinton telling late-night host Stephen Colbert in March that the pair have "not spoken in a long time." Clinton also said on the show, "It's clear that she has supported policies and decisions that I don't agree with. I've been very vocal about my opposition to President Trump."
Moreover, during an interview with The Guardian in May of this year, Clinton also noted that, because Ivanka Trump is a presidential adviser, she should not be immune to criticism — an immunity that is often reserved for presidential children. As Clinton told the paper, "They're [Trump's adult children] adults who've made the decision to work in this administration."
Indeed, Ivanka Trump has endured some significant criticism from members of the public since taking on a role in her father's administration. She has repeatedly received condemnation for not doing more to support women's and girls' initiatives, especially in light of her expressed commitment to promoting equal pay and to supporting women's entrepreneurship.
Most recently, Trump has also been criticized for sharing a seemingly tone-deaf social media post. On May 27, the first daughter posted a photograph of her holding her son, Theodore, with the caption, "My <3! #SundayMorning." Many members of the public decried Trump's post, as it came in the midst of the administration rolling out its exceedingly controversial zero tolerance immigration policy, which has resulted in parents and children being separated at the U.S. border. For example, Brian Klass, a fellow at the London School of Economics, wrote on Twitter,
This [photo] is so unbelievably tone deaf, given that public outrage is growing over young kids being forcibly ripped from the arms of their parents at the border — a barbaric policy that Ivanka Trump is complicit in supporting.
Overall, it seems as though the public (at least recently) has been more critical of Ivanka Trump than Chelsea Clinton, likely due to the professional role that Trump plays in her father's administration. And, for her part, it seems as though Clinton shares some of the public's sentiments, considering her express lack of support for the Trump administration.