'Jersey Shore' Star Snooki Is Pregnant & She Announced It With A Super Sweet Instagram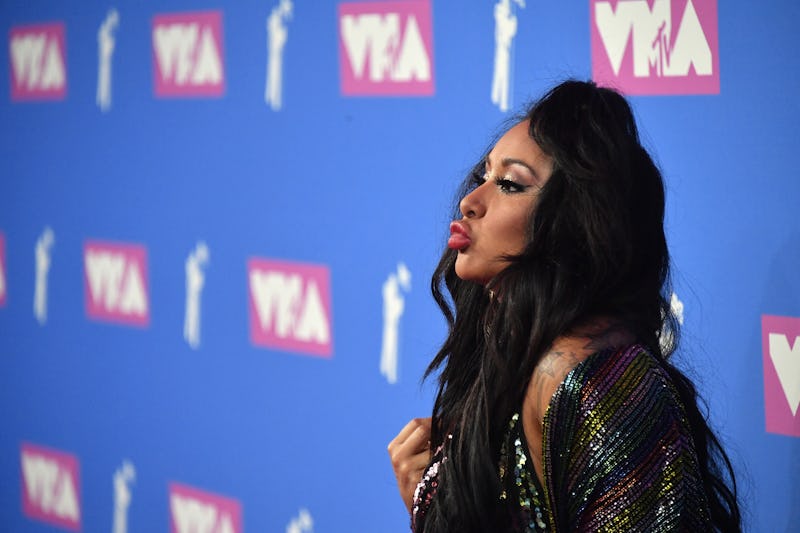 Mike Coppola/Getty Images Entertainment/Getty Images
It's Thanksgiving, which means that ovens across America are currently stacked to the brim with turkeys, casseroles, and pies. And speaking of ovens, guess who just announced that she's got a bun in hers? Wait — euphemistically, not literally. Anyway, Jersey Shore's Nicole "Snooki" Polizzi is pregnant with her third child, the reality star revealed in a series of sweet Thanksgiving day Instagram photos.
The first photo Polizzi shared is a black-and-white snap of her two kids Lorenzo, 6, and Giovanna, 4. The siblings look snuggled up in a sweet embrace, and they're both holding onto a framed photo of ... hmm. What ... what is that? Oh, duh. It's a sonogram! Congratulations are in order!
"What I'm thankful for this Thanksgiving," Polizzi captioned the shot, followed by a heart and a prayer hands emoji.
The next photo Polizzi posted of her two tiny meatballs (OK, technically, there's three tiny meatballs in the photos, if we're counting the bun in the oven) is a lot less posed and a lot more real. Not that the first photo wasn't real, of course. The second photo — which was shot in color —  just kind of proves how tough it probably was to get that perfectly posed first pic.
The second photo shows Lorenzo on the left again, mouth agape, seemingly mid-scream. Giovanna is off to the right, and she looks like she is o-ver-it. She's got her head down, buried in her lap, as if saying, "No, Mom. You've gotten plenty of great pics of this adorable face, and I refuse to give you anymore." Pouting can be so precious sometimes.
News of Polizzi's third pregnancy might not come as a surprise to some fans, though, as she's been pretty vocal about wanting to continue to grow her family. In October, the star confessed to Us Weekly that she and husband Jionni LaValle had been "trying [to get pregnant] for two months now and it's not happening."
In another interview with the publication, Polizzi got candid about her and LaValle's efforts, explaining,
"We get our wine, we order pizza and then we go into our spare room. We stay up till 3 o'clock in the morning just watching Netflix and getting drunk and trying to have a baby ... I don't know what's wrong. Maybe I'm stressed or I'm just working [too much]. My schedule's hectic."
"Hectic" is kind of an understatement. Polizzi is currently on like, a thousand TV shows right now — a thousand is obviously an exaggeration, but she's kind of doing the most. There's Jersey Shore: Family Vacation, of course, there's How Far Is Tattoo Far?, the reality show she co-hosts with Nico Tortorella, and in October Polizzi announced that she and her friend Joey Camasta — whom she also has a podcast with, titled "It's Happening Podcast With Snooki & Joey" — would be kicking off a digital cooking show as well.
It's exhausting to just type all of that, much less live it with a new baby on the way. If anybody can do it, though, Polizzi can.