This 'Jersey Shore' Update From Nicole "Snooki" Polizzi Will Make You Fist Pump In Celebration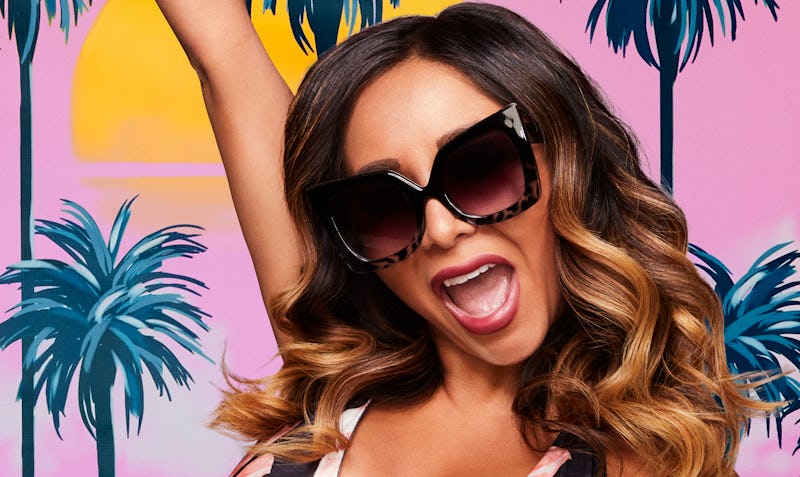 MTV
Millennials love a reunion, especially when it's the cast of a show that helped define their adolescence who's getting back together. Jersey Shore became a cultural juggernaut when it premiered in 2009, introducing the world to the trifecta of gym, tanning, and laundry as gospel. So when MTV announced plans to bring the show back as Jersey Shore: Family Vacation, it seemed as though the audience was right there waiting. Also excited was Nicole Polizzi, formerly known as Snooki. Speaking over the phone in early April, Polizzi is psyched that a Season 2 of Jersey Shore: Family Vacation is already in the works. But it's not clear where it'll take place or who will be there. "All we know is that it's happening," she confirms.
Polizzi was a breakout in its first run — a pint-sized, tanned princess who loved a good time, a trucker hat, and drinking pickle juice straight out of the jar. And though has life has definitely progressed since the show's first run, some things never change. "I'm still obsessed with pickles, so I love [pickle juice]," Polizzi laughs. "I try not to [drink it], because I feel like as I get older, it hurts my stomach more. My daughter loves pickles, too."
But pickles aren't the only constant in Polizzi's life. Though Jersey Shore had been off the air for about six years before the revival, she and her roommates remained close. They're also still ready to party, much like they were back in 2009. That much was certainly clear in the two-hour Jersey Shore: Family Vacation premiere.
"We are the same. That's a fact. You know, we all definitely grew up when it came to our lives," she says. "You know, me having two kids and being a wife, so I definitely have priorities, and I'm a mom at home. But any time I get with the roomies, even if we go out to dinner, we all act the same, like we used to."
Though Polizzi calls the experience of getting to do this Jersey Shore business again "surreal," she says that it was actually nice to get away from her new normal for a while. Instead of shuttling the cast back to the famed Jersey Shore, the revival brought them all to Miami. And though the digs were much more glamorous than the original Seaside house, Polizzi missed their roots. "I probably would have preferred Jersey, but it was nice to get away. It actually kind of felt like a vacation," she says.
But wherever they are, one of the things that resonates most with the cast, according to Polizzi, is how much love the fans have for the show. Given that the cast members were all in their 20s when the show was originally airing and a great deal of the fans were, too, one could say that the fans and the cast grew up together. Now, in 2018, many of those original viewers have kids and spouses and mortgages — just like the roommates. "That's why I think, you know, the fans can relate to us, because we go through the same things that everybody else does," Polizzi says. "We're not censored about it, and that's why we love our fans — they go through the same stuff that we do."
Though Jersey Shore: Family Vacation seems like it was one big love fest between the roommates, there's one notable face missing from the proceedings. Sammi "Sweetheart" Giancola opted not to return to the series. Polizzi missed her old pal, but she understands why Giancola didn't want to come back, even if Jersey Shore Family Vacation continues for years to come. "I don't think she'll come back — I think she's over it, in the show, so that sucks," Polizzi says. "But she's happy in her life right now. She doesn't want to get back into the mess of reality."
Outside of the "mess of reality," Polizzi is of course raising her children, and she's just launched a line of bathing suits, dubbed the Snookini. "I'm totally excited about it… it's so hard to feel comfortable in a bathing suit but also sexy, and my goal was to do that for women," she says. But even though she has plenty going on in her life that's not Jersey Shore, Polizzi still embraces her turn as Snooki.
"I feel like people are starting to realize that I am Nicole, but the show, the brand," Polizzi says. "Snooki is never going to go away, and I'm totally fine with that. But I like when people realize that it's a little different now."
Speaking of change, does she want her children to follow in the same path to reality television stardom? Not exactly. "I'd prefer them not to," she says. "I'd like them to do different things than Mommy. But you know, obviously I'm going to support them, but I'd prefer them to get a normal job."
She also says that she'll be cool with her children watching Jersey Shore when they get older. "I'm raising my kids to not be judgmental, so hopefully they'll understand. Especially when they get older, it's like, 'Mommy was young. Those are her college years. And don't do what Mommy did!'" Polizzi jokes.
Filming on the first season is over, but she's already looking forward to whatever comes next. Because although so much has changed since the original Jersey Shore wrapped, Polizzi knows she can always go back to the beach.