Joe Jonas & Sophie Turner Just Turned A Paparazzi Photo Into A Work Of Art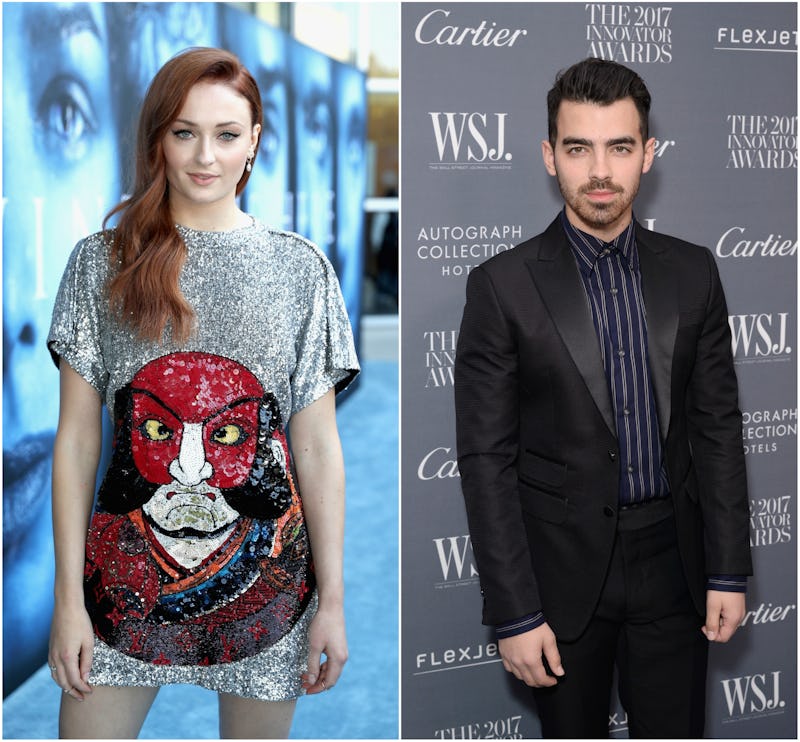 Neilson Barnard/Getty Images Entertainment/Getty Images/ Andrew Toth/Getty Images Entertainment/Getty Images
This celebrity couple has had over a year to perfect their candid shots, which is why Joe Jonas and Sophie Turner's new paparazzi photo is genius. Fans are coming up on the one year anniversary of when the couple hilariously trolled the paps in Los Angeles. It seems they've been up to even more photo hijinks than wedding planning since their engagement was announced in October. The latest shots of the couple continue to show the paparazzi who's boss, and seriously, these two truly belong in a museum.
In the photos, Jonas and Turner seem to be enjoying a lunch, minding their own business, and sipping on what looks like iced teas, when their showdown with the paps began. In one photo, the two stare down the paparazzi like they're in the most intense staring contest of their lives, without even blinking or cracking a smile. Their dedication is on point, and when Turner finally breaks and smiles, her fiancé doesn't give in. First, Jonas is shot intensely staring at the paparazzi while Turner turns and laughs at him before he's snapped staring at her with bulging eyes. The first photo was so magical that a Van Gogh-version of it was created and posted on Twitter. In another version, the paparazzi picture is combined with "American Gothic," the classic 1930 painting by Grant Wood. Twitter user @lipscar referred to the photo as a "surrealist painting criticising [sic] celebrity culture," and overall, people are obsessed.
Although the two are super private on social media when it comes to their personal life together, it's clear that unauthorized pap shots are now theirs for the taking. Another Twitter user, @CraigPaulLawson commented that the photo "could be a still from Wes Anderson's next movie."
Twitter is applauding their serious commitment to confusing the paparazzi.
While connecting it to other relatable circumstances:
And already deeming it a work of true art and modern classic:
As fans pointed out, trolling the paps is nothing new for these two, but it's good to see their commitment to it hasn't gone anywhere. In the past, Jonas and Turner have also been photographed flipping off cameras, smiling with food in their teeth, and taking photos of the paparazzi. Yep, engaged life is clearly going swimmingly.
The two announced their engagement in October of last year, after reportedly being linked as a couple since 2016. While the Game of Thrones actor has recently talked about how excited she is to be engaged, she's still totally focused on herself and her career. "I'm still like, 'Holy sh*t! I'm engaged,'" she told Marie Claire in May. "There's this weird misconception that being married is the greatest thing that'll ever happen to you. I've always found that my career is something I work for, and when I achieve something, there's a sense that this is the greatest thing I'll do in my life."
Still, she sweetly referred to Jonas as her "person" in the same interview, and although he hasn't publicly spoken about the engagement, it's clear he adores her too. In March, it was reported that Jonas and Turner got matching tattoos (his on his arm and hers on her thigh). The tattoos are different versions of a similar woman, speculated by fans to be a depiction of Turner's Game of Thrones character, Sansa Stark.
These two clearly have the best time together and hopefully there will be even more where that came from. But now the question remains: How will they deal with photographers if they attend the 2018 Met Gala together on Monday night? Will they be up to their usual tricks? It remains to be seen.