People Are Outraged Over What Trump's Chief Of Staff Said About Immigrant Children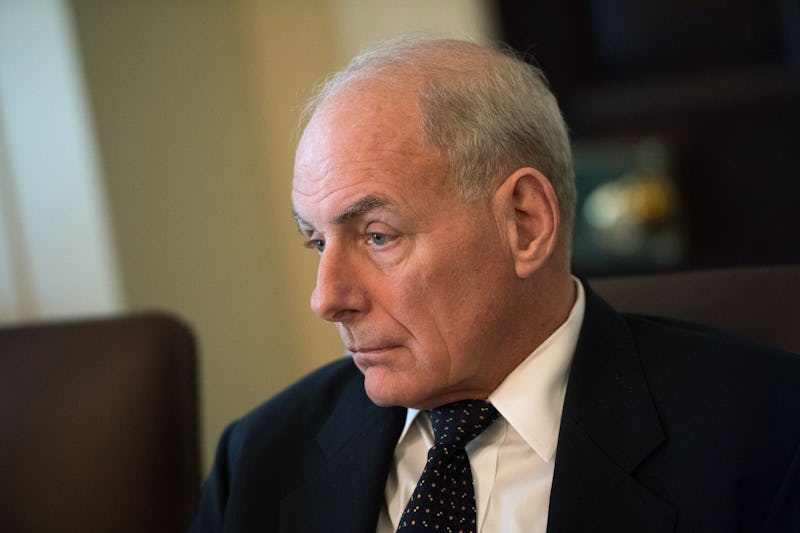 Pool/Getty Images News/Getty Images
The president's chief of staff has social media up in arms following a comment he made about separating immigrant kids from their mothers. When asked if it's "cruel and heartless" to separate them from their moms when arriving in the United States, John Kelly said immigrant children will be fine and go to "foster care or whatever."
The outrage stems from an interview Kelly, a retired United States Marine Corps general now serving under Trump, gave to NPR. He talked to John Burnett, the public radio's Southwest correspondent, about everything ranging from how "very smart" the president is, to the nation's immigration policy.
The latter has gotten Kelly in hot water since the full interview was published online. He said that the immigrants arriving to the southwest border are largely "rural" and would not fit into U.S. society. Kelly argued that "a big name of the game is deterrence." And part of what deters immigrants, he said, is separating mothers from their children if they enter the country illegally. Most controversially, he went on to say:
The children will be taken care of — put into foster care or whatever. But the big point is they elected to come illegally into the United States and this is a technique that no one hopes will be used extensively or for very long.
Several people pointed out that he offered foster care as a solution, despite the fact that some 1,500 migrant children have been lost in the system. The New York Times reported that the Department of Health and Human Services told Congress that it had attempted to reach 7,635 children that had been placed with sponsors by the federal Office of Refugee Resettlement.
Steven Wagner, the HHS Administration for Children and Families's acting assistant secretary, told a Senate subcommittee on homeland security that 6,075 children remained with their sponsors. The children had arrived at the border alone, many from Central America, and were fleeing violence, gangs, and abuse in the home.
A handful of children were relocated, ran away, or were deported. But 1,475 children are unaccounted for. That has some in Congress fearing that they could have been placed with human traffickers, as has happened in the past when sponsors put children to work. In 2016, Homeland Security and Health & Human Services committed to working out rules to prevent this. They still have not been finished.
This is not a hypothetical situation. Women and children have been separated at the border since at least October. The New York Times reported that there had been 700 such cases as of April — and 100 included children who were under the age of 4.
Homeland Security denied at the time that this was being done as a deterrent, as Kelly suggested in the interview. "As required by law, D.H.S. must protect the best interests of minor children crossing our borders, and occasionally this results in separating children from an adult they are traveling with if we cannot ascertain the parental relationship, or if we think the child is otherwise in danger," a Homeland Security spokesperson told The Times.
Kelly has also been criticized for another answer he gave on asylum seekers arriving at the border. "They don't speak English, obviously that's a big thing," Kelly told NPR. "They don't speak English. They don't integrate well, they don't have skills. They're not bad people. They're coming here for a reason. And I sympathize with the reason. But the laws are the laws."
Kelly's comments continued to draw ire into the weekend online. And the underlying issue is unlikely to die down soon.