A Judge Just Ordered A Plane Flying A Deported Mom & Son To Turn Around ASAP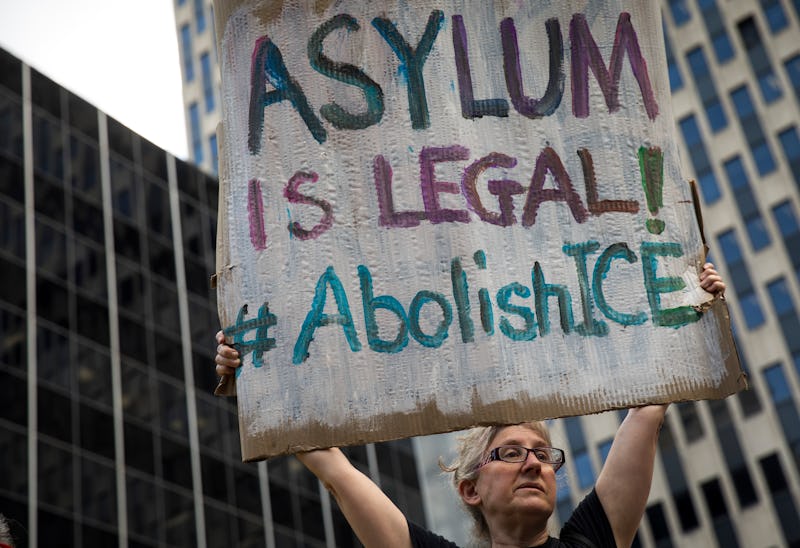 Drew Angerer/Getty Images News/Getty Images
In a remarkable ruling Thursday, a judge ordered that a plane carrying a deported family be turned around mid-flight and re-routed to the United States, NBC News reports. The mother and daughter on the flight were plaintiffs in an ongoing lawsuit against the Trump administration, and the administration had previously assured the court that it wouldn't deport any plaintiffs in the suit before 11:59 p.m. on Thursday.
When U.S. district judge Emmet Sullivan learned that the administration had violated this commitment, he ordered that the plane be turned around — and according to the ACLU, threatened to initiate contempt-of-court proceedings against Attorney General Jeff Sessions if it wasn't.
"This is pretty outrageous," Sullivan said after being told that the family was being deported. "That someone seeking justice in U.S. court is spirited away while her attorneys are arguing for justice for her?" Sullivan continued, saying that he was "not happy about this at all" and calling the administration's actions "not acceptable."
The mother and her child are plaintiffs in a lawsuit the ACLU filed against the Trump administration earlier in the week over its new guidelines regarding asylum seekers. Sessions ruled in June that immigrants fleeing domestic or gang violence in their home countries would no longer be eligible for asylum in the United States, and the ACLU is suing to reverse this guideline.
The mother fled El Salvador in June with her daughter, the Washington Post reports, out of fear that gang members who had been demanding money from her every month would hurt or kill her if she stopped paying. According to court records, several of her coworkers had recently been murdered, and her husband was also abusive.
Attorneys for the Justice Department had agreed to delay deportation proceedings for the family until Friday while the lawsuit played out, the Post reports. But during Thursday's hearings, ACLU attorney Jennifer Chang Newell received an email informing her that the mother and daughter in question had been taken from a family detention center in Texas to a San Antonio airport, and were set to be placed on a flight to El Salvador that morning.
When informed of this, Sullivan ordered the Trump administration to "turn the plane around," and threatened to hold Sessions, Homeland Security Secretary Kirstjen Nielsen and several other Trump administration officials in contempt if the family was not successfully returned to he United States. Sullivan also blocked the administration from deporting eight other plaintiffs in the lawsuit who are currently detained in the United States, according to Politico.
The Trump administration was recently accused of taking action against an immigration judge who refused to immediately deport an immigrant.
In July, the administration removed an immigration judge who'd temporarily halted deportation of an immigrant, and replaced him with a judge who swiftly deported that same immigrant. Unlike federal judges, who serve lifetime terms, immigration judges are appointed by the Justice Department's Executive Office for Immigration Review and can be removed by that same office.
On Wednesday, an immigration judge's union filed a formal grievance against the administration for this, and demanded that it not replace or reassign judges "in a manner that interferes with a judge's decisional authority."
"It is the most blatant example of an affront to decisional independence," said Judge Dana Leigh Marks, president emeritus of the National Association of Immigration Judges. "It's a threat to our very existence, the heart of what we are trying to protect."