This New Kardashian Pregnancy Theory Is The Most Believable Yet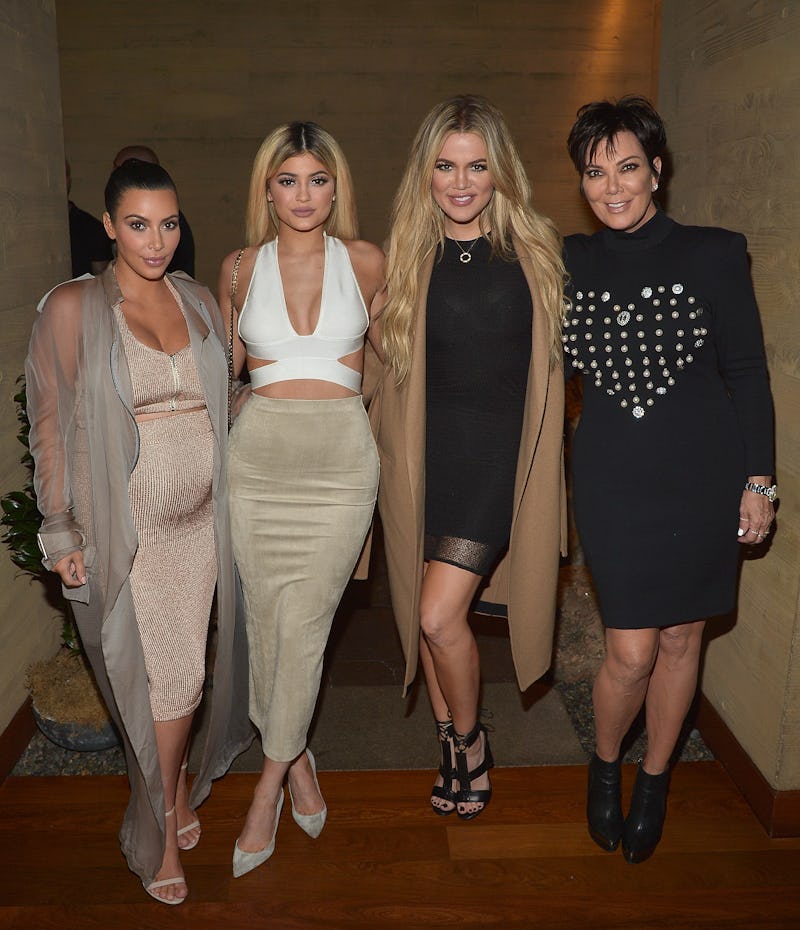 Charley Gallay/Getty Images Entertainment/Getty Images
The world figuratively blew up last week when it was reported that Kylie Jenner is expecting a baby and the madness only grew bigger when it was reported that her sister Khloé Kardashian is also pregnant. News of these two sisters being pregnant came after weeks of previous reports that Kim Kardashian is also expecting another of bundle of joy via a surrogate. The family members themselves have kept quiet so far, but this new Kardashian pregnancy theory could explain the silence amid the many news reports about the women.
BuzzFeed's Ellie Woodward wrote about the theory after reports that Khloé is pregnant came out, and honestly, it makes so much sense. Basically, the theory is this: The family's cryptic responses to the rumors and overall lack of definitive answers are because all will be revealed in the promo for the rest of the season that airs after the upcoming season premiere of Keeping Up With the Kardashians.
Woodward draws in evidence from the series to support the idea, but also cites a tweet from Twitter user @rencoyote that reads, "New season premieres soon and there will be a 'this season on #kuwtk' and they will have Kylie say 'I'm pregnant' etc etc." Multiple other Twitter users have also mentioned the fact that these pregnancy reports all line up perfectly with the tenth anniversary season.
The more you think about the theory, the more it seems plausible. The family has a history of saving big baby news confirmations for the show, like Kim's second pregnancy being confirmed in a mid-season trailer for what was to come on the rest of the season, and Kourtney's third pregnancy being revealed during an premiere episode. Plus, the comments family members have made on the current pregnancy reports are so cryptic that they all but guarantee that we are going to have to tune in to the show to get anything definitive out of them.
In early September, Kim spoke to E! News about her and husband Kanye West's rumored third child and said she's not ready to divulge anything:
"I've definitely seen a lot of things, we've never confirmed anything. So, I think when we're ready to talk about it we will, and I think it's super invasive when people are just...So many details out there, and like I've never heard this, I've never heard this. Like whatever. We have not confirmed it, and that's that. I'll let you know when we're ready."
Then, when reports that Kylie is pregnant came out last week, momager Kris Jenner, echoed a similar response to The Cut, and said, "She's not confirmed anything. I think it's kind of wild that everyone is just assuming that that's just happening."
On top of not confirming any news, both Kylie and Khloé are posting pictures of themselves on Instagram that give absolutely no indication that either of them are pregnant or acknowledging the rumors that are circulating. Kylie has posted a couple throwback photos, avoiding showing followers any sign of a baby bump, and Khloé recently posted a mirror selfie showing her extremely toned abs that has people in the comments wondering how the star could be pregnant.
Keeping Up With the Kardashians is entering its tenth season this fall, and a monumental season needs an equally monumental storyline to center around. A triple pregnancy would blow every plot the show has ever seen the past out of the water.
The theory that a promo will give it all way is just one out of a thousand that have been popping up all over the internet in the past week. Fans have come up with theories covering every possible situation and angle of the reported pregnancies, ranging from Kylie or Khloé being Kim's surrogate to a shaman predicting Kylie's pregnancy on her show Life of Kylie. However, this is one of the most believable, because the Kardashian-Jenner family are masterminds at controlling the narrative by confirming things on the show when they see fit.
According to BuzzFeed, in addition to confirming baby news on the show, other big life events for the family have only been revealed on screen. For example, the rumors surrounding Kylie's temporary lip fillers were exclusively confirmed in May 2015 on the show, as well as the end of Kourtney and Scott Disick's relationship in September 2015.
This theory makes so much sense and it would answer many of the questions that have come up in regards to the sisters in the past couple weeks. It also brings up one more: How are we supposed to wait until the new season premieres on Sunday to find out?