Fans Thought Kim Kardashian Had A Photoshop Fail, But She Has A Very Reasonable Explanation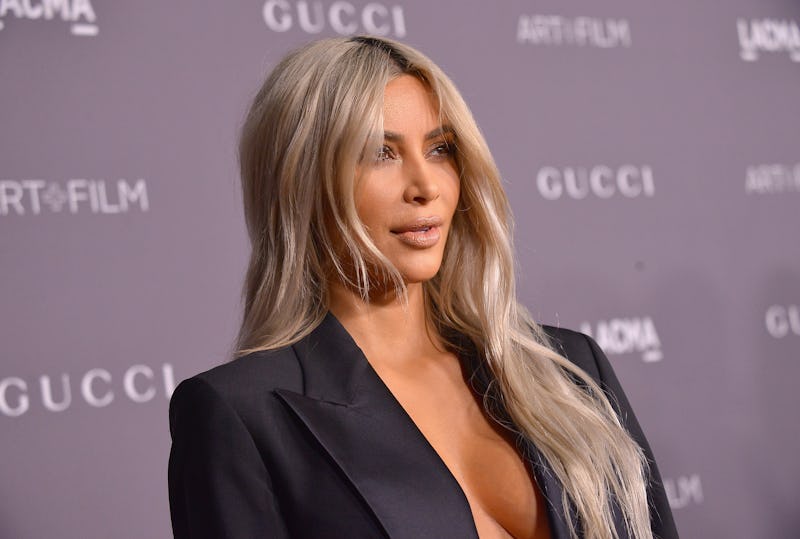 Charley Gallay/Getty Images Entertainment/Getty Images
She doesn't always comment on rumors, but when she does she brings receipts. After several websites called her out for doctoring a recent Instagram post, Kim Kardashian responded to the "photoshop fail" accusations. And she actually has a really good explanation.
On March 26, Kardashian added a screenshot of the controversial photo in question (see here) to her Instagram Story. "What Photoshop Fail?" was splashed across the snap in all caps, and fans were encouraged to swipe up for additional information. Said swipe led to Kardashian's official app and website, where she'd devoted an entire blog post to refuting the "fail."
"I'm seeing online and on news media outlets that I suffered a 'Photoshop fail,'" she wrote. "So ridiculous! I reposted a picture on Instagram that a fan had already posted — I only added a filter to it. It looks like the fan mirrored the photo, which is the reason the car looks like that. So, this is actually really funny to me! Who would even Photoshop a car to look like that?! LOL."
It might seem ridiculous at first that Kardashian took time out of her very busy, super-scheduled day to refute something so mundane. But what makes it not so mundane for Kardashian, it seems, is that people aren't just accusing her of making a careless photo edit — it's that people are accusing her of making a careless photo edit in order to make herself look better. Which, if you look at the evidence, definitely isn't the case.
Kardashian first posted the photo causing all of this drama on March 24. At first glance, nothing really seems out of the ordinary. It's just a picture of her, walking through a parking lot, wearing high-waist, knee-length spandex shorts with a parka over a crop-top sports bra. Nothing new to see here. Everyone move along.
But upon further inspection, some fans picked up on a very strange detail — and no, it's not the high-heeled thong sandals she's wearing, which harken back to the days of Rocket Dogs.
Check out that "car" behind her in the parking lot, the one in the top righthand corner of the photo. That is supposed to be a car, right? What's going on with that car? Why does it have two license plates? Why does it look all smooshed? And where is there a parking lot with snug spaces for smooshed cars?
The only reasonable conclusion, according to a few websites and many fans, was that Kardashian must have attempted to photoshop something in the background of the photo — and, as per the smooshed car, epically failed at doing so. Kardashian's blog post, however, says otherwise. And her explanation makes a lot of sense.
Kardashian's blog post explained that all she did was repost a photo that had been previously edited by a fan. That edit, according to Kardashian, used the mirroring effect, which she then just cropped straight down the middle.
Not only did she offer up a reasonable explanation, though. Kardashian also included the full, fan-edited, mirror-effect photo in her "What Photoshop Fail?" blog post. And it totally checks out. Case-closed, mystery solved, everyone go back to your regularly scheduled programming.
This isn't the first time Kardashian has made a point to refute a photo-related claim. On March 1, Marie Claire reported that Kardashian was responding to fans on Twitter who were complaining about her editing and/or using filters on the photos she posted on social media.
Curating her specific, social media aesthetic, as Kardashian explained at the Create & Cultivate Conference, is a "full-time job" that she puts a lot of thought into. "My Instagram started to get really messy," she said. "So I have the help of someone, a friend of mine who helps me filter everything and pick the colors."
So, yes. Kardashian regularly edits her photos... with filters and colors in order to suit her social media aesthetic. This particular "photoshop fail," however, was clearly more-so the result of an editorial oversight — and not an attempt to change the way she looks. Regardless, it's probably safe to assume that, thanks to all this unnecessary drama, she'll be keeping a much closer eye on her edits in the future.