This K-Beauty Peel-Off Mask Keeps Selling Out At ULTA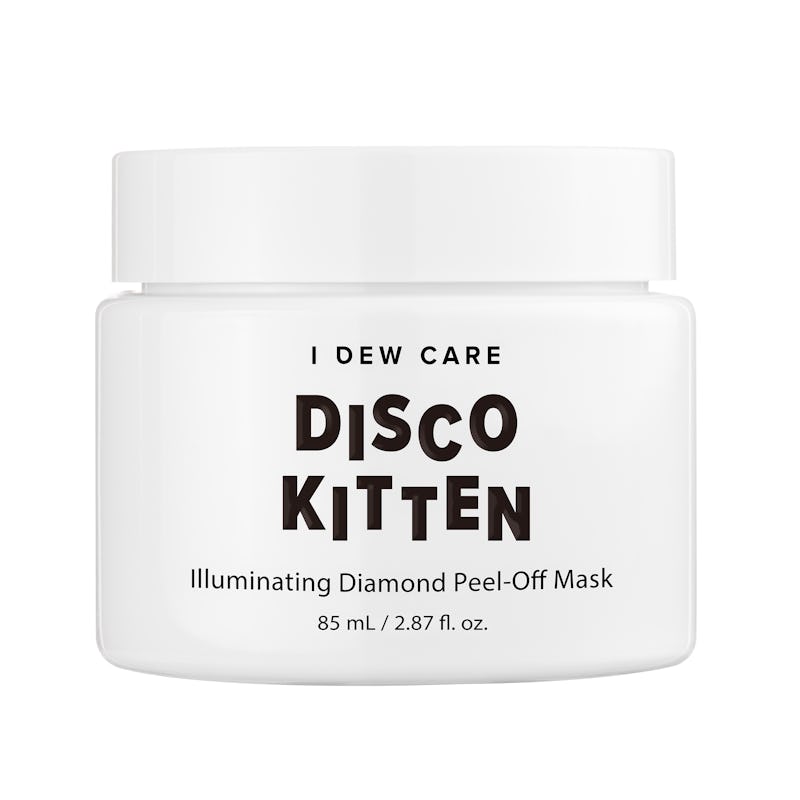 Courtesy of I Dew Care
When it comes to skin care, the weirder the trend, the better. First it was bubble masks, but now it seems that peel-off masks are the trendiest skin care treatments of the moment. One of them in particular is so popular, it keeps selling out at ULTA. Thankfully, it's back, so you can shop the Disco Kitten Mask to see what the hype is all about.
I Dew Care's Disco Kitten Mask is the trendy, fun, and highly rated mask you need in your life, and you can finally shop it again. What makes the mask so trendy and popular, though? Not only is it from a popular Korean beauty brand, but it's a peel-off formula in a stunning gorgeous chrome color that's reminiscent of Sephora's best-selling GLAMGLOW GRAVITYMUD . Basically, it's the epitome of Instagrammable beauty.
Maybe it's the ultra-trendy appearance of the mask or it's cute name, but the Disco Kitten mask has sold out not once but twice on Ulta's website. During its initial launch, the product sold out in only three day according to Racked, and since the initial sell out, it has disappeared from Ulta shelves a second time. Now, though, it's back and ready for your Instagram.
I Dew Care Disco Kitten Illuminating Diamond Peel-Off Mask, $18, Ulta
Shop I Dew Care's Disco Kitten now by heading over to Ulta's website. At $18, it's basically a steal compared to some comparable masks. With claims to brighten and exfoliate skin, it's definitely worth a try.
The peel-off element and the stunning silver color make this mask a must-have.
If you want to have incorporate other masks into your routine or have a chill multi-mask day, there are tons of other great options to try out alongside Disco Kitten.
GLAMGLOW GRAVITYMUD
GRAVITYMUD Firming Treatment Sonic Blue Collectible Edition, $28, Amazon
The GRAVITYMUD mask is a peel-off formula just like Disco Kitten, but its bright blue color is definitely different but incredibly fun.
Elizavecca Milky Pig Carbonated Bubble Clay Mask
Elizavecca Milky Pig Carbonated Bubble Clay Mask, $10, Amazon
While this isn't a peel-off mask, this bubble mask went totally viral and is definitely a fun product to test out.
Dr. Jart+ Firm Lover Rubber Mask
Dr. Jart+ Firm Lover Rubber Mask, $12, Sephora
Love odd beauty products? The Dr. Jart+ Rubber Mask may not be quite as pretty as the Disco Kitten mask, but it's just as fun.
If you've been longing for the Disco Kitten mask or if you just can't resist a product this Instagrammable, head to ULTA now, because if history repeats itself, this product won't be around for long.