How To Make Your Own Royal Wedding Cake That's Just As Good As Harry & Meghan's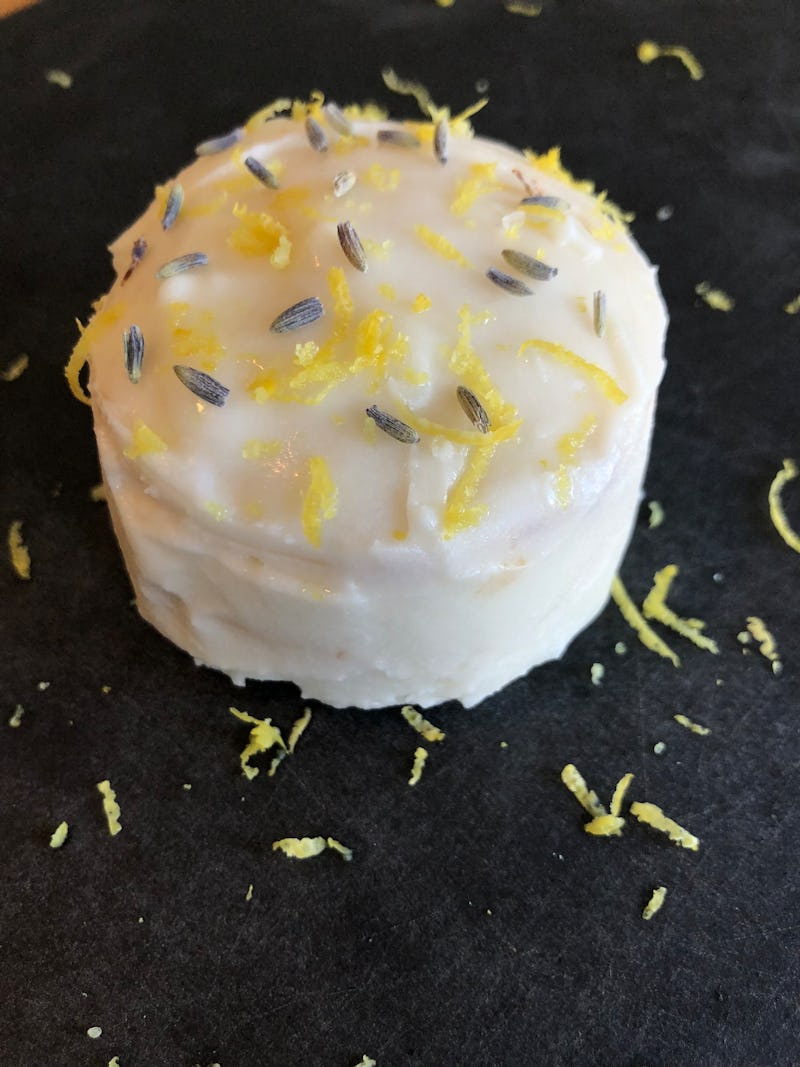 Melanie Mignucci
Wedding season 2018 is kicking off with perhaps the most exciting nuptials in modern memory — the royal wedding of Meghan Markle and Prince Harry. In a few short days, the world will be watching as Markle and Harry (no legal last name — the man's a prince) tie the knot, then progress through the streets of Windsor, UK to their royal reception. If you're not going to be in England for the event, you may be weighing your options for celebrating the royal wedding as it's live-streamed stateside this Saturday, starting at approximately 7 a.m. ET. (aka, 4 a.m. PT. Sorry, California.) And what better way to do that than with cake — specifically, a single serving of lemon elderflower cake, the flavor for the actual royal wedding cake?
It was first reported late in March, via a tweet from Kensington Palace's official Twitter, that the royal wedding cake flavor would be lemon elderflower, baked by London-based pastry chef Claire Ptak. The vernal flavor profile represents a slight break from British royal tradition — Will and Kate served a fruitcake at their wedding in 2011, as did Charles and Diana. TBH, I'd very much prefer the whole lemon elderflower situation to a fruitcake.
Ptak, who owns the popular Violet Bakery in London, hails, like Markle, from California. (She was even once interviewed by Markle for her tragically now-defunct lifestyle site, The Tig, which is kind of a sweet, full-circle moment.) In a statement announcing the cake flavor, Ptak said she was "delighted" to be chosen to create the cake. "Knowing that [Meghan and Harry] really share the same values as I do about food provenance, sustainability, seasonality and most importantly flavour [sic], makes this the most exciting event to be a part of."
With Ptak's wise words about seasonality in mind, this recipe draws on other flavors of spring to create a mini-lemon elderflower cake with salted honey-lavender frosting for one person. Since Ptak hasn't (yet!) released her recipe for the Royal Wedding Cake, this recipe draws inspiration from this elderflower-infused lemon cake as well as previous Single Servings. You can easily make this recipe gluten free/vegan by swapping out the flour for a gluten free version of your choice, and substituting olive oil for butter, a milk alternative for the milk (I prefer almond), and agave for honey in the frosting. Don't forget to eat this with a fancy hat or at least a messy bun.
Cake:
1/2 tablespoon butter
1/2 whisked egg
1/8 teaspoon baking powder
3 tsp lemon extract OR lemon juice + zest
Dash of salt
1/8 cup granulated sugar
1/8 cup + 1 teaspoon all-purpose flour
1/8 cup + 1 teaspoon milk
Elderflower Syrup:
1 tablespoon water
1 tablespoon granulated sugar
1 tablespoon elderflower liqueur (use the rest of the bottle to make fancy gin cocktails, or to enhance frosé)
Frosting:
1/2 cup powdered sugar
1 tablespoon butter, room temperature
1/2 to 1 teaspoon milk of choice (I used almond here)
Dash of salt
1 teaspoon raw honey
1-2 drops food grade lavender essential oil
For the cake:
1. Preheat the oven to 350º Fahrenheit.
2. Grease two spaces in a muffin tin (optional: add parchment paper for extra non-stick.)
3. "Cream" together butter and sugar by mashing it all together with a fork.
4. Whisk egg and lemon into the creamed butter and sugar.
5. In a separate container, sift together the flour, salt, and baking powder.
6. Mix dry ingredients in with sugar, butter, egg, and lemon mixture. If it doesn't smell as lemony as you'd like, add more zest.
7. Add milk and stir to combine.
8. Divide batter across the two tins (for a layer-cake effect; for simplicity's sake, you can also bake in just one tin).
9. Bake for 15-18 minutes.
10. Remove from oven and let rest 10 mins; remove from tins and let cool completely
For the elderflower syrup:
1. Combine water, sugar in a small pot; warm over a medium-high flame until the sugar is just dissolved.
2. Add in elderflower liqueur and continue warming over a medium-high flame for a minute or so. Remove from heat when the alcohol smell has mostly dissipated.
3. If necessary, level off the top of each cake so the layers will lie flat.
4. Gently spoon about a tablespoon of the mixture over each cake bit (or use a pastry brush, should you be so fancy as to own one); allow to soak through the cake, about 30 mins.
For the frosting:
1. Mash the butter with a fork.
2. Mix butter and powdered sugar together until creamy.
3. Add honey, salt, and milk to the butter-sugar mixture. Add one drop (seriously, just one!!!!) of food grade lavender essential oil (optional: if you don't have food grade essential oil or don't want to use it, you can substitute for 1 teaspoon of lavender simple syrup, store bought or homemade, and add a little less milk).
Assembly:
1. Arrange bottom layer of the cake with four small cuts of parchment paper underneath (makes cleanup easier!)
2. Daub some frosting underneath the bottom later of the cake (to hold it in place).
3. Frost the middle of the cake; place the top layer of the cake on top.
4. Frost the sides and top of the cake with remaining frosting. (And if you're like me, and stopped liking how the first plate looked, gently transfer the little cake onto a more instagrammable surface)
5. Garnish with lavender buds and lemon zest.
Sure, you weren't invited to the royal wedding, but that doesn't mean you can't have your own royal feast!
Check out more Single Serving recipe ideas here for when your speed is less "entertaining my crew" and more "watching Netflix alone on my couch."