The Palace Just Announced Meghan & Harry's Wedding Cake Flavor & It Is SUPER Unusual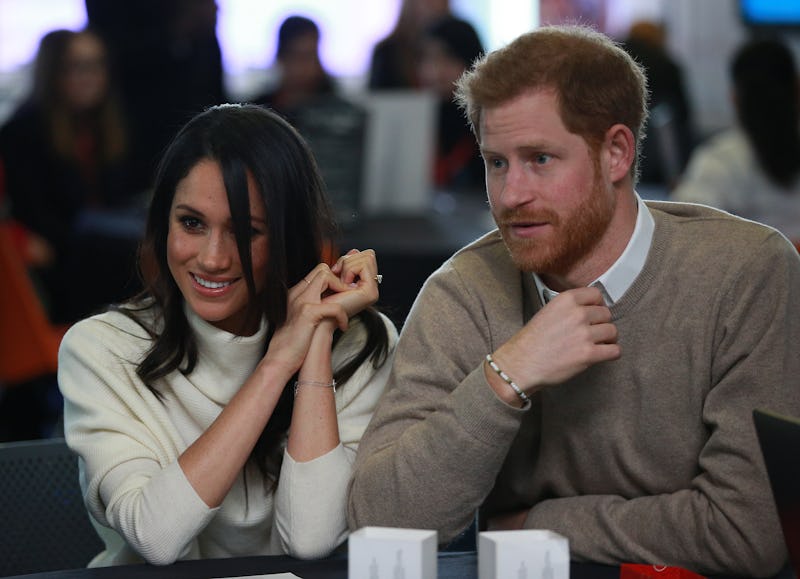 WPA Pool/Getty Images Entertainment/Getty Images
I think we can all acknowledge the universally-known fact that the only rumors worth spreading in this world are dessert-related (looking at you, rumors about the Crystal Ball Frappuccino at Starbucks that started circulating last night). The hottest dish at the end of 2017 was the rumor that Prince Harry and Meghan Markle's wedding cake flavor would be banana — a slight break from tradition, but not an entirely unwelcome one. But, alas, it turns out the wedding cake whisperers were wrong, as the Kensington Palace just tweeted an announcement that Meghan and Harry's wedding cake flavor will be lemon elderflower, and will be baked by Claire Ptak, the designer behind Violet Cakes and owner of the popular London-based Violet Bakery.
"I can't tell you how delighted I am to be chosen to make Prince Harry and Ms. Markle's wedding cake," said Ptak in a statement in a Kensington Royal press release. "Knowing that they really share the same values as I do about food provenance, sustainability, seasonality and most importantly flavour, makes this the most exciting event to be a part of."
Before we break down why exactly lemon elderflower is an extremely fitting choice for this wedding, a bit of background on Ptak and why, exactly, it is all kinds of perfect that she was chosen for this wedding. Ptak, whose bakery is based in London, was actually raised in California — and was previously interviewed for Meghan Markle's old lifestyle website, The Tig. The site is famously offline, as Markle pulled it along with her social media following her engagement to Prince Harry, but its legacy now lives on with this small, personal touch to the wedding that really brings the whole thing full circle in a super cute way.
But why the unusual wedding cake flavor? As my fellow cake aficionados are well-aware, royal tradition has seen mostly fruit cakes for weddings in the past, and this would be an even further departure from the banana rumors swirling in December. According to the press release by the Kensington Palace, Meghan and Harry have chosen lemon elderflower "to incorporate the bright flavours of spring."
For the curious, elderflower's flavor is a bit like rose, but with a sweeter depth to it. You may have heard of it more often in the cocktail world than the cake one — St. Germain's Elderflower liqueur is a popular staple in summer drinks, with a slightly warmer floral note that people compare to pears.
And truly, floral flavors have been having a ~moment~ in the past few years, but elderflower is unusual even for this trend; most floral-flavored desserts tend to hinge on rose and lavender, whose extracts are easier to buy in stores. That being said, elderflower extract is totally purchasable online, and making a lemon elderflower cake of your own is actually a relatively easy feat even for the less-than-confident bakers of the world; all you really have to do is make your favorite lemon cake mix, whether it's homemade or straight from the box, and add a few drops of extract for a subtle floral flavor and mix it into the batter before baking. Ta da! You're practically a royal.
As for the outside of the cake, the press release shares it will be "covered with buttercream and decorated with fresh flowers." No word yet on what color the flowers will be (it's genuinely concerning how much this matters to me, considering I will be 3,000 miles away), but perhaps it will serve as a nod to some of the traditions Meghan and Harry are otherwise steering away from — there are a ton of flower-related royal wedding traditions to choose from.
Anyway, all of my fellow cake stans can finally sleep peacefully at night, now that we have definitive answers about Harry and Meghan's wedding cake flavor at long, long last. In the meantime, if you feel like frothing at the mouth in broad daylight at work, here's the full menu of Violet Cakes' flavor offerings so you can go ahead and start pre-planning your wedding to an eligible royal (which I assume will happen to me just as soon as the Hallmark movie of my life begins).