This 'Mean Girls' Milkshake Is Truly The Glen Coco Of Desserts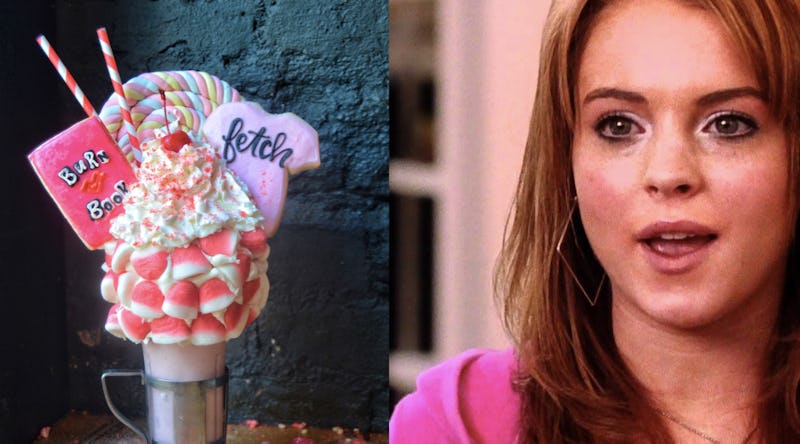 Courtesy of Black Tap/Paramount Pictures
Well, this is definitely a carb, Regina George. A Mean Girls milkshake is coming to Black Tap, home of those milkshakes on Instagram with a million different treats attached to them. This one contains multiple Mean Girls references (including the simple fact that it's a milkshake), and let's just say, it wouldn't be kicked out of The Plastics on a Wednesday.
As reported by Food & Wine, the Mean Girls Crazy Shake is strawberry, but you can barely even see the actual milkshake part because of all the toppings. First off, there's two sugar cookies — one shaped like a pink T-shirt that says "fetch" on it and one made to look like the Burn Book. There's also a giant rainbow spiral marshmallow, whipped cream, and what looks like some sort of gummies or other flavored marshmallows on the side. It's all topped off with a sprinkling of Pop Rocks and a maraschino cherry.
The Mean Girls shake will go for $19, which at first sounds like a lot (just go to Dairy Queen, amiright?), but might actually be reasonable considering just how massive this thing is. If you want to get your hands and phone camera lens on the shake, it will be available only at Black Tap's New York City locations from September 12 through September 16, and then will return on Wednesday, October 3 (for obvious reasons), according to Food & Wine.
Black Tap isn't the only business crossing over with Mean Girls this fall. According to Theater Mania, the stage adaptation has partnered with a bunch of NYC businesses for Mean Girls Day (October 3, duh), including Drybar, Ricky's, and Dylan's Candy Bar. There will also be Mean Girls trivia hosted by Trivia A.D. at locations throughout the city. This year's Mean Girls Day is a special one, since this October 3 also falls on a Wednesday.
This is hardly the first collaboration Black Tap has done over the years. The restaurant also made a special shake for Charlie and the Chocolate Factory on Broadway called the Imagination Shake. It even had a golden ticket on it. Then, when Prince Harry and Meghan Markle got married in May, Black Tap and Magnolia Bakery teamed up for a royal wedding milkshake that was topped with an entire cake. Black Tap also joined forces with vegan restaurant By Chloe for a vegan milkshake.
If the milkshake isn't for you, then maybe you'll want to check out some other Mean Girls Day deals. One Gregory's Coffee location will have a special latte and doughnut and offer 50 percent off to those who wear pink. Dylan's Candy bar will have free "Is butter a carb?" popcorn, among other offers. The Bryant Park location of Drybar will play the movie and offer rosé during your blowout. And Vida Verde will have Mean Girls-themed cocktails. You can get more information on these and the many other offers here.
Clearly, there are plenty of ways to celebrate Mean Girls Day, but if you just want to stay in and watch the movie for the thousandth time, you know what to do.