This Enormous Royal Wedding-Themed Milkshake Is About To Break Instagram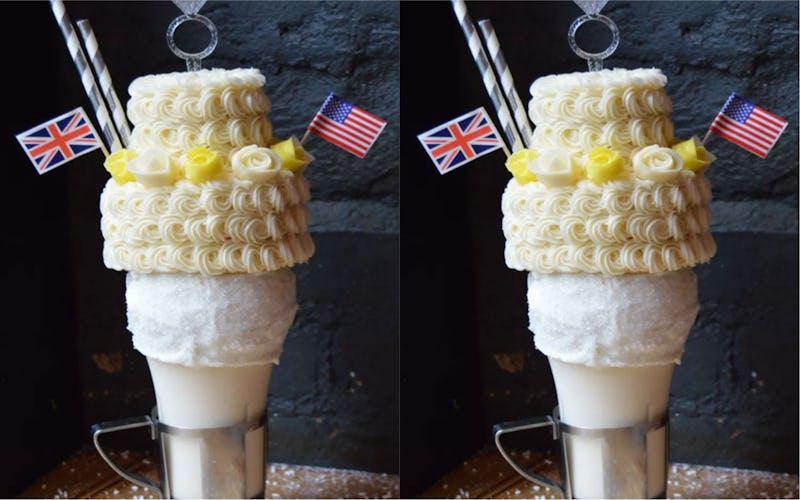 Black Tap
On May 19, the royal wedding will finally arrive, and Prince Harry and Meghan Markle will wed. The occasion is perhaps the most highly-anticipated event of the year — but if you can't make it to Windsor Castle next week to toast to the happy couple, you can still pop on over to Black Tap and score their latest shake, this time an outrageous collab with Magnolia Bakery: the Royal Wedding Cake Shake.
The entire shake is an homage to what is, clearly, going to be the highlight of Harry and Meghan's big day: the cake. A bit of background for anyone who's not up to speed — in March, the Kensington Palace Twitter account announced Prince Harry and Meghan Markle had chosen their wedding cake. Putting to rest rumors of a banana bake, the royal dessert will in fact be flavored with lemon and elderflower. The cake will be baked by London-based American baker Claire Ptak, of Violet Cakes. Side note: choosing an American expat for the job seems just too perfect to be an accident. Per the tweets from Kensington Palace, the couple decided on this flavor as a nod to "the bright flavours of spring." The cake will reportedly "be covered with buttercream and decorated with fresh flowers," as well.
With such a regal sweet, it should come as little surprise restaurants all over are coming up with their own renditions of the royal wedding cake. But Black Tap and Magnolia Bakery's take is astonishing.
The towering treat is is a nod to the flavors of Harry and Meghan's wedding. As Refinery29 reports, a vanilla shake base is paired with a vanilla frosting-lined rim, and "topped off with a two-tiered lemon elderflower mini wedding cake encrusted in white sparkling sugar." The cake is piped with buttercream white and yellow roses, and embellished with little British flags and a plastic wedding ring. Treat yourself — get two.
If the cake shake is a little too much for your tastebuds, Magnolia Bakery is also independently releasing some royal wedding-inspired treats, per Refinery29. For a limited time, the bakery with locations in NYC, LA, and Chicago is selling elegant cupcakes and cakes with a flavor similar to that of Prince Harry and Meghan's cake. Each treat is made from an elderflower base, filled with lemon curd, and iced with an elderflower meringue buttercream. Cupcakes are finished with a lace wrapper and a plastic bejeweled crown. The full-sized cake is outfitted in a fleur-de-lis design, and finished with with pearl borders.
Other companies getting in on the royal fanfare include Ample Hills Creamery and Georgetown Cupcake. The Brooklyn-based ice cream shop has released a limited flavor called God Save the Cream, inspired by the royal wedding cake. Per its description on the website, lemon ginger ice cream is filled with homemade pieces of elderflower wedding cake and buttercream frosting to create the flavor. Washington, DC-based cupcake bakery Georgetown Cupcake has introduced a Royal Wedding Dozen, also includes a take on the lemon elderflower wedding cake in cupcake form.
Even Dunkin' Donuts is celebrating with the launch of its new Royal Love Donut: a "heart-shaped donut filled with jelly and frosted with chocolate icing and a strawberry drizzle," they said in a press release.
But it is hard to top the combination of ice cream, cake, and frosting that is the Royal Wedding Cake Shake. Snag one for $19 at one of Black Tap's locations in NYC or Las Vegas — and if you have room to spare, grab yourself another one of the plethora of royal desserts going around.