Meghan Markle's College Just Released A Pic Of Her When She Was In A Sorority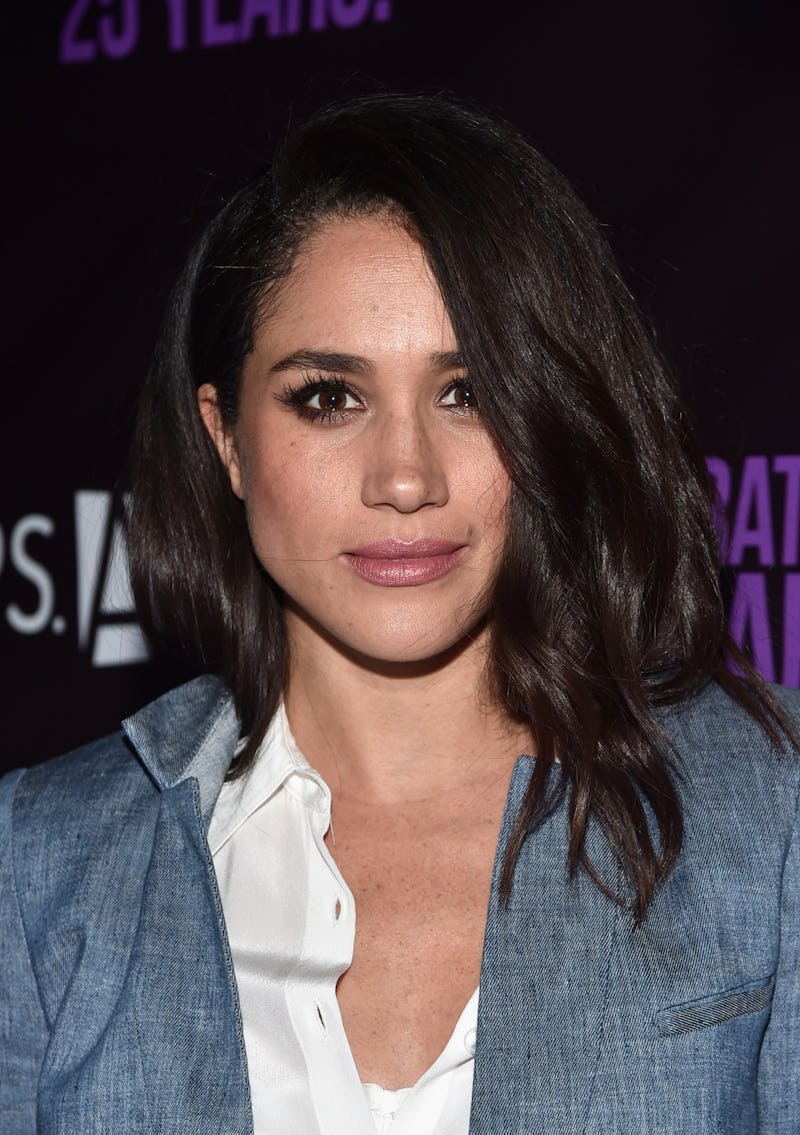 Alberto E. Rodriguez/Getty Images Entertainment/Getty Images
Meghan Markle and Prince Harry's engagement has been public for less than a week, but pieces of her past are already beginning to surface. A photo of Markle in college has been unearthed, and it's quite a bit more glamorous than the photos most of us took in college. Seeing what she looked like in her younger years is also a reminder of how far she's come and how much her life has changed.
The photo was shared when the The Chicago Sun Times covered her time at Northwestern University, where she was a communications major and in the Kappa Kappa Gamma sorority. Back then, it was impossible to predict that she'd eventually become not only a successful actor but also a future duchess.
And can we talk about how pretty and put together Markle looks in her college days, when most of us were actually dragging ourselves to class in no makeup and yoga pants? Seriously impressive.
One of Markle's college professors, Harvey Young, who taught her when she took his Studies in Black Performance class, talked to The Sun Times about the time he spent with her in class and had nothing but positive things to say about her.
He mentioned that she was passionate and self-confident, calling her "very promising" and adding that she had "tons of potential" when it came to her future in theater. Obviously, he was right; Markle has spent seven seasons on Suits, after all, along with roles in movies like Remember Me and Horrible Bosses.
And when it comes to her ability to tackle the demands of being part of the royal family, Young thinks she'll be able to pull it off flawlessly.
"My sense is that she can handle it ... She hasn't flinched in the glare of the spotlight," he told The Sun Times. "She has stood tall and been outspoken about issues and matters that concern her."
Sounds like the perfect person to take on the adventure of marrying Harry and thrusting herself even further into the spotlight. If she likes bringing attention and taking action when it comes to the causes that are important to her, it sounds like she will fit right in with the rest of the royal family, who are very active in their philanthropy, lately being dedicated to promoting causes like mental health awareness.
The college also released the following statement to congratulate her on her engagement from Laura Wayland, who's the executive director of Northwestern's alumni association:
We're excited to learn of the news that our alumna, Meghan Markle, will marry Britain's Prince Harry. On behalf of Northwestern University, we extend our congratulations to the couple. His mother, Princess Diana, visited Northwestern in 1996, so we are particularly pleased to welcome Prince Harry to the extended Northwestern family.
Even in these photos that surfaced on Twitter of Markle when she was even younger, she's still obviously super cute — and pulling off those overalls with a ponytail. Clearly, as a kid in these photos she didn't know what her life would be like, but I have a feeling she'd be pretty happy with the way things turned out.
While most of us are super embarrassed by our throwback photos, it looks like Markle has nothing to worry about. Incredible career, marrying an actual prince, seemed to have skipped any bad skin college phase at all... it's official, everyone, Markle's life is a fairytale.
And if there's anything you can bet on, it's that more photos of a young Markle surface as their wedding day continues to get closer.