This Photo Melania Posted Is The First Of Her & Trump Alone In 88 Days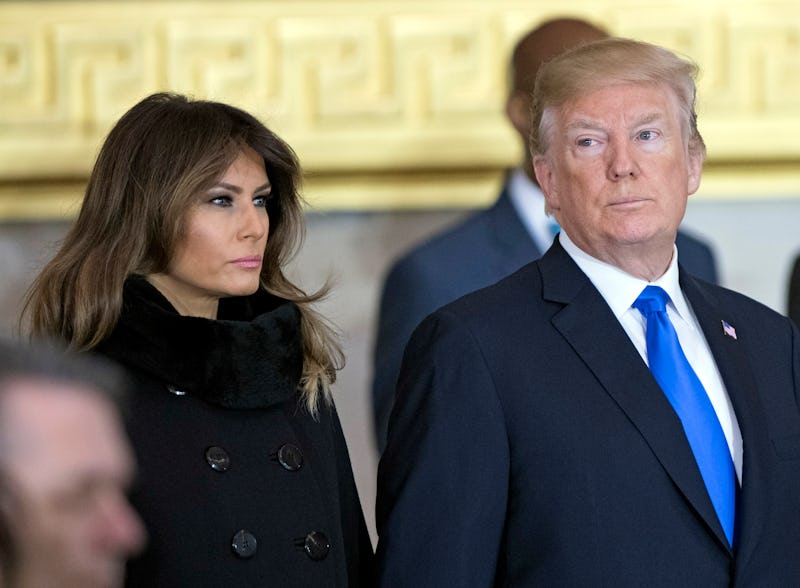 Pool/Getty Images News/Getty Images
Melania Trump has kept a low profile as FLOTUS. Her dependably non-provocative social media posts often mean that there's a rarity of photos featuring only her and President Trump. In fact, prior to her Thursday post on Instagram and Twitter of them on a snowy day at the White House, the last time Melania posted a solo photo with Trump was on Christmas Eve — 88 days ago. So, are there any similarities between the posts, or (more intriguingly) any similarities between the headlines from Dec. 24 and what's happening in the news now?
Notably, Melania and Trump are much physically closer in the her most recent post from Thursday. Standing side by side, smiling, with the backdrop a snow-covered White House lawn, Melania's Twitter and Instagram caption read the same: "Greetings from @WhiteHouse."
In her Instagram post on Christmas Eve, Melania and Trump are not only sitting well apart in separate chairs, their bodies are turned away from each other and both are on the phone. "@POTUS and I had fun helping children track #Santa tonight. Wishing everyone a wonderful #ChristmasEve," Melania wrote in the caption. It's debatable whether either looks like they're having much fun. In fact, Life & Style magazine put together a little video compiling social media comments and asking "Is this the saddest Christmas photo... ever?"
So much for similarities between the pics. How about a comparison between the news cycles?
A Google search for top news about "Trump" in the week leading up to Christmas Eve shows the most reported-on stories during that time revolved around tax reform Republicans had just passed. Overwhelmingly, the headlines are positive. The New York Times wrote "With Tax Overhaul, Trump Fulfills a Campaign Promise and Flexes Republican Muscle." Another huge story was the election of Democrat Doug Jones over Republican Roy Moore in deep-red Alabama, following allegations against Moore of sexual misconduct with minors. (Moore has denied the accusations.) Trump's public support for Moore didn't end up helping either of them. And after Sen. Al Franken resigned following reports of inappropriate behavior (some of which he's denied), liberals were pressuring Trump to do the same.
That's a far cry from the most-read headlines about the POTUS over the past week. Using the same Google search tactic, the story getting the most attention over the past seven days is Cambridge Analytica's alleged misuse of data from Facebook to help elect Trump. The top story comes from CNN, "Inside the Trump campaign's ties with Cambridge Analytica."
There's also the drip-drip release of reports surrounding Trump's alleged tryst with porn star Stormy Daniels, which the White House has denied on behalf of the president. As Jason Le Miere points out at Newsweek, Thursday's post is the first picture Melania's put up of herself alone with her husband since news broke of the alleged affair between Trump and Daniels.
One story that has been a constant throughout the entirety of Trump's presidency? Special counsel Robert Mueller's investigation into Russian meddling in the 2016 election, which is almost always bringing new headlines.
There doesn't seem to be a correlation between the news headlines and Melania's most recent solo pic with Trump and the one before it. But maybe that Christmas Eve post doesn't tell much because it was a holiday. When was the last time Melania put up a couples photo that didn't correspond with a special occasion?
For that, one has to go all the way back to May 2017. (Yes, there was a picture of the two looking at the solar eclipse together, but for the purposes at hand, that's going to get classified as a special occasion.)
And in the week leading up to Melania's Instagram post on May 26, the news was not good for Trump, either. On his first official trip overseas as president, a video went viral of Melania appearing to swat Trump's hand away as he tried to hold hers. The family had also been mocked over a viral photo of their meeting with Pope Francis, wherein the only person smiling is Trump.
So perhaps there is a connection between the timing of Melania's social media photo posts with Trump. Both during her trip overseas in May and in recent weeks, headlines about their family have not been positive. Then again, given the infrequency with which Melania posts solo pics of the first couple, perhaps the news cycle is just a coincidence.