Melania Trump Tweeted From The Hospital & It Seems She's Recovering Well So Far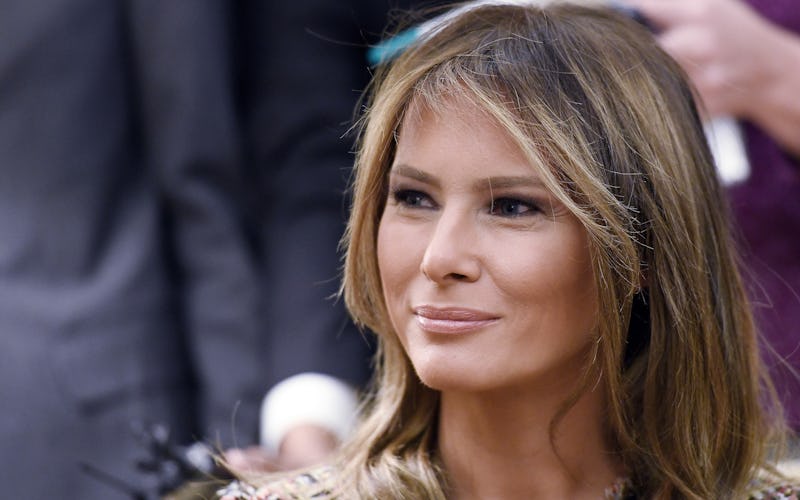 Pool/Getty Images News/Getty Images
On Wednesday, the first lady of the United States gave an update on her medical condition, and from the sounds of things she's doing just fine. Specifically, Melania Trump tweeted from the hospital that she's "feeling great" after surgery on one of her kidneys, and thanked all the people who've wished her well following news of the procedure.
Trump underwent surgery on Monday at Walter Reed Medical Center, for what was described as a benign condition in one of her kidneys. She reportedly underwent an embolization procedure; embolization, according to the National Institute of Health, is a procedure in which "blood supply to a certain part of the body" is cut off.
It's unclear what precisely was wrong with the first lady's kidney, and the White House has not elaborated on it beyond stating that the condition was benign, which in medical terms is a very good word ― that would mean it was not seriously harmful, and was non-cancerous.
The first lady's office has made it clear that she wants privacy in this matter. Her communications director, Stephanie Grisham, told CNN that no additional information will be forthcoming.
"I am not going to expand beyond the statement I put out," Grisham reportedly said. "The First Lady is in good spirits and she is resting. There are HIPAA laws to consider, but she also deserves personal privacy."
Walter Reed Medical Center is the foremost military hospital in the United States, and it's typically used as the hospital of choice by U.S. presidents and their families. The president himself went to Walter Reed for his physical earlier this year.
As CNN notes, there were no leaks or early reports prior to the first lady undergoing the procedure, which is decidedly unusual for the White House more broadly ― throughout the past year, the Trump administration has been one of the leakiest in modern political history.
The first lady, 48, also thanked the staff of Walter Reed in her tweet, and expressed the hope that she'll be back at the White House soon. Her husband has reportedly visited her multiple times since the surgery, with Wednesday being his third consecutive visit.
The first lady has been much more visible in the early months of this year than she was in the early months of last year, and that's partly because she actually lives in the White House now. When her husband first took office, she continued to live at Trump Tower in New York City for a number of months, ostensibly so that the couple's young son Barron could finish out his current school year.
This, she announced the launching of her "Be Best" initiative, which urges children to stand against bullying and cruelty on social media. The first lady has long said she wants anti-cyberbullying to be her signature issue, dating all the way back to the 2016 presidential campaign. The effort has drawn some scrutiny, owing to the fact that her husband, the president, himself has a long record of vulgar, combative, and bullying behavior online.
The first lady herself responded to this criticism at a White House summit last month, maintaining that she'll continue to advocate for the issue.
"I'm well aware that people are skeptical of me discussing this topic," she said, as detailed by Politico. "I have been criticized for my commitment to tackling this issue and I know that will continue."
Of course, her involvement in the Be Best initiative will have to wait until she's fully recovered and out of the hospital. There hasn't yet been any indication of what day she'll be released.