You Can Buy A Life-Size Mermaid Skeleton For Halloween This Year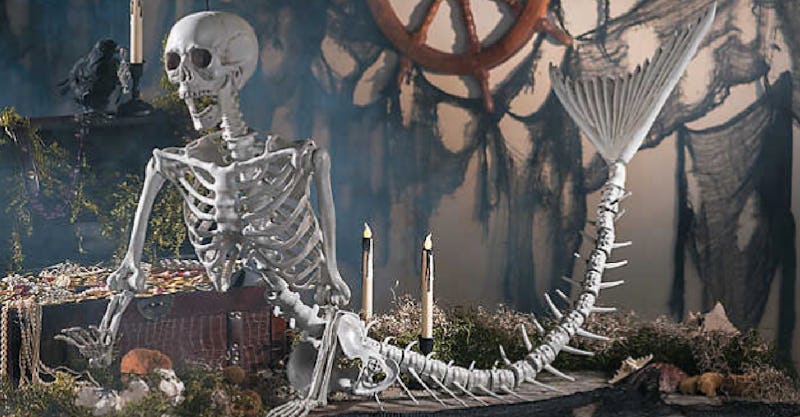 Oriental Trading
Ah, the constant conundrum you face when there is glitter in your soul, but a touch of darkness in your heart. Never do those two states of being clash more than during Halloween, when you never know if you want to go spooky glitz or spooky creepy with your decor. It turns out, Oriental Trading has got your back — or, in this case, your fin. You can buy a life-sized mermaid skeleton, happily marrying your desire to be a splendiferous sea creature and also super undead once and for all.
"You ever wonder what a mermaid skeleton would look like? No? Well, we did!" reads the product description on Oriental Trading's website. "Add this mermaid skeleton to a spooky Halloween scene! A great addition to your Halloween decorations, you can add it to your porch display or spook your Halloween party guests inside! It's large, so go all out with your setting — we're talking oceanic details here, people!"
They're not kidding about life-size — it's 73 inches in length, which is a full nine inches taller than this author (and the exact height of Chris Evans, the universally-recognized standard measure of things).
To really heighten the spook factor, reviewers have commented saying the tail is "bendable," making it easy to pose your siren skeleton in whatever manner you please. If you're not posing her on her own island so she can casually lead sailors to their doom, I'm concerned about your priorities, but I suppose I am not here to cast judgment (only mermaid spells).
If undead mermaids are up your alley (sorry, Ariel — at least you and Eric had a good run?), then truly, the news just gets better and better. Not only can you own and pose an undead mermaid at your doorstep to scar unsuspecting trick-or-treaters for life, but you, too, can get in on the action, with a mermaid skeleton costume. This one from Rahel Fashions comes complete with gothic fins that sprout out of your arms and head, just so you can really leave a lasting impression on anyone who tries to mess with your fellow undead mer-friends.
I really and truly will not rest until I see a family of skeleton mermaids with a baby Skeleton Flounder and Skeleton Sebastian, but the darkness of my '90s baby heart aside, this is a perfect standalone costume for Halloween — or really, any day of the year. Keep those land folks on their toes.
If you're looking for more traditional skeletons — or just hoping to peruse a variety of skeletons in general — Oriental Trading has you covered in that department, too. You can take a look at the more spooky decorations available online here; I'm personally partial to Standing Ghost Girl, who looks like she just gets me, but if I ever encounter this clown with light up eyes in actual, three-dimensional form, it'll probably be the last thing I ever see. Happy creeping, everyone — just make sure to keep your mermaid skeletons away with vengeful sea witches with shady agendas before you set them up.