Pope Francis Is Printing Cards Showing Nagasaki Victims To Make A Statement About War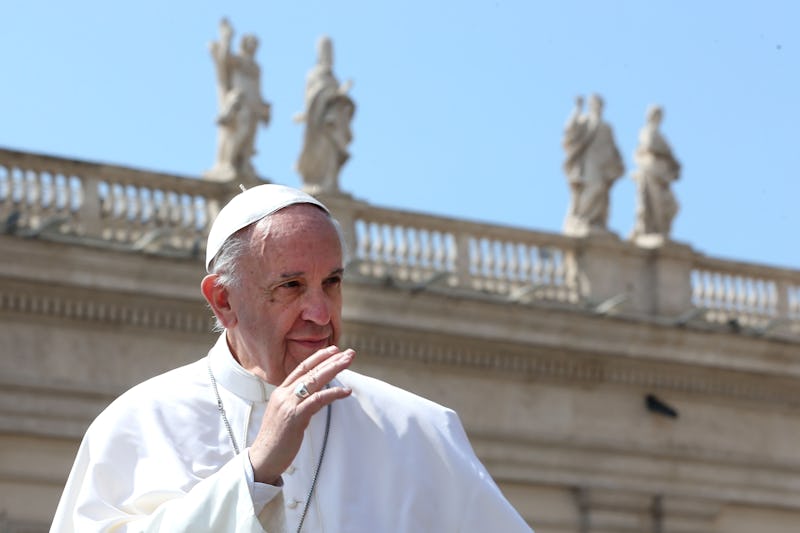 Franco Origlia/Getty Images News/Getty Images
As the holiday season comes to a close, the Pope has opted to release a card that's quite bleak compared to what you'd normally see around New Year's Day and yet it sends an incredibly powerful message nonetheless. Pope Francis chose a photo of Nagasaki bombing victims for a card released on the Catholic Church's World Day of Peace, which is celebrated Jan. 1. The card is meant to be a statement about the consequences of war.
According to CNN, Pope Francis has asked for cards bearing a photograph of two young victims of the Nagasaki nuclear bombing, which dates back to 1945, to be printed and distributed. The back of the card will reportedly feature the Pope's signature and the words, "the fruit of war." At the bottom of the card, a brief caption will explain the photo's origin and provide some context. A portion of that caption will read, "The young boy's sadness is expressed only in his gesture of biting his lips which are oozing blood," CNN has reported.
The photo featured in Pope Francis' card was taken by U.S. Marine photographer Joseph Roger O'Donnell not long after the United States dropped a nuclear bomb on the Japanese city of Nagasaki during World War II. It features a young boy standing at attention as he waits for his turn at a crematory. On his back hangs the lifeless body of his younger brother.
According to John L. Allen Jr., CNN's senior Vatican analyst and the editor of the independent Catholic news site Crux Now, this is the first time Pope Francis has requested the Church circulate a specific photograph during the holiday season. It is not, however, the first time that the Pope has spoken out against war or called for nuclear disarmament.
The Pope asked the United Nations to concentrate on eradicating nuclear weapons in March, saying that international peace "cannot be based on a false sense of security, on the threat of mutual destruction or total annihilation, or on simply maintaining a balance of power." Then in November, Pope Francis brought Nobel laureates and U.N. and NATO officials to the Vatican for a conference geared at increasing support for adopting a global policy of total nuclear disarmament. And as tensions between the United States and North Korea continued to rise in early December, the Pope urged world leaders to "work with determination to build a world without nuclear weapons."
According to Allen, the card Pope Francis asked to be distributed remains "consistent" with his longstanding efforts to draw attention to the ways in which conflict impacts children, and to condemn what he has described as a "piecemeal Third World War." The Pope also used his year-end message to deliver similar condemnations of war and violence. During an evening vespers service in St. Peter's Basilica on Dec. 31, the Pope said 2017 had been "wasted and wounded in many ways with the works of death, with lies and injustices." He also noted war to be the most significant sign of humans' "unrepentant and absurd pride."
The Pope's card comes as North Korean leader Kim Jong Un warned the United States it was "within range" of the communist nation's nuclear weapons in his annual New Year's address. "A nuclear button is always on my desk," Kim said. "This is reality, not a threat." He then went on to say North Korea would "focus on mass-producing nuclear warheads and ballistic missiles for operational deployment" in 2018, but claimed they would only be used "if our society is threatened."
Although it is impossible to know the exact number of people killed as a result of the nuclear bombing of Nagasaki, the U.S. Department of Energy's Office of History and Heritage Resources has placed "the best estimate" at 40,000 people killed and 60,000 others injured initially with roughly another 30,000 people dying as a result of the bomb in the first five months after it had been dropped.