A Nurse In Iowa Just Won A Discrimination Lawsuit & It's A Huge Deal For Trans Rights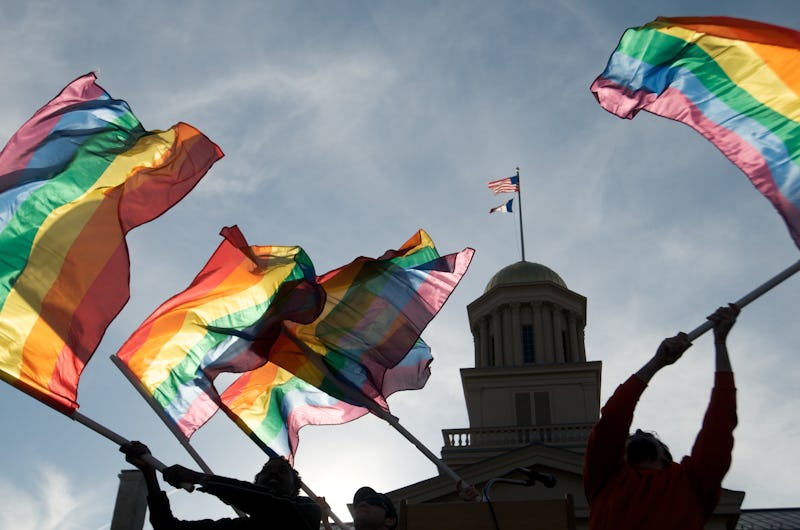 David Greedy/Getty Images News/Getty Images
In what the ACLU has described as a "historic win for transgender rights in Iowa," a jury awarded a transgender man $120,000 for workplace discrimination on the basis of sex and gender identity. According to The New York Times, Jesse Vroegh was working in an Iowa prison as a registered nurse back in 2015 when he began his transition. The state's Department of Corrections denied his requests to use the men's restrooms and locker rooms at work, and refused to provide insurance coverage for his gender confirmation surgery, per the Times.
As a result, Vroegh filed a lawsuit against the Iowa Department of Corrections; according to the ACLU, Vroegh's was the first transgender rights case filed in an Iowa district court since the state added gender identity protections to the Iowa Civil Rights Act back in 2007. On Wednesday, the jury ruled that the state had discriminated against Vroegh on the basis of sex and gender identity. The next day, Vroegh told The New York Times that he was "astonished" by the verdict, and that it meant a great deal to him.
"It was about being in a country where you have rights and you are free and everybody should be treated equally," Vroegh said. "It is worth it for anybody who comes up after me, who doesn't have the voice to stand up to a big state entity."
Back in October, the Department of Justice filed a brief with the Supreme Court, arguing that gender identity is not protected by the Civil Rights Act of 1964 — therefore making it legal for businesses to discriminate against transgender workers, in the DOJ's view. However, Iowa is one of several states that explicitly prohibits discrimination on the basis of gender identity.
The Iowa Civil Rights Act states, for example, that individuals should be given access to bathrooms and locker rooms in accordance with their gender identity, without being harassed or questioned. So when the Iowa Department of Corrections refused to give Vroegh access to the men's restrooms and locker rooms at work — arguing that such issues were "too controversial," per Vroegh's lawsuit — the department violated the state's civil rights law.
During its ruling on Wednesday, the jury also found that the Department of Administrative Services, which handles insurance coverage for employees of the state, had discriminated against Vroegh by refusing him insurance coverage for his surgery.
In a 2011 survey by the National LGBTQ Task Force, 90 percent of transgender and gender non-conforming people interviewed reported workplace discrimination or mistreatment, and 26 percent reported having lost their jobs due to their gender identity or expression. Transgender people — especially trans people of color — routinely face discrimination in the workplace, and ACLU lawyer Melissa Hasso told the Associated Press that this discrimination continues even when states amend their civil rights laws to explicitly mention gender identity because they don't always train supervisors to enforce these protections.
Following Wednesday's verdict, Vroegh said in a press release that this process has been "difficult and emotionally very trying," but he hopes that his case will inspire change moving forward.
"I thought it was an important thing to do for the transgender Iowans who come after me," Vroegh said. "I hope this decision means that they will be treated fairly in the future."