The Finer Things Club From 'The Office' Reunited & The Pic Will Make Fans So Happy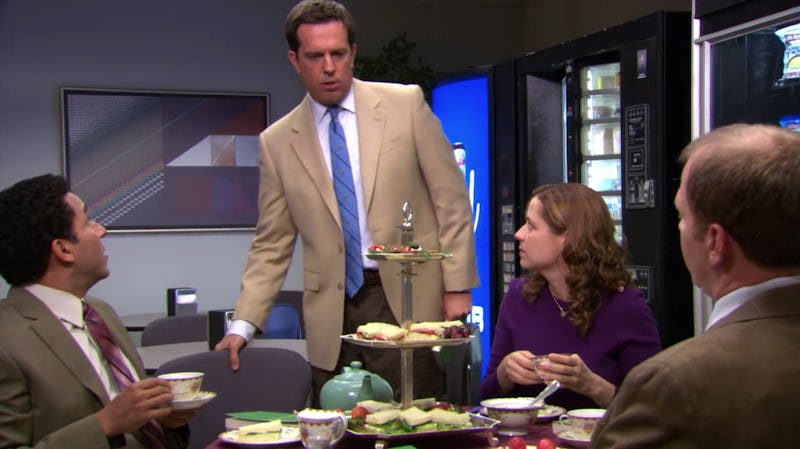 NBC
Are you ready to go back to a "time of refinement and civility"? The Office's Finer Things Club reunited Wednesday and it's the best mini-reunion ever. Jenna Fischer, Oscar Nunez, Paul Lieberstein, and Ed Helms got together in honor of the Finer Things Club merchandise Fischer created. The products benefitted Miry's List, a non-profit organization providing refugee families seeking save haven in the United States with essential items needed for survival.
In partnership with Represent.com, Fisher announced the limited edition merchandise on April 16. The sale was only supposed to last for two weeks, but the Splitting Up Together actor announced Tuesday it was extended briefly. The sale ends Thursday night, so if you want any Finer Things Club merch, you better move fast.
Before the sale closes for good, Fischer thought it was a good idea to reunite the original club, plus Helms. "Finer Things Club Reunion!!!" she wrote on Instagram next to a photo of the four former co-stars. "The charity drive inspired us to get the whole gang together - and, in the spirit of giving, to finally allow Andy to join. We had a great lunch. No paper, no plastic. AND, everyone signed the giveaway merch!"
As all diehard fans of The Office recall, Pam, Toby, and Oscar were the only club members. According to Pam, "There is no paper, no plastic, and no work talk allowed. It's very exclusive." That's exactly why Andy tried to join. "The Finer Things Club is the most exclusive club in this office," he told the cameras. "Naturally, it's where I need to be." After trying to squeeze his way into the group, Pam turned Andy down by telling him it was "a closed club."
It's been eight years since the Finer Things Club episode aired (Season 4, Episode 6) and Andy's dream finally came true. Helms shared Fischer's post on Instagram Wednesday and expressed his excitement over the reunion. He wrote, "Thanks for rounding up the crew, Jenna - Such a fun hang!!!"
For those wondering why John Krasinski wasn't invited, well, there's a good reason. A fan asked Fischer, "where's @johnkrasinski - technically at one point he was there :-(" Fischer replied, "He didn't read Angela's Ashes and he made too many jokes (according to one person) so...sadly, he was not allowed back in the club. We wish him well."
In the episode, the reason Jim wasn't allowed to join was, as Pam explained to him, "Some people think that you monopolize the conversation by trying to be funny." Yes, she was referring to Oscar.
Actually, at the end of the episode, and after Jim had a horrible time with Michael and Dwight spying on the Utica branch, Pam invited Jim to join. Andy was furious, of course, but also Jim's first and last meeting didn't go well. He spoke in an Irish accent and had no idea what Angela's Ashes was even about.
On her Instagram Story Wednesday, Fischer talked about her meet-up with Helms, Lieberstein, and Nunez. You could tell how happy she was to reunite with them. "We are friends in real life and it was really great to see those guys today," she told her followers. She also said on her to-do list is a reunion of everyone. "And now my goal is to get a whole party together of the whole cast," she said. Wouldn't that be amazing? Keep those fingers crossed that this actually happens.
Whenever anyone from a TV series reunites, it's a great feeling, but there is something extra special about The Office cast. The NBC comedy will forever be in fans' hearts.