Don't Let Ohio's 6-Week Abortion Ban Distract You From This Other One In The Works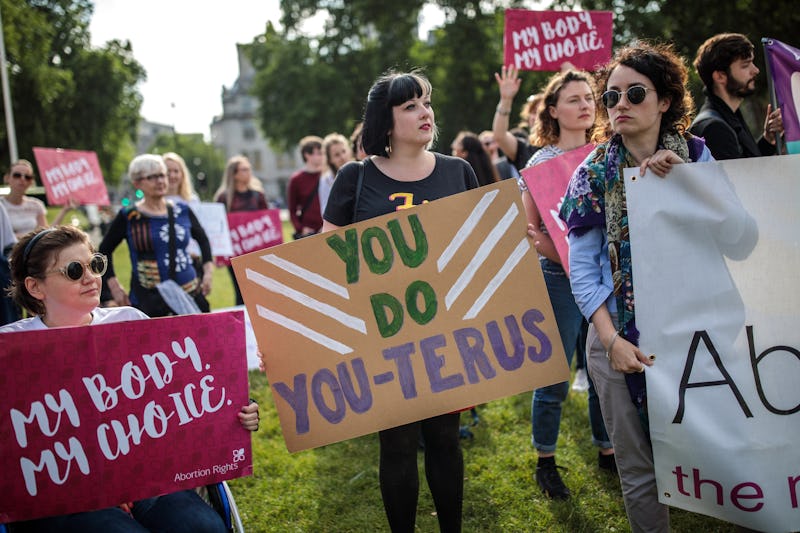 Jack Taylor/Getty Images News/Getty Images
In recent weeks, Ohio's state legislature has received quite a bit of attention as it seeks to pass a six-week ban on abortions in the state. However, another Ohio bill banning a second trimester abortion method is also quietly moving through the legislature — and could potentially pass sometime this week, Cincinnati.com reported.
Senate Bill 145 is entitled, "Criminalize and create civil action for dismemberment abortion." The bill bans dilation and evacuation, a very common procedure used in second trimester abortions — those that occur during the second 12 weeks of pregnancy. As C.S. Mott Children's hospital described on its website, dilation and evacuation involves completely removing all tissue in a woman's uterus to induce an abortion. The website notes that the procedure is "the standard treatment of care in the United States for an abortion in the second trimester of pregnancy."
Ohio's bill banning dilation and evacuation seeks to charge any doctor who performs the procedure with "dismemberment feticide," Cincinnati.com reported. The charge is a felony and comes with penalties of up to 18 months in prison and $5,000 in fines, the outlet noted. The publication indicated that the bill makes exceptions for doctors performing the procedure to save a woman's life, to protect her from serious injury, or to facilitate a miscarriage. However, there are no exceptions for cases of rape or incest.
If dilation and evacuation is banned in Ohio, women seeking second trimester abortions in the state will be left with few options. Dr. Wayne Trout, the chairman of the American College of Obstetricians and Gynecologists, asserted at a hearing for the bill that the procedure is considered the most safe for women during this stage of pregnancy, Cincinnati.com reported. Other procedures, like induced labor, carry more risks.
As Rewire.News reported, the American Congress of Obstetricians and Gynecologists, a companion organization, has previously issued a statement condemning bans on dilation and evacuation procedures, deeming them unsafe for women. "These restrictions represent legislative interference at its worst: doctors will be forced, by ill-advised, unscientifically motivated policy, to provide lesser care to patients. This is unacceptable," the organization noted in 2015.
Those who support Ohio's ban on the procedure perceive it as a way to reduce the number of abortions in the state. "Ohio Right to Life believes in the incremental approach," Mike Gonidakis, the president of Ohio Right to Life, told The Blade.
The bill banning dilation and evacuation has already passed Ohio's Senate and could potentially pass Ohio's House by the end of this week, the Statehouse News Bureau reported. If it passes the House, the bill will head to Ohio Governor John Kasich's desk, who will then decide whether or not to sign it into law.
As Cincinnati.com reported, a six-week ban on abortion is also currently making its way through Ohio's legislature — and Kasich has vowed to veto the legislation. Both bills could potentially land on Kasich's desk at the same time and, as the Statehouse News Bureau indicated, some believe that the Republican governor could opt to sign the dilation and evacuation ban while vetoing the six-week abortion ban. As Cincinnati.com noted, Kasich previously vetoed a similar six-week abortion ban in 2016, but also signed a 20-week abortion ban after both pieces of legislation were sent to him at the same time.
Cincinnati.com noted that Ohio's House could vote on the dilation and evacuation ban as soon as Wednesday. Thus, Ohioans should quickly know whether or not their state will be joining a handful of others across the country that have passed laws banning the procedure.