Ruth Bader Ginsburg Being Told She's Too Emotional In 'On The Basis Of Sex' Is So Relatable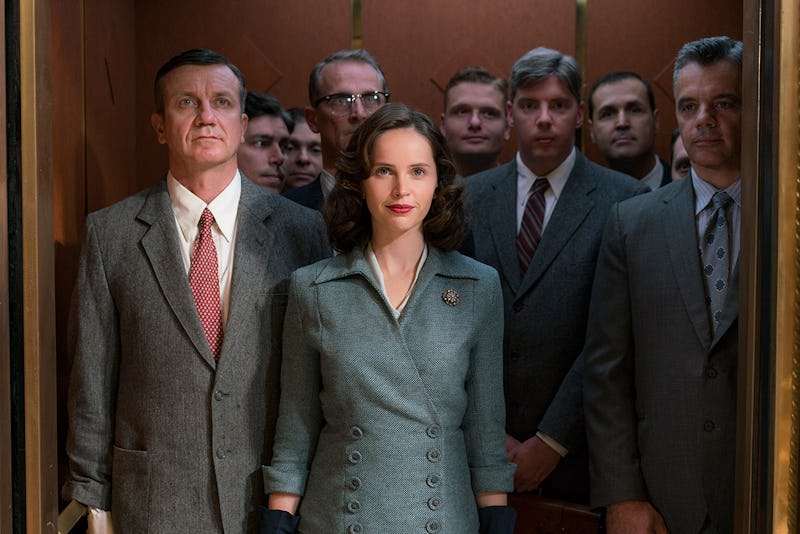 Focus Features
In the new trailer for the Ruth Bader Ginsburg biopic, On the Basis of Sex, the Supreme Court justice's determination to end the subjugation of women takes center stage. In the movie, which comes out on Christmas, Felicity Jones plays Ginsburg as an ambitious young lawyer who embarks on a mission to, as the character says in the new trailer, "topple the whole damn system of discrimination." The new On the Basis of Sex trailer will probably get you fired up, but there's one scene in particular that already stands out as a relatable moment for any woman who has been labeled "too emotional."
Towards the end of the trailer, a scene between RBG and former legal director of the A.C.L.U., Mel Wulf (Justin Theroux) shows a tense moment between the colleagues as Wulf urges Ginsburg to be more cautious. "If you lose you will set the women's movement back 10 years," Theroux's character says. Ginsburg responds, "You don't get to tell me when to quit." Then, in the same scene, Wulf says, "Get your emotions in check," to which RBG responds, "You first." Sadly, that scene probably isn't too unfamiliar a scene for women, who are often hypocritically labeled "overly emotional" by men.
Even just from watching that three-second moment in the trailer, you probably already want to both burst in tears and shatter the nearest glass ceiling, and it's safe to assume that the whole film will have that effect.
As much of an impact that Ginsburg has had throughout her decades-long career, On the Basis of Sex focuses on a specific tax case that the now SCOTUS justice fought alongside her husband, Martin Ginsburg (Armie Hammer), per the film's official website. The case, known as Charles E. Moritz v. Commissioner of Internal Revenue, was brought on behalf of Moritz, a man in his sixties who was taking care of his elderly mother, but was denied a tax deduction for taking care of a disabled relative — he alleged, because of his gender. "The line the law drew rested on a stereotype: Women are caregivers, so a daughter would take care of her aging mother, but men are out in the world, earning a living, so they don't take personal care of aging parents," Ginsburg said, looking back on the case during a Q&A at Stanford Law School.
A similar case argued by Guinsburg, Weinberger v. Wiesenfeld, was featured in the recent documentary, RBG. The directors of the documentary, Betsy West and Julie Cohen, told Bustle last January that they'd chosen to re-examine that case to demonstrate Ginsburg's commitment to making men and women equal under the law. Gloria Steinem mentions the case in the documentary, saying, "Ruth took a case in which a man was discriminated against in order to show the depth and the importance of sex discrimination. Very intelligent thing to do."
In recent years, Ginsberg has become a cultural icon. You've likely seen the image remade as the "Notorious R.B.G.," which mimics the iconic image of rapper Biggie Smalls, or Notorious B.I.G., by Barron Claiborne, on cards, clothes, and purses. While West and Cohen's documentary gives you a chance to get intimate glimpses of the now 85 year-old pumping iron, On the Basis of Sex will provide fans with a retelling of some of the Supreme Court justice's most pivotal moments in her career and personal life. If you get emotional over the movie's new trailer, it's totally understandable — no matter what gender you are.
Editor's note: A previous version of this article misidentified the case focused on in the film and has been updated accordingly.