'Claws' Is A Real Sisterhood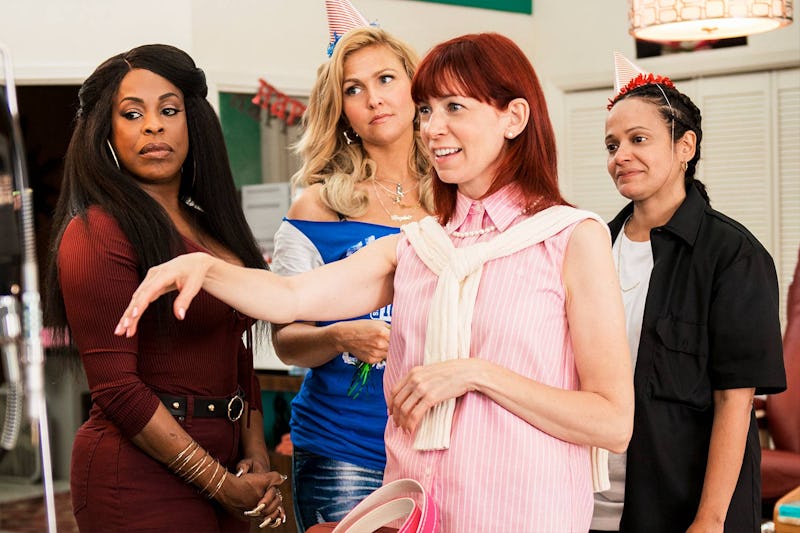 TNT
I love a good, old-fashioned story about female friendship, and I also like to get manicures — so it makes sense that the premiere of the new TNT series Claws feels tailor-made for me. But that's oversimplifying the show a bit — it also involves jail, death, murder, OxyContin, drug lords, and Florida. But at the heart of Claws are the relationships that the women in Desna's (Niecy Nash) crew have with each other. It may be 2017, but strong women are still called "bossy." And any woman who works next to another woman does so with the expectation of others being that there's going to be a catfight soon. But Claws doesn't even play that game. The women in Claws are family, even though they're a family who doesn't always agree.
In Claws, Desna owns a nail salon in Palmetto, Florida, and the women that work for her are her closest friends. These are not women who are normally celebrated in society. Within the group, there are addiction issues, queer identities, stints in prison, money laundering, and more — and it will only get more complicated as the show progresses, I think — but Desna, Polly, Jennifer, Quiet Ann, and even Virginia are as tight a clan as you've ever seen. If there is a threat against any of them, the whole group rises up to squash it.
Virginia (Karrueche Tran) is not welcomed into Desna's crew at first because she sleeps with Desna's boyfriend, Roller, and even tries to sell out the other women. But by the end of the first episode, Virginia is there with them, even if they did retaliate beforehand. It's not all sunshine and rainbows between the group, but still they press on.
"I'm just gonna say that the women on this show are really a family," Nash tells Bustle on the New Orleans set of Claws. "None of them related by blood, but a family nonetheless. We definitely ride hard for each other on this show."
The women at the salon might be maligned or forgotten elsewhere, but with Desna, they have a home. Claws really highlights this. There's plenty of fear and frustration, but there is also an undercurrent of being taken care of. Carrie Preston, who plays Polly, agrees. "What's so great about this show is that you hear the word 'claws' and you think 'catfight' — that these women are going to be tearing each other down," she says. "And it's about them building each other up. And sometimes I think in Hollywood we don't honor that, we don't show female friendships, the strength of them. We show the in-fighting."
Nash stresses that the unconditional support the women offer each other allows them to be themselves and make mistakes. "There's no judgment between these women, no matter what you've done," she says. "We have one character with two children — one, the father is in jail, and the other one is a recovering addict. And no judgment. 'You been to jail? OK, come on.' 'You had some hard times? OK.' Because we're all about restoration in this particular group."
Too frequently are women in fiction are built up to be put down, but on Claws, that's not the case. These women are there for each other, and at the end of the day, that's what matters. And that's what I'd like to see more of on television.
Additional reporting by Sage Young