Watch Ed Helms Hide From The Camera In This 'Office' Scene Because He Couldn't Stop Laughing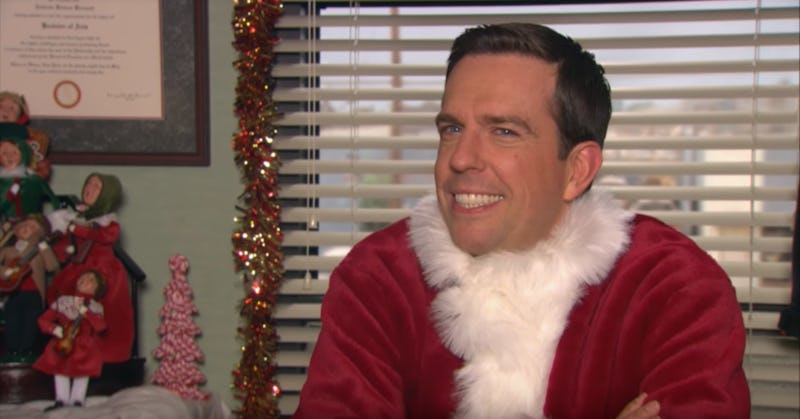 The Office/YouTube
The Office is widely regarded as, well, hilarious, but it turns out some scenes were so funny even the cast couldn't stop laughing. On a June 13 episode of The Dan Patrick Show, former cast member Ed Helms recalled laughing so hard he had to hide while filming a scene with Steve Carell so the camera wouldn't catch him chuckling, and honestly, who can blame him?
When asked how hard it was to keep a straight face during filming, Helms, who played Andy Bernard on the NBC comedy, said he was a "disaster." The actor went on to recount his experience filming a scene from Season 6's "Secret Santa," in which Carrell's character, Michael Scott, dresses up like Santa and invites all the employees to sit on his lap. Kevin Malone, played by Brian Baumgartner, accepts.
"Kevin is sitting in his lap, and he's so awful about it, because it's uncomfortable for him, and he's just being really rude and weird and mean about it," Helms told Patrick. "I had to duck behind a plant — you can see in the actual episode."
Helms admitted that they had to film the scene over and over because he'd been cracking up the whole time. "And by the way, that was like take 30, because I had been laughing in every single take. He's a genius."
In the clip, as Kevin considers what he'd like for Christmas, Michael groans and pleads with him to get off his lap. In classic Office fashion, the camera pans to Andy and Ryan Howard — played by B. J. Novak — who both look perplexed. Kevin then asks Michael, "What if I tell you the things I don't want?" and the camera zooms out, and suddenly Andy is gone. He reappears a few seconds later from behind a wall.
Helms, whose new movie Tag hit theaters in June, told Patrick that working with Carell was difficult because he was just so funny, and he developed a trick to help him keep his composure. "Steve Carell, he just slays me," Helms said. "There's something in his eyes. There's a lot of time when I was doing a scene with Steven and I had to look at his chin, otherwise, I would just lose it."
Helms is not the only Office cast member who remembers that scene fondly. Mindy Kaling, who played Kelly Kapoor, cited it as her favorite Michael Scott moment of the entire series in a 2011 interview with Entertainment Weekly. Like Helms, she said that she couldn't stop laughing during the scene either. "Forget that Kevin, a grown man, is earnestly telling Santa all the toys he wants — it's Steve's reaction," Kaling told the magazine. "When Kevin unburdens himself on Michael's lap, Steve's voice changed to this distressed, guttural mumble, showing the instantaneous agony he was in. This was literally a laugh out loud moment, because you can see me laughing in the background, completely breaking character."
The Office wrapped up its ninth and final season in 2013, but TVLine reported in December 2017 that NBC had plans to revive the series. The report stated that, as Carell was not attached to the project, the search for a new regional manager was "already underway." While the network declined to comment or confirm any details about the story, former cast members Jenna Fischer and John Krasinski, who played Pam and Jim, the show's OTP, have said they would be open to reprising their roles in some form or another.
Even if it was just a one-off, here's hoping the Dunder Mifflin staff returns in some capacity, because Helms' story is a reminder of just how funny the show was. And who couldn't use a little uncontrollable laughter right now?