This One Pride Sign Urges Allies To Remember All Marginalized Communities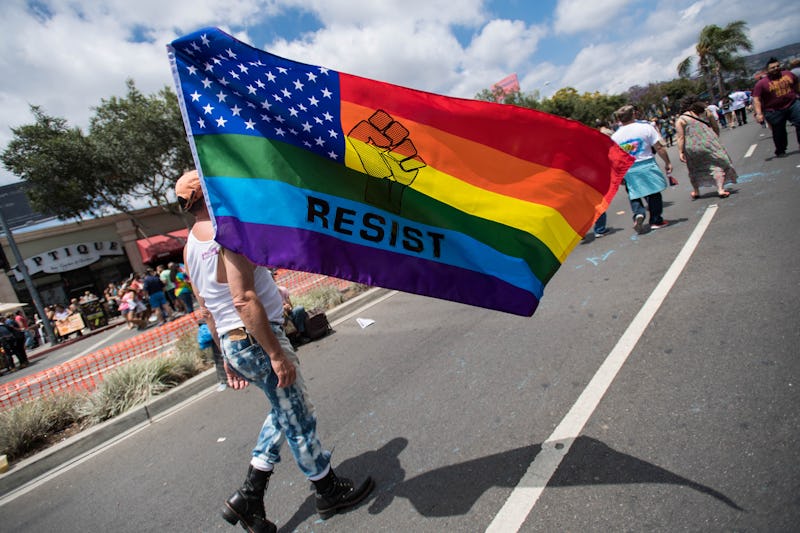 Emma McIntyre/Getty Images Entertainment/Getty Images
Pride has become a national month of celebration for millions across the country, for both LGBTQ+ people and those who consider themselves allies to the community. For many, Pride is synonymous with parades, parties, and performers who exemplify the hopeful and joyous attitude that the LGBTQ+ community's historical advancement inspires. But the festive aspect of Pride isn't the whole story, and one picture that has gone viral on social media is a message to allies about Pride.
The picture appears to have been originally posted online by Gays Against Guns, a political activism group that formed in the aftermath of the Pulse Nightclub Shooting last year, though it's not clear who created the work shown in the photo.
"Seen in Dupont Circle on Tuesday 6/20. DC's ninja politi-posters continue to deliver timely and impactful messages," the group posted on its Facebook page, along with the photo. It's just a relatively small piece of paper taped to a lamp post, but it packs a message for all allies this Pride: "Stonewall wasn't about marriage equality, it was about police violence."
The famous Stonewall Riots that sparked the gay rights movement in the late 1960s were started by two transgender women of color, Marsha P. Johnson and Sylvia Rivera. Decades later, marriage equality marked a victory for the LGBTQ+ community, but it wasn't nearly the end of the political issues the community faces.
Black trans women are murdered at a high frequency, and more than 45 percent of bisexual women reported having been raped. LGBTQ+ teens are more likely to experience homelessness and attempt suicide. LGBTQ+ people are still the most likely minority group to be victims of hate crimes.
LGBTQ+ activists say allies should also be working to protect the rights of the PoC, women, undocumented immigrants, and children of the community — focusing on the marginalized within the LGBTQ+ community during Pride month, recognizing their needs and political battles, and fighting to help in every way possible. The Human Rights Campaign offers ways to donate or volunteer, and the Resistance Calendar shows town halls or community action meetings to attend.
According to History.com, police had long been targeting and raiding gay clubs and bars in the late 60s, and when a crowd watched law enforcement arrest gay patrons, the scene turned violent. Days of protests followed, as did the creation of many gay rights organizations. But the attack against the marginalized did not go unnoticed then, and not now, either, as this sign shows.