This One Tweet About Sam Bee's Ivanka Segment Delivers A Meaningful Call To Action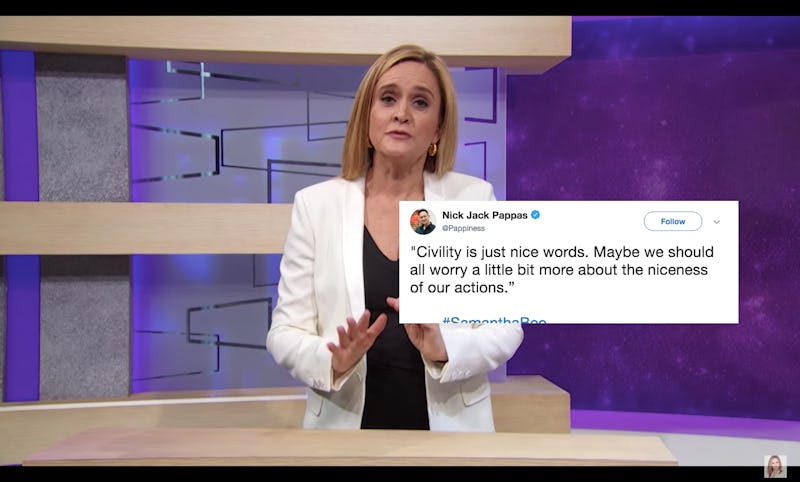 Full Frontal with Samantha Bee/YouTube
On Wednesday, many eagerly tuned in to Full Frontal to see how the late night comic would again address the comments she made about the first daughter. During the show, the host apologized for her remarks, but also emphasized that sometimes actions speak louder than words. Indeed, this one tweet on Samantha Bee's Ivanka Trump segment honed in on Bee's message of action.
The tweet, from writer and comedian Nick Jack Pappas, quoted part of Bee's statement, in which the late-night host said, "Civility is just nice words. Maybe we should all worry a little bit more about the niceness of our actions." He then wrote that Bee's show, Full Frontal, has "helped raise over $148,000 for Puerto Rico" and added that "Actions speak louder than 4-letter words."
This action-oriented message aligns with how Bee chose to wrap up her on-air statement about the Ivanka Trump issue. She opened by apologizing profusely to people she had hurt with her remark, saying,
You know, a lot of people were offended and angry I used an epithet to describe the president's daughter and adviser last week. It is a word I have used on the show many times, hoping to reclaim it. This time I used it as an insult. I crossed the line, I regret it and I do apologize for that.
Bee also expressed regret that her choice of words had "distracted from more important issues." However, she closed her remarks by asking others to reflect on their actions in addition to their words.
This message seemed to resonate with many on social media. In addition to Pappas, other users also praised Bee's action-oriented closing, particularly as it related to the immigration policy Bee had been discussing when she used an epithet to characterize Ivanka. One user, @vickiringer, wrote:
Great opening to @FullFrontalSamB. While @iamsambee acknowledges that she didn't intend to hurt anyone, she said civility is really about nice words. She cares more about nice actions. Like not ripping kids away from their parents.
Another user, @MattAsherS, thanked Bee for "directly engaging [and] apologizing." He also wrote that her action-oriented "takeaway was super important" and added, "You have my support."
Wednesday's show does not constitute the first time that Bee has addressed the Ivanka Trump issue. Bee first apologized to Trump on May 31, saying her use of an expletive to describe the first daughter and presidential adviser was "inappropriate and inexcusable." The late-night show host also added, "I crossed a line, and I deeply regret it," apologizing directly to both Trump and her viewers. Bee had used the epithet when expressing anger regarding Trump's decision to post a picture of herself and her son on social media amidst growing national outcry over the administration's policy of separating immigrant families seeking to cross the southern U.S. border.
Earlier on May 31, the White House had condemned Bee's remark. Deadline reported that Press Secretary Sarah Huckabee Sanders issued a scathing statement, saying:
The language used by Samantha Bee last night is vile and vicious. The collective silence by the left and its media allies is appalling. ... Her disgusting comments and show are not fit for broadcast, and executives at Time Warner and TBS must demonstrate that such explicit profanity about female members of this administration will not be condoned on its network.
The White House has not yet commented publicly on Bee's latest statement.
Overall, Bee apologized again for her words on Wednesday, though she also reminded viewers that people's actions are also important. This message seemed to resonate with many on social media, some of whom have committed to ensuring that their own actions are compassionate.