This Group Provides A Platform For Sexual Assault Survivors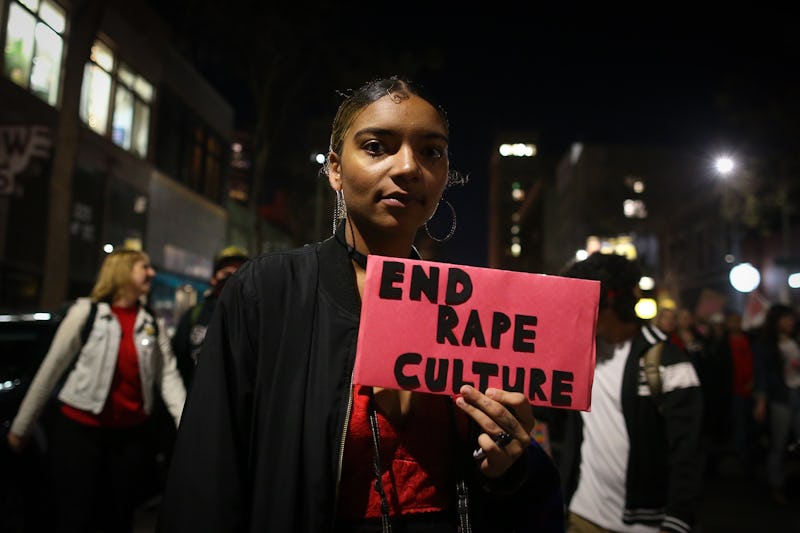 Elijah Nouvelage/Getty Images News/Getty Images
For years to come, 2016 will be remembered as the year that Americans got real about rape. Between the Brock Turner case at Stanford and the leaked tapes from Access Hollywood that featured Donald Trump bragging about being able to grope women without their permission (he denied ever actually doing so), sexual assault was featured heavily in last year's news cycle. April is Sexual Assault Awareness Month, and one group is using the month to raise funds for their platform dedicated to sexual assault survivors.
A Voice For The Innocent's most recent campaign, which is in partnership with Vans Warped Tour, shows why reaching out to survivors is so important. And today, the continued issue of under-reported sexual assault and the pervasiveness of rape culture makes its work even more crucial.
A Voice For The Innocent (AVFTI) first partnered with Vans Warped Tour in 2015, and last year, they announced their "Save Our Scene" campaign aimed at promoting sexual assault awareness and advocacy among the musical communities Warped Tour serves. The group chose this demographic on purpose — according to AVFTI, Warped Tour is attended mainly by people ages 15-35, and over 60 percent of the audiences are either female or non-binary. Given that AVFTI's founder Jamie Sivrias is a male abuse survivor, he knows that reaching that other 40 percent of attendees who identify as male matters too.
This Sexual Assault Awareness Month, AVFTI is raising money so that their representatives can attend the traveling alternative music festival and continue to spread their message to the nearly 500,000 total Warped Tour attendees.
In a statement, AVFTI's explained that its most recent fundraising campaign has simple and powerful foundation:
Someone in the US is sexually assaulted every 98 seconds, yet the fear of judgement and retaliation keeps two thirds of these victims silent. Others simply don't know where to turn to find help.
With this fundraiser, AVFTI is hoping to raise $25,000 to help send volunteers to Warped Tour to continue their important work. By their reasoning, each dollar they raise allows them to speak to two people — and with the incredibly high statistics about how many people of all genders are raped each year, the money would allow them access to speak to tons of survivors at Warped Tour alone.
Last fall, when the #WhyWomenDontReport hashtag went viral after multiple sexual assault allegations against Trump came to light (he has firmly denied those allegations), Bustle released a video featuring four assault survivors explaining to viewers why they didn't report.
One of the people in the video was Kristen, an assault survivor who also works for AVFTI. When she shared her story with Bustle's audience, she proved not only her own personal bravery, but also the importance of the opportunity AVFTI provides for survivors.
I, along with many other survivors, have found that sharing my sexual assault story doesn't just provide me with some catharsis — it can also help other survivors realize they aren't alone and maybe even compel them to share their own. My reasons for sharing my story align with AVFTI's mission in that I hope that if enough of us share our stories, it will compel more and more people to begin working against the systemic and cultural barriers that perpetuate rape culture.