This Pet Shelter Sorts Their Animals Into Hogwarts Houses To Help You Find Your New BFF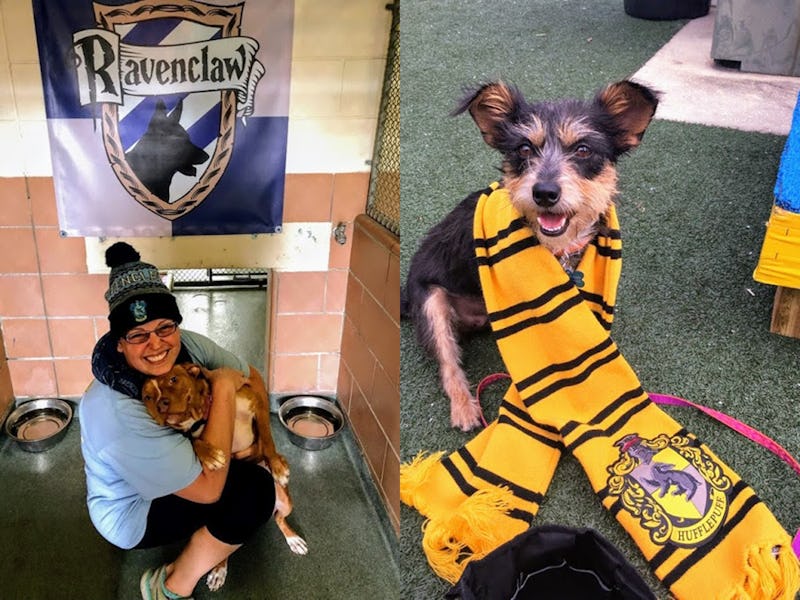 Courtesy Pet Alliance Of Greater Orlando
Harry, Ron, and Hermione might have been doting parents of Hedwig, Pig, and Crookshanks, but so many dogs, cats, owls, toads, and rats don't have forever families to call their own. It's up to pet shelters to find loving homes for these needy animals — and sometimes that means getting creative. That's why a pet shelter in Orlanda, Florida is using J.K. Rowling's beloved books as inspiration.
Earlier this fall, the Pet Alliance of Greater Orlando began sorting their pets into "Pawgwarts Houses." The shelter announced the initiative in September, and revealed that behavioral specialists had sorted many of the animals into their respective houses: Gryffindor, Slytherin, Hufflepuff, and Ravenclaw, or, as the shelter calls them, Gryffindog, Slobberin, Hufflefluff, and Ravenpaw.
Stephen O'Neal, the Digital Marketing and Communications Manager for Pet Alliance of Greater Orlando, tells Bustle that the team conceived the idea in order to help potential owners choose their future pets based on their behavior and personality, as opposed to their appearance. "We want people to start choosing companions based on their lifestyles," he says. "Do they run marathons or watch them on Netflix? Is theirs a quiet home or a bustling one? And what do they see themselves doing with their new dog? From there we can find them their match."
"Our goal is to end breed discrimination and promote responsible ownership," he adds.
So, how exactly do the dogs and cats get sorted? O'Neal says the shelter's Senior Manager of Outreach and Behavior, Diane Anderson, created a special assessment to sort the pets. "It's a fun activity for the dog and they love the extra play time," he says. "Additionally, staff and volunteers observe the dogs in play groups and during their daily time in the play yards."
As you might imagine, many of the dogs "possess the dedication and loyalty" that is traditionally considered to be a Hufflepuff characteristic, but the staff is trained to dig deeper and discover the core values of each animals. "Ambition is a big strength of any Slytherin, but a Slytherin dog can be quite a crack-up, trying to fit a too-big ball into their mouths, or attempt to jump on a too-high couch, or fit into a too-small bed," says Anderson. "While a Gryffindor pup might be a heroin Lassie in training. They are naturally athletic and daring."
Stephen Bardy, the Executive Director of the shelter, stresses the fact that the dog's house affiliation does not have to match the house affiliation of its owner. In fact, although he is a Hufflepuff, his dog, Milo, is a Slytherin. "I embrace the qualities," says Bardy. "He is cunning and a clear leader. I am never quite sure what is behind that daring stare of his."
So far, O'Neal says, the response has been fantastic, and in the past week, the shelter has adopted nine Hufflefluffs, seven Ravenpaws, four Slobberins and three Gryffindogs. "For many guests visiting our shelter, there is an instant recognition," O'Neal says. "People come in knowing what their personal house is and are so enthusiastic. Never fear, even if you are not as familiar with the beloved series, each kennel has information about the qualities and personality traits represented by each house to help inform your adoption decision."
If you're interested in adopting a pet from the Pet Alliance of Greater Orlando, please visit their official website. They are also seeking volunteers and donations. If you would like to sort your dog into their Pawgwarts House, you can take the Pawgwarts Sorting Quiz online.