This 'Lion' Star's Oscar Campaign Is Now Political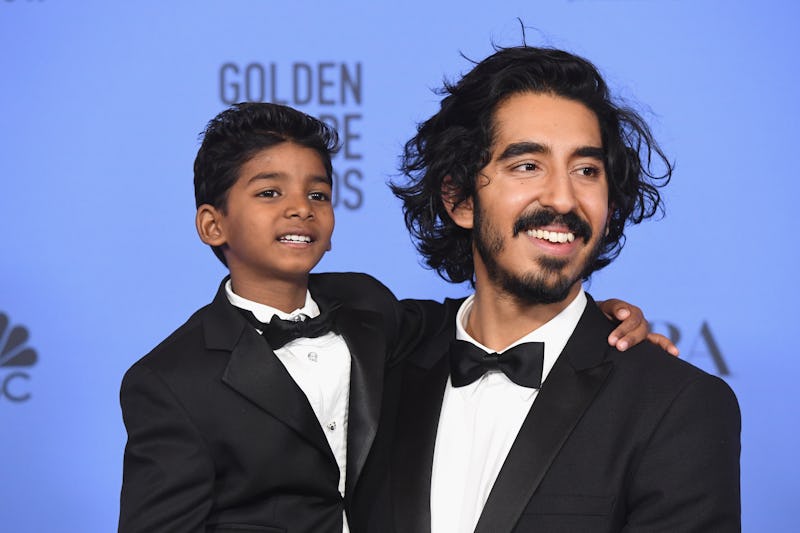 Kevin Winter/Getty Images Entertainment/Getty Images
When it comes to politics strongly coloring the 2017 awards season, all eyes have been on the Oscars. And now, it looks like one particular campaign is amping up its politics in order to make a play for the gold statue. For Thursday's edition of the Los Angeles Times, producer Harvey Weinstein released a For Your Consideration ad featuring Lion's Sunny Pawar, which puts a spotlight on the young actor's country of origin and how it could affect his ability to maintain a career in Hollywood. The ad — as boldly political as one can be without losing sight of what is actually being promoted — is deeply heartbreaking and very effective.
The Lion ad in the L.A. Times solely focuses on Pawar. The captions is a heart-tugger, too:
It took an extraordinary effort to get 8-year-old actor Sunny Pawar a visa so that he could come to American for the very first time. Next year, that might not be an option.
While a majority of the other actors in the Lion would likely not be affected by the temporary immigration ban proposed (and currently being fought over) by President Trump, Pawar's future in Hollywood could be severely affected. For a young actor who has garnered so much attention for his stunning turn in Lion, any kind of immigration ban could effectively hobble Pawar's budding career.
This is not the first time this year that the temporary immigration ban has affected the Oscar dreams of a nominee. Recently, Iranian director Asghar Farhadi announced he would not attend the Oscars, despite being nominated for Best Foreign Film. Farhadi stated that he would choose to stand in solidarity with those immigrants and refugees affected by the temporary ban (which, at the time of reporting is not being enforced, but that could change any day now). The Salesman director's absence will have a profound effect on the evening, and most likely will continue to hammer home the need that the 2017 Oscars has a duty to be political, if only to keep in solidarity with its nominee.
While Academy of Motion Picture Arts and Sciences president Cheryl Boone Isaacs declared, "art has no borders," making it her most political statement to date while in that position, it's difficult to overlook how troublingly deep an emotional effect a potential travel ban has on the arts. A travel ban would affect which international actors Hollywood would want to court for its own films, and it could have a lasting effect on the American film industry's relationship with international film industries, actors, studios, and audiences. Farhadi's absence and the posturing of Pawar's career as an unfortunate casualty drive home this intense intersection of art and politics.
Hollywood may be making films that discuss unity and inclusion through diversity, but it seems that those things remain rooted in the fictional. Out here in the real world, a young actor of foreign extraction who may not attend an awards show because of his nationality is an example of the grim reality with which we must grapple.