The 2017 Oscars Could Get Political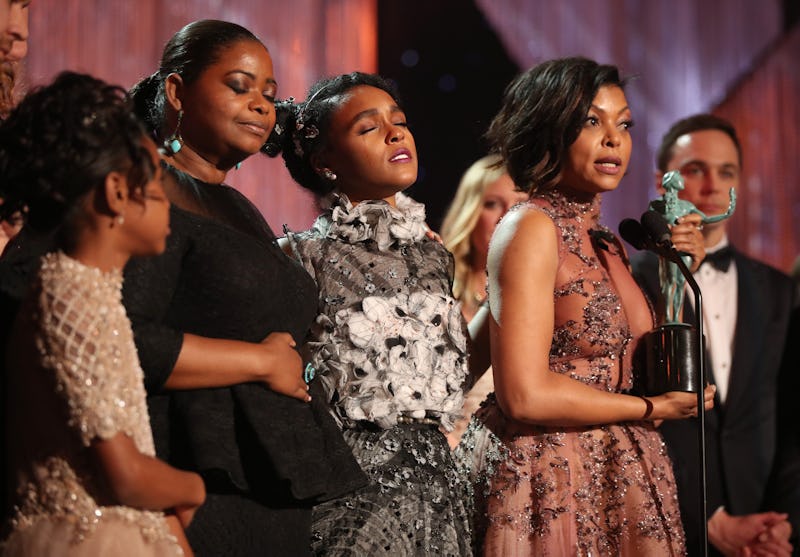 Christopher Polk/Getty Images Entertainment/Getty Images
If I had a direct line to the Academy of Motion Pictures Arts and Science (say that five times fast), I'd probably say this in regard to the 2017 Oscars:
Dear Academy, I'm just writing a quick note. Brevity is key, but the message is incredibly important. Please make sure that you hear me loud and clear: The 2017 Oscars must take a strong political stance on what is happening both in Hollywood and in our nation. If you, the Academy, are able to encourage your presenters, host Jimmy Kimmel, and even your members to make declarations in favor of the people over our current President, you will be doing film and those who make it, watch it, and love it a great service.
Unfortunately, that direct line doesn't exist — unless writing this piece counts. So, you guys are going to read this, hopefully digest it, and perhaps pass this along. The message is simple and the outcome would be fantastic: If the 2017 Oscars did become more openly political than in years previous, it would mean they are shifting with the times and following to socio-political trends that many films have been discussing in recent months.
The 2017 awards season has been one of the most politically-charged I've seen in recent history. The tone under which the 2017 Golden Globes, People's Choice Awards, and SAG Awards were aired had shifted from mostly casual, and light to something a bit more emotionally-charged. At each of the awards shows, there have been a handful of people who have taken the stage to say their thanks but also take time to speak out against President Trump and remind us, in some way or another, that we must love one another now.
Meryl Streep's Golden Globes speech brought the house down when she took aim at Trump and demanded we support the press so that it could continue to report the truth. Tyler Perry's People's Choice Awards speech was a reminder that we stop channeling the hate in the world and instead channel love. At the SAG Awards, it seemed as if nearly every person accepting an awards took the chance to speak out against Trump's recent immigration ban, from Sarah Paulson to Bryan Cranston to the cast of Hidden Figures.
It has become quite plain that a great swath of Hollywood folk are not going to remain quiet about the social and political injustices being committed around them; their words should shake the people and the Academy out of our quietude.
Now, I'm not saying the 2017 Oscars should open with a full-on military coup or that Kimmel takes to the stage and begins listing the pro's and con's anarchy ad nauseam. Far from it, in fact. No, what I would hope is that the Academy allows room for Kimmel's opening monologue to feature more political commentary, especially since the many of the films and people nominated for the 2017 Oscars are progressive in nature or have helped push the conversation around diversity forward in the right direction. Making those links to the films being honored and the events of the world at large would let us laugh and think in equal measure.
Additionally, I would hope the Academy encourages its Oscars presenters to make their political voices heard, their feelings known, and to stop giving us witty repartee and instead give us meaningful discussion points. Sure, a little levity goes a long way, but boldly embrace the political, dear presenters. Audiences remember that.
Finally, I risk preaching to the choir but I hope that those who do secure an Oscar on February 26 use their time at the microphone to say, "Thank you," and then, "Let's get to work." Frankly, there nobody better equipped right now than you, future winners, to make a strong political statement that will resonate through the audiences watching and become part of the conversation going forward.
As the Academy continues to face scrutiny about who it nominates (including women, people of color, those who are differently abled, and those with a necessary story to tell) and how they go about culling their nominees, capitalizing on the political momentum of the previous awards shows would be a bold move. But bold is progression is positive movement forward. I hope it happens at the 2017 Oscars.
Did you hear that, Academy?