This Protest Photo Sends An Unmistakable Message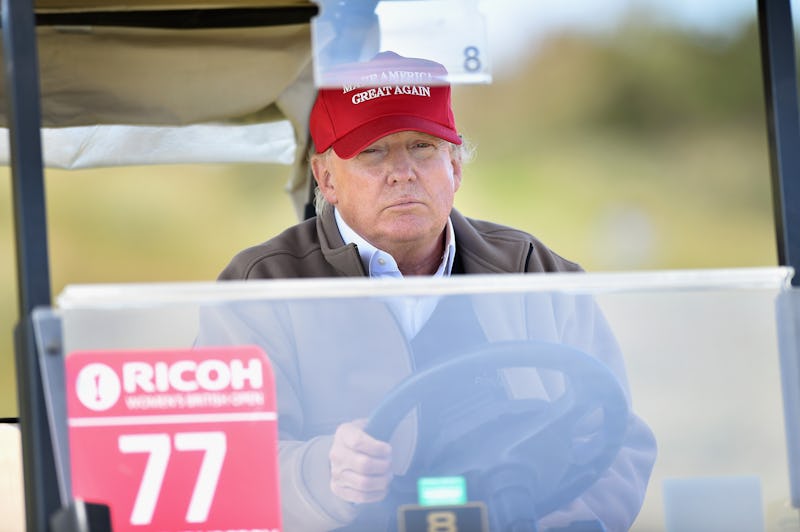 Jeff J Mitchell/Getty Images News/Getty Images
On Saturday, Donald Trump was roughly 2,500 miles from Los Angeles, California, delivering his first commencement address as president at Liberty University in Lynchburg, Virginia. But while the president's focus may have been elsewhere, a few hundred demonstrators hoped to catch Trump's attention with a flash mob protest in Los Angeles. An estimated 200 people visited Trump National Golf Club in Los Angeles to send Americans a simple message — resist.
In a flash mob-style protest organized Saturday morning by the activist group known as Indivisible San Pedro, a couple hundred people used their bodies to spell out the word "resist" in 30-foot-tall letters. The protest was held at Founders Park, a public park located near the clubhouse of Trump National Golf Club Los Angeles in Rancho Palos Verdes.
According to the Los Angeles Times, the group of demonstrators that showed up Saturday included retirees and children as young as 1 year old. After forming the word "resist," the group sang Irving Berlin's "God Bless America," a member of Indivisible San Pedro who participated in Saturday's flash mob protest told the Times.
Along with encouraging Americans to resist Trump's policies and presidency, demonstrators also reportedly intended for Saturday's flash mob at Trump's Los Angeles golf course to serve as a demand for the release of the president's tax returns and the appointment of a special prosecutor in the investigation into Russians alleged interference in the 2016 election.
"It's too hard to spell out 'Release your taxes,'" Indivisible San Pedro member Peter M. Warren told the Times about the reason behind the group's simple, one-word answer. "It was just a way to express our love for the country."
Until recently members of Indivisible San Pedro have focused mainly on connecting with legislators through phone calls, emails, letters, and town halls, and joining various marches, according to Warren.
According to CBS News, Los Angeles County Sheriff's deputies were called to the golf course but did not interfere with the peaceful protest. The protest was not also not interrupted or stopped by anyone from the golf course. No arrests have been reported and demonstrators reportedly dispersed on their own.
In comments attached to a post about the flash mob protest on Indivisible San Pedro's official Facebook page, people identifying themselves as participants said they were "proud" to have been a part of the event and called it an "inspiring experience."