Ivanka Trump's Neighbor Is The Internet's New Hero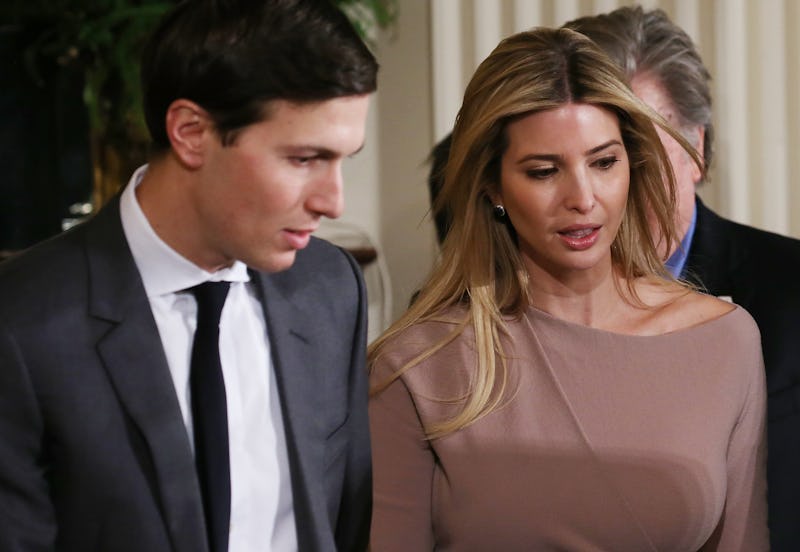 Mario Tama/Getty Images News/Getty Images
If there's anyone who knows how to make the best of a situation, it's this woman. Ivanka Trump's neighbor was photographed wearing a fur coat and a wide smile as she apparently watched protests at the first daughter's house in Washington, D.C. The photo has taken the internet by storm, because let's be honest, this woman is goals.
The hilarious photo surfaced after an event called "The Queer Dance Party for Climate Justice" was scheduled to take place outside of Trump's house on Saturday night. The LGBTQ+ dance party was intended to protest the "bad decisions" of the Trump administration that affect people's daily lives. According to People, it doesn't appear that Ivanka was home at the time of the protest, but that's OK, because the world caught a priceless glimpse of her neighbor instead.
The now-famous neighbor was identified as Dianne Bruce, who lives across the street from Trump's new home. In the photo, which you've probably already seen floating around Instagram or Twitter, she is standing outside — likely on the steps of her own home — wearing a fur coat and holding a glass of wine. She is unmistakably smiling as she apparently looks at the dance party protest.
In an interview with Time, Bruce called the protest "the entertainment for Saturday night." She also assured her fans that she was genuinely having a good time and not casting judgment:
People are reading into it as a statement. For me, it was people who had something to say, and saying it the way we do in America, with a peaceful march.
As it turns out, her appearance was rather happenstance. She reportedly grabbed the fur coat off her banister before rushing outside to see the dance party. A friend handed her a glass of wine when she got outside.
Although Ivanka didn't make an appearance at the protest, Bruce made enough of an impression on her own. Following the protest, memes and tweets began using the photo of Bruce, calling her a "spirit animal" and "aesthetic goals." And though Bruce herself told Time that she wasn't trying to make any sort of political statement by observing the protest, in a way, she may have spread the word about the protestors' cause anyway when she went viral.
In any event, let's all agree that the only appropriate attire to wear on Ivanka and Bruce's street is a fur coat and a wine glass.