This Photo Of Joe Biden Talking With A Homeless Man Is Pulling At Twitter's Heartstrings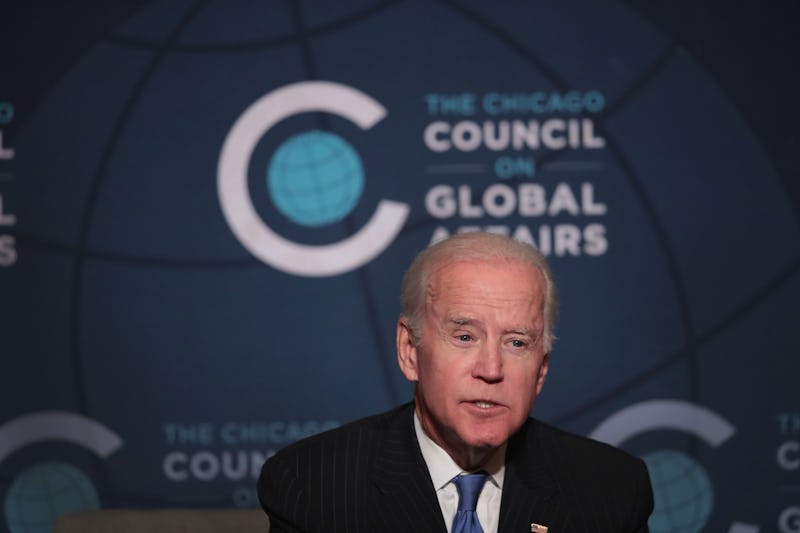 Scott Olson/Getty Images News/Getty Images
On March 8, a bystander captured a candid moment between former Vice President Joe Biden and a homeless man outside a movie theater in Washington, D.C. Biden was seen chatting with the man after leaving a movie with his granddaughter. Someone later posted the image on Facebook, where it quickly went viral, with nearly 100,000 shares and 90,000 likes.
According to the onlooker, Biden was speaking to the man outside the Georgetown AMC theater on K Street after seeing a movie with his granddaughter who was visiting from out of town, Politico reported. It's unclear what the two were talking about, but it looks like Biden was giving the man money. A lot of people were touched by the moment, and felt it demonstrated the kind of man the former VP is.
"Joe Biden took his granddaughter to the movies in Georgetown last night," Paul Equale, whose post went viral, wrote. "On his way out he stopped to speak w/ a homeless man. A bystander took this candid shot. Character is about what you do when no one is watching."
A lot of people commented that the image was a good example of what a "kind" and "decent" person Biden is. D.C. Mayor Muriel Bowser wrote, "Once again, @JoeBiden shows us what a leader is by leading with love and kindness."
Since Donald Trump was elected in 2016, his presidency has sparked a lot of nostalgia for former president Barack Obama and his "bromance" with VP Biden. This photo caused a lot of people to compare Biden to the current president. "Could you imagine Donald Trump randomly talking to a homeless man, while likely having no clue a picture was being taken?" someone tweeted.
When the photo was taken, Biden had recently returned from Pennsylvania, where he was campaigning for Democrat Conor Lamb. Lamb's running in the state's House special election on Tuesday against Republican Rep. Rick Saccone. Trump was also in P.A. for a rally on behalf of Saccone, during which he made some controversial remarks, including suggesting the death penalty for drug dealers.
Biden was a bit more sentimental than the president in his speech. He said Lamb "reminds me of my son Beau," adding that he was a candidate who would fight for workers and protect labor unions. "It's always been about the other guy with Conor," he said. "Not just about him." Lamb also praised the former VP, introducing him as "a leader everybody likes."
"VP @JoeBiden has always been a champion for working people & for the hopes & aspirations that all of us have for ourselves & for our families," Lamb tweeted the day after the campaign event. "Honored to have him campaigning with us yesterday as we work to #GOTV here in #PA18."
This latest photo of Biden and the homeless man isn't the first time the politician has gone viral because he tugged at America's heart strings. Biden and Meghan McCain's emotional interview on The View in December was widely shared. In a candid conversation, Biden comforted McCain, whose father was diagnosed with the same cancer that took his son Beau's life in 2015.
Some people are speculating that this outpouring of support will encourage Biden to run for president in 2020, a decision he's seriously considering, close aides told Politico. According to sources, Biden is "thinking through a million unconventional options, because there is an acknowledgment that this could be an unconventional campaign." One of the ideas is "a reset presidency," where Biden will run with a younger Democrat and try and bridge the generational gap in Washington while re-organizing the White House post-Trump.
At some moments during Lamb's rally, Biden sounded like he could be laying the groundwork for a potential campaign. He talked about promoting what he calls "Biden Democrats" in 2018, and said that Republicans and "some in my party don't get it. It's about our pride. It's about our dignity. It's about who the hell we are and what we've done. It makes me angry, it makes me angry when we're not respected, when you're not respected."